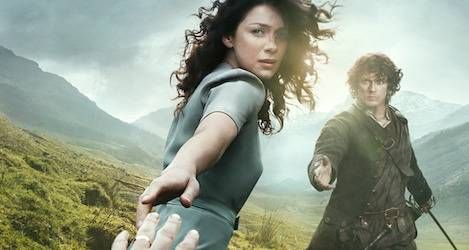 News
You Can Watch OUTLANDER on Netflix Starting in May
This content contains affiliate links. When you buy through these links, we may earn an affiliate commission.
It's here, it's here, it's finally here! (Well, almost.) Originally available only through the premium channel, Starz, the adaptation of Diana Gabaldon's massively popular Outlander series starring Caitriona Balfe and Sam Heughan will soon be an option for Netflix subscribers. Netflix shared the news via Twitter on April 22.
BREAKING NEWS: Moms, prepare to fall in love. Seasons 1 & 2 of #Outlander are coming to Netflix on 5/27 (!!) pic.twitter.com/SfbH1TJYjS

— Netflix Family (@netflixfamily) April 22, 2019
Some fans weren't terribly pleased with the company's tweet, finding it sexist, exclusive, and just plain yikes, but the announcement still stands: next month, you can find Outlander (and Sam Heughan's abs) on Netflix.
Starting May 27, fans and newcomers to the story can watch seasons one and two according to the Netflix Family Twitter. With four seasons on the screen so far, this gives fans half of the available content.
For folks who are wondering what the heck is an Outlander, here's a quick rundown: shortly after the end of World War II, British army nurse Claire Randall finds herself on a second honeymoon with her husband, Frank, in Scotland. On a solo outing, Claire discovers a formation of rocks accompanied by a strange buzzing sound. When she touches one of the rocks and faints, she awakens in a whole new world — Scotland, 1743. Here, she meets Frank's ancestor who is, in a word, brutal, and the young and dashing Jamie Fraser who has political family troubles of his own.
Rev up your laptop and catch Outlander on Netflix on May 27. After you've marathoned the first 29 episodes, check out what other Rioters have to say about the book series. Then, if you haven't already, get started on the novels — there are eight of them and they are huge.