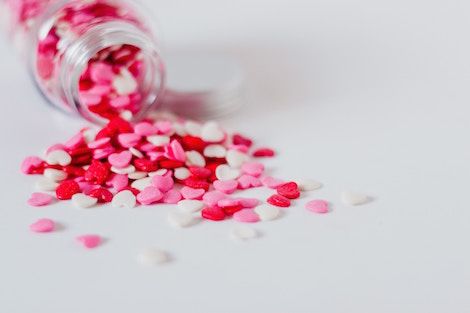 This content contains affiliate links. When you buy through these links, we may earn an affiliate commission.
"3 On A YA Theme" is sponsored by American Panda by Gloria Chao from Simon & Schuster Children's Publishing.
At seventeen, Mei should be in high school, but skipping fourth grade was part of her parents' master plan. Now a freshman at MIT, she is on track to fulfill the rest of this predetermined future: become a doctor, marry a preapproved Taiwanese Ivy Leaguer, produce a litter of babies.
With everything her parents have sacrificed to make her cushy life a reality, Mei can't bring herself to tell them the truth—that she (1) hates germs, (2) falls asleep in biology lectures, and (3) has a crush on her classmate Darren Takahashi, who is decidedly not Taiwanese.
---
Growing up, and even through my adulthood, it's seemed far more trendy to rebel against Valentine's Day. For a day about celebrating love in its myriad forms, it sure brings out a lot of hate.
But today, at least right here, we're going to lean the hell in. Let's take a look at a handful of great young adult anthologies that focus on love, be it romantic, platonic, familial, and/or friendly. This is not at all a comprehensive look at YA anthologies with love themes. Rather, it's a short selection, packed with a wide range of stories and inclusive voices. Some of these are newer collections and others are older; certainly, there is something interesting to be seen, reading them in conjunction with one another, about how far YA has come in writing and how far YA has come in better mirroring contemporary teen culture.
Was it magical, momentous, and completely earth-shattering? Or was it sloppy and self-conscious? Cecil Castellucci realizes that bad boys can be good kissers. Lisa Papademetriou relives being a Texas girl at a Vermont summer camp—and one momentous night in the woods. Amy Kim Ganter draws her first kiss with her future husband in full comic-book form. And those are just a few of the many stories in First Kiss (Then Tell), a collection of anecdotes, poems, cartoons, and stories that are altogether hilarious, heartwarming, and memorable—just as a first kiss should be.
Sure, love is hell. But it's totally worth it.
In these supernatural stories by five of today's hottest writers—Melissa Marr (Wicked Lovely), Scott Westerfeld (Specials), Justine Larbalestier (Magic or Madness), Gabrielle Zevin (Elsewhere), and Laurie Faria Stolarz (Blue is for Nightmares)—love may be twisted and turned around, but it's more potent than ever on its quest to conquer all.
From two students who let the power of attraction guide them to break the hard-and-fast rules of their world to the girl who falls hard for a good-looking ghost with a score to settle, the clever, quirky characters in this exciting collection will break your heart, then leave you believing in love more than ever.
Whether or not you believe in fate, or luck, or love at first sight, every romance has to start somewhere. MEET CUTE is an anthology of original short stories featuring tales of "how they first met" from some of today's most popular YA authors.
Readers will experience Nina LaCour's beautifully written piece about two Bay Area girls meeting via a cranky customer service Tweet, Sara Shepard's glossy tale about a magazine intern and a young rock star, Nicola Yoon's imaginative take on break-ups and make-ups, Katie Cotugno's story of two teens hiding out from the police at a house party, and Huntley Fitzpatrick's charming love story that begins over iced teas at a diner. There's futuristic flirting from Kass Morgan and Katharine McGee, a riveting transgender heroine from Meredith Russo, a subway missed connection moment from Jocelyn Davies, and a girl determined to get out of her small town from Ibi Zoboi. Jennifer Armentrout writes a sweet story about finding love from a missing library book, Emery Lord has a heartwarming and funny tale of two girls stuck in an airport, Dhonielle Clayton takes a thoughtful, speculate approach to pre-destined love, and Julie Murphy dreams up a fun twist on reality dating show contestants.
Maybe it's the long, lazy days, or maybe it's the heat making everyone a little bit crazy. Whatever the reason, summer is the perfect time for love to bloom. Summer Days & Summer Nights: Twelve Love Stories, written by twelve bestselling young adult writers and edited by the international bestselling author Stephanie Perkins, will have you dreaming of sunset strolls by the lake. So set out your beach chair and grab your sunglasses. You have twelve reasons this summer to soak up the sun and fall in love.
Featuring stories by Leigh Bardugo, Francesca Lia Block, Libba Bray, Cassandra Clare, Brandy Colbert, Tim Federle, Lev Grossman, Nina LaCour, Stephanie Perkins, Veronica Roth, Jon Skovron, and Jennifer E. Smith.
You may think you know the love triangle, but you've never seen love triangles like these.
These top YA authors tackle the much-debated trope of the love triangle, and the result is sixteen fresh, diverse, and romantic stories you don't want to miss.
This collection, edited by Natalie C. Parker, contains stories written by Renee Ahdieh, Rae Carson, Brandy Colbert, Katie Cotugno, Lamar Giles, Tessa Gratton, Bethany Hagan, Justina Ireland, Alaya Dawn Johnson, EK Johnston, Julie Murphy, Garth Nix, Natalie C. Parker, Veronica Roth, Sabaa Tahir, and Brenna Yovanoff.
A teen girl who offers kissing lessons. Zombies in the Civil War South. The girl next door, the boy who loves her, and the girl who loves them both. Vampires at a boarding school. Three teens fighting monsters in an abandoned video rental store. Literally the last three people on the planet.
What do all these stories have in common?
The love triangle.
Want more "3 On A YA Theme" posts? Gotcha covered.