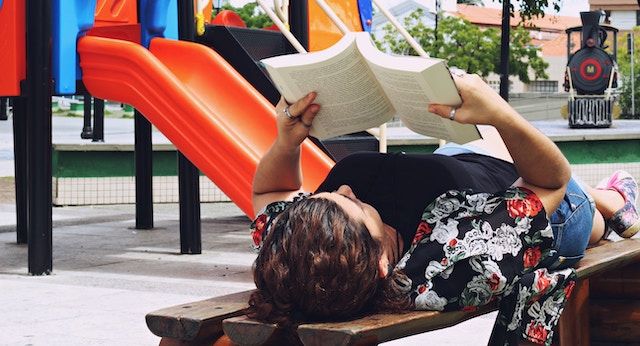 Lists
50 YA Paperback Books for Winter 2019–2020
This content contains affiliate links. When you buy through these links, we may earn an affiliate commission.
Winter might not be about beaches and totable books, unless you're in thee Southern Hemisphere, but chances are you'll still want to have a lightweight paperback in your tote, your pocket, or ready for those long days of reading by your local cafe's fireplace.
Here's a look at some of the most exciting YA paperbacks hitting shelves this winter. As always, publication dates can shift, so these are as current as can be expected. Some of these books are paperback originals—meaning they'll only ever release in paperback—while others are YA reissues. Still others are first releases of paperbacks from books that have already been published in hardcover. I've stuck to first books in a series only, so know there are additional paperback releases of series books but they're not the start of those series. First titles in a series are marked with a *.
Descriptions from Amazon. Note that you may need to toggle over to the "paperback" option from the links to land on the paperback editions of the books included.
There's a wide array of genres included, so there's something here for every type of reader.
Winter 2019–2020 YA Paperback Releases
December
3
A lot can happen on the road from lost to found…
Ali Collins doesn't have room in her life for clutter or complications. So when her estranged father passes away and leaves her his only prized possession—a 1968 Firebird convertible—Ali knows she won't keep it. Not when it reminds her too much of all her father's unfulfilled promises. And especially not when a buyer three hundred miles up the Pacific coast is offering enough money for the car to save her childhood home from foreclosure. There's only one problem, though. Ali has no idea how to drive a stick shift.
But her ex-boyfriend, Nico, does.
The road trip gets off to a horrible start, filled with unexpected detours, roadblocks, and all the uncomfortable tension that comes with being trapped in a car with your ex. But when Nico starts collecting items from the quirky strangers they meet along the way, Ali starts to sense that these objects aren't random. Somehow they seem to be leading her to an unknown truth about her father. A truth that will finally prove to Ali that some things—even broken things—are worth saving.
We stand in a tight cluster, high above the lake. One-by-one, we made our way up the narrow trail from the edge of campus. Now, we wait shoulder to shoulder behind the police tape. Nineteen summer students.
All but one.
When Nora gets accepted into her dream summer program at the prestigious Winthrop Academy, she jumps at the chance to put her coding skills to use. But then a fellow student goes missing-and the tech trail for the crime leads back to Nora. Running scared, Nora must race to clear her name and uncover the sordid truth…or she might be the next to disappear.
The future is curious.
STRONGER
Today our bodies define us. We color our hair; tattoo our skin; pierce our ears, brows, noses. We lift weights, run miles, break records. We are flesh and blood and bone.
FASTER
Tomorrow has different rules. The future is no longer about who we are—it's about who we want to be. If you can dream it, you can be it. Science will make us smarter, healthier, flawless in every way. Our future is boundless.
MORE BEAUTIFUL
This is a story that begins tomorrow. It's a story about us. It's a story about who comes after us. And it's a story about perfection. Because perfection has a way of getting ugly.
17
Sora can move as silently as a ghost and hurl throwing stars with lethal accuracy. Her gemina, Daemon, can win any physical fight blindfolded and with an arm tied around his back. They are apprentice warriors of the Society of Taigas—marked by the gods to be trained in magic and the fighting arts to protect the kingdom of Kichona.
As their graduation approaches, Sora and Daemon look forward to proving themselves worthy of belonging in the elite group—but in a kingdom free of violence since the Blood Rift Rebellion many years ago, it's been difficult to make their mark.
So when Sora and Daemon encounter a strange camp of mysterious soldiers while on a standard scouting mission, they decide the only thing to do to help their kingdom is to infiltrate the group. Taking this risk will change Sora's life forever—and lead her on a mission of deception that may fool everyone she's ever loved.
Love, spies, and adventure abound as Sora and Daemon unravel a complex web of magic and secrets that might tear them—and the entire kingdom—apart forever.
Hotshot pilot Nax Hall has a history of making poor life choices. So it's not exactly a surprise when he's kicked out of the elite Ellis Station Academy in less than twenty-four hours. But Nax's one-way trip back to Earth is cut short when a terrorist group attacks the Academy.
Nax and three other washouts escape—barely—but they're also the sole witnesses to the biggest crime in the history of space colonization. And the perfect scapegoats.
On the run, Nax and his fellow failures plan to pull off a dangerous heist to spread the truth. Because they may not be "Academy material," and they may not even get along, but they're the only ones left to step up and fight.
Full of high-stakes action, subversive humor, and underdogs becoming heroes, this YA sci-fi adventure is perfect for fans of Illuminae, Heart of Iron, or the cult classic TV show Firefly and is also a page-turning thrill ride that anyone—not just space nerds—can enjoy.
Pride by Ibi Zoboi
Zuri Benitez has pride. Brooklyn pride, family pride, and pride in her Afro-Latino roots. But pride might not be enough to save her rapidly gentrifying neighborhood from becoming unrecognizable.
When the wealthy Darcy family moves in across the street, Zuri wants nothing to do with their two teenage sons, even as her older sister, Janae, starts to fall for the charming Ainsley. She especially can't stand the judgmental and arrogant Darius. Yet as Zuri and Darius are forced to find common ground, their initial dislike shifts into an unexpected understanding.
But with four wild sisters pulling her in different directions, cute boy Warren vying for her attention, and college applications hovering on the horizon, Zuri fights to find her place in Bushwick's changing landscape, or lose it all.
In a timely update of Jane Austen's Pride and Prejudice, critically acclaimed author Ibi Zoboi skillfully balances cultural identity, class, and gentrification against the heady magic of first love in her vibrant reimagining of this beloved classic.
Nathan Bird doesn't believe in happy endings. Although he's the ultimate film buff and an aspiring screenwriter, Nate's seen the demise of too many relationships to believe that happy endings exist in real life.
Playing it safe to avoid a broken heart has been his MO ever since his father died and left his mom to unravel—but this strategy is not without fault. His best-friend-turned-girlfriend-turned-best-friend-again, Florence, is set on making sure Nate finds someone else. And in a twist that is rom-com-worthy, someone does come along: Oliver James Hernández, his childhood best friend.
After a painful mix-up when they were little, Nate finally has the chance to tell Ollie the truth about his feelings. But can Nate find the courage to pursue his own happily ever after?
31
Cameron's cosplay creations are finally starting to earn her attention—attention she hopes to use to get into the CalArts costume design department for college. But after she wins a major competition, she inadvertently sets off a firestorm of angry comments from male fans online.
When Cameron's family moves the summer before her senior year, she hopes to complete her costume portfolio in peace and quiet away from the abuse. Unfortunately, the only comic shop in town–her main destination for character reference–is staffed by a dudebro owner who challenges every woman who comes into the shop.
At her twin brother's suggestion, Cameron borrows a set of his clothes to waltz into the shop as Boy Cameron, where she's shocked at how easily she's accepted into the nerd inner sanctum. Soon, Cameron finds herself drafted into a D&D campaign. But as her "secret identity" gets more and more entrenched, Cameron's portfolio falls by the wayside—and her crush on one of the guys in the group threatens to make a complicated situation even more precarious.
I had a sister, once…
In a world ruled by fierce warrior queens, a grand empire was built upon the backs of Phoenix Riders—legendary heroes who soared through the sky on wings of fire—until a war between two sisters ripped it all apart.
I promised her the throne would not come between us.
Sixteen years later, Veronyka is a war orphan who dreams of becoming a Phoenix Rider from the stories of old. After a shocking betrayal from her controlling sister, Veronyka strikes out alone to find the Riders—even if that means disguising herself as a boy to join their ranks.
But it is a fact of life that one must kill or be killed. Rule or be ruled.
Just as Veronyka finally feels like she belongs, her sister turns up and reveals a tangled web of lies between them that will change everything. And meanwhile, the new empire has learned of the Riders' return and intends to destroy them once and for all.
Sometimes the title of queen is given. Sometimes it must be taken.
Crown of Feathers is an epic fantasy about love's incredible power to save—or to destroy. Interspersed throughout is the story of Avalkyra Ashfire, the last Rider queen, who would rather see her empire burn than fall into her sister's hands.
When fourteen-year-old Gayle gets in trouble with a boy—again—her mother doesn't give her a choice: Gayle is getting sent away from New York to her family down South, along with her baby, José.
In a small town in Georgia, there is nowhere to go but church, nothing to do but chores, and no friends except her goody-goody, big-boned, kneesock-wearing cousin, Cookie. Gayle is stuck cleaning up after Great, the old family matriarch who stays upstairs in her bed.
But the more she spends time with Cookie and Great, Gayle learns about her family's history and secrets, stretching all the way back through the preachers and ancestors of the past. And slowly, the stories of her roots begin to change how Gayle sees her future.
Rediscover this novel by a master storyteller and Newbery Honor-winning author, about one girl's discovery of her own African American family history—and her own place within it.
A classic and highly acclaimed biography of civil rights activist Malcolm X, ever more relevant for today's readers.
As a 14-year-old he was Malcolm Little, the president of his class and a top student. At 16 he was hustling tips at a Boston nightclub. In Harlem he was known as Detroit Red, a slick street operator. At 19 he was back in Boston, leading a gang of burglars. At 20 he was in prison.
It was in prison that Malcolm Little started the journey that would lead him to adopt the name Malcolm X, and there he developed his beliefs about what being black means in America: beliefs that shook America then, and still shake America today.
Few men in American history are as controversial or compelling as Malcolm X. In this Coretta Scott King Honor Book, Walter Dean Myers, winner of a Newbery Honor and four-time Coretta Scott King Award winner, portrays Malcolm X as prophet, dealer, convict, troublemaker, revolutionary, and voice of black militancy.
Maddie thought she and Logan would be friends forever. But when your dad is a Secret Service agent and your best friend is the president's son, sometimes life has other plans. Before she knows it, Maddie's dad is dragging her to a cabin in the middle of the Alaskan wilderness.
No phone.
No Internet.
And not a single word from Logan.
Maddie tells herself it's okay. After all, she's the most popular girl for 20 miles in any direction. She has wood to cut and weapons to bedazzle. Her life is full.
Until Logan shows up six years later . . .
And Maddie wants to kill him.
But before that can happen, an assailant appears out of nowhere, knocking Maddie off a cliff and dragging Logan to some unknown fate. Maddie knows she could turn back- and get help. But the weather is turning and the terrain will only get more treacherous, the animals more deadly.
Maddie still really wants to kill Logan.
But she has to save him first.
January
7
Black is…sisters navigating their relationship at summer camp in Portland, Oregon, as written by Renée Watson.
Black is…three friends walking back from the community pool talking about nothing and everything, in a story by Jason Reynolds.
Black is…Nic Stone's high-class beauty dating a boy her momma would never approve of.
Black is…two girls kissing in Justina Ireland's story set in Maryland.
Black is urban and rural, wealthy and poor, mixed race, immigrants, and more—because there are countless ways to be Black enough.
The Closest I've Come is a must-read from talented first-time author Fred Aceves, in the tradition of Walter Dean Myers.
Marcos Rivas yearns for love, a working cell phone, and maybe a pair of sneakers that aren't falling apart. But more than anything, Marcos wants to get out of Maesta, his hood, away from his indifferent mom and her abusive boyfriend—which seems impossible.
When Marcos is placed in a new after-school program, he meets Zach and Amy, whose friendship inspires Marcos to open up to his Maesta crew, too, and starts to think more about his future and what he has to fight for. Marcos ultimately learns that bravery isn't about acting tough and being macho; it's about being true to yourself.
The Closest I've Come is a story about traversing real and imagined boundaries, about discovering new things in the world, and about discovering yourself, too.
Norris Kaplan is clever, cynical, and quite possibly too smart for his own good. A Black French Canadian, he knows from watching American sitcoms that those three things don't bode well when you are moving to Austin, Texas.
Plunked into a new high school and sweating a ridiculous amount from the oppressive Texas heat, Norris finds himself cataloging everyone he meets: the Cheerleaders, the Jocks, the Loners, and even the Manic Pixie Dream Girl. Making a ton of friends has never been a priority for him, and this way he can at least amuse himself until it's time to go back to Canada, where he belongs.
Yet against all odds, those labels soon become actual people to Norris…like loner Liam, who makes it his mission to befriend Norris, or Madison the beta cheerleader, who is so nice that it has to be a trap. Not to mention Aarti the Manic Pixie Dream Girl, who might, in fact, be a real love interest in the making.
But the night of the prom, Norris screws everything up royally. As he tries to pick up the pieces, he realizes it might be time to stop hiding behind his snarky opinions and start living his life—along with the people who have found their way into his heart.
If she wants a future with him, she'll have to make peace with her past.
Jenna's never let her cerebral palsy get her down. But when she discovers that her condition was actually caused by an injury at birth, she's furious with her parents, who withheld the truth. And as they push her to get yet another difficult procedure, Jenna feels her control over her life starting to slip.
Enter Julian, Jenna's childhood crush. He's just moved back to town, and he's struggling in school, so Jenna reaches out to him―anonymously―to help. Soon, their conversations are about so much more than class. She's falling for him all over again, hard and fast. But would Julian still be interested in her if he knew who she really was? And can she find a way to take back her own narrative before she pushes away everyone she loves?
Ever since Amelia woke up in the hospital, recovering from a near-death fall she has no memory of, she's been suspicious. Her friends, family, and doctors insist it was an accident, but Amelia is sure she remembers being pushed. Then another girl is found nearby — one who fell, but didn't survive. Amelia's fears suddenly feel very real, and with the help of her new boyfriend, Liam, she tries to investigate her own horrific ordeal. But what is she looking for, exactly? And how can she tell who's trustworthy, and who might be — must be — lying to her?
The closer Amelia gets to the truth, the more terrifying her once orderly, safe world becomes. She's determined to know what happened, but if she doesn't act fast, her next accident might be her last.
*Slayer by Kiersten White
Into every generation a Slayer is born…
Nina and her twin sister, Artemis, are far from normal. It's hard to be when you grow up at the Watcher's Academy, which is a bit different from your average boarding school. Here teens are trained as guides for Slayers—girls gifted with supernatural strength to fight the forces of darkness. But while Nina's mother is a prominent member of the Watcher's Council, Nina has never embraced the violent Watcher lifestyle. Instead she follows her instincts to heal, carving out a place for herself as the school medic.
Until the day Nina's life changes forever.
Thanks to Buffy, the famous (and infamous) Slayer that Nina's father died protecting, Nina is not only the newest Chosen One—she's the last Slayer, ever. Period.
As Nina hones her skills with her Watcher-in-training, Leo, there's plenty to keep her occupied: a monster fighting ring, a demon who eats happiness, a shadowy figure that keeps popping up in Nina's dreams…
But it's not until bodies start turning up that Nina's new powers will truly be tested—because someone she loves might be next.
One thing is clear: Being Chosen is easy. Making choices is hard.
Stain by A. G. Howard
After Lyra—a princess incapable of speech or sound—is cast out of her kingdom of daylight by her wicked aunt, a witch saves her life, steals her memories, and raises her in an enchanted forest…disguised as a boy known only as Stain. Meanwhile, in Lyra's rival kingdom, the prince of thorns and night is dying, and the only way for him to break his curse is to wed the princess of daylight—for she is his true equal. As Lyra finds her way back to her identity, an imposter princess prepares to steal her betrothed prince and her crown. To win back her kingdom, save the prince, and make peace with the land of the night, Lyra must be loud enough to be heard without a voice, and strong enough to pass a series of tests—ultimately proving she's everything a traditional princess is not.
Votes for Women!
: American Suffragists and the Battle for the Ballot
by Winifred Conkling
For nearly 150 years, American women did not have the right to vote. On August 18, 1920, they won that right, when the 19th Amendment to the Constitution was ratified at last. To achieve that victory, some of the fiercest, most passionate women in history marched, protested, and sometimes even broke the law—for more than eight decades.
From Susan B. Anthony and Elizabeth Cady Stanton, who founded the suffrage movement at the 1848 Seneca Falls Convention, to Sojourner Truth and her famous "Ain't I a Woman?" speech, to Alice Paul, arrested and force-fed in prison, this is the story of the American women's suffrage movement and the private lives that fueled its leaders' dedication. Votes for Women! explores suffragists' often powerful, sometimes difficult relationship with the intersecting temperance and abolition campaigns, and includes an unflinching look at some of the uglier moments in women's fight for the vote.
By turns illuminating, harrowing, and empowering, Votes for Women! paints a vibrant picture of the women whose tireless battle still inspires political, human rights, and social justice activism.
14
Forced to become a child soldier, a sixteen-year-old Somali refugee must confront his painful past in this haunting, thrilling tale of loss and redemption by the bestselling author of City of Saints & Thieves. Now in paperback.
When Abdi's family is kidnapped, he's forced to do the unthinkable: become a child soldier in the ruthless jihadi group Al Shabaab. To save the lives of those he loves and earn their freedom, Abdi agrees to be embedded as a spy within the jihadi group's ranks, sending dispatches on their plans to the Americans. But it's a dangerous role and if Abdi's duplicity is discovered, he will be killed. For weeks, Abdi trains with the jihadi group, witnessing atrocity after atrocity. But after being forced into a suicide bomber's vest, Abdi finally escapes to Sangui City, Kenya. Homeless and shell-shocked, Abdi is picked up for a petty theft, setting into motion a chain reaction that forces him to reckon with a past he's desperate to forget.
Sixteen extraordinary authors―including New York Times bestsellers Melissa de la Cruz, Renée Ahdieh, and Julie Kagawa―reimagine the folklore and mythology of East and South Asia in short stories that are by turns enchanting, heartbreaking, romantic, and passionate. This exquisite paperback anthology includes an original bonus story from Ellen Oh. In a starred review, Publishers Weeklycalled A Thousand Beginnings and Endings a "must-read."
A mountain loses her heart. Two sisters transform into birds to escape captivity. A young man learns the true meaning of sacrifice. A young woman takes up her mother's mantle and leads the dead to their final resting place.
Bestselling and award-winning authors explore the timeless themes of East and South Asian lore in sixteen original stories that will appeal to every reader. From fantasy to science fiction to contemporary, from romance to tales of revenge, these stories will beguile readers from start to finish. Edited by We Need Diverse Books co-founder Ellen Oh and Elsie Chapman, this anthology contains stories from sixteen Asian and South Asian authors, including New York Times bestsellers and award-winners. In a starred review, Kirkus called it an "incredible anthology that will keep readers on the edges of their seats, wanting more."
In this daring and romantic fantasy debut perfect for fans of The Handmaid's Tale and Latinx authors Zoraida Córdova and Anna-Marie McLemore, society wife-in-training Dani has a great awakening after being recruited by rebel spies and falling for her biggest rival.
At the Medio School for Girls, distinguished young women are trained for one of two roles in their polarized society. Depending on her specialization, a graduate will one day run a husband's household or raise his children. Both paths promise a life of comfort and luxury, far from the frequent political uprisings of the lower class.
Daniela Vargas is the school's top student, but her pedigree is a lie. She must keep the truth hidden or be sent back to the fringes of society.
And school couldn't prepare her for the difficult choices she must make after graduation, especially when she is asked to spy for a resistance group desperately fighting to bring equality to Medio.
Will Dani cling to the privilege her parents fought to win for her, or will she give up everything she's strived for in pursuit of a free Medio—and a chance at a forbidden love?
21
Bunny and Nasir have been best friends forever, but when Bunny accepts an athletic scholarship across town, Nasir feels betrayed. While Bunny tries to fit in with his new, privileged peers, Nasir spends more time with his cousin, Wallace, who is being evicted. Nasir can't help but wonder why the neighborhood is falling over itself to help Bunny when Wallace is in trouble.
When Wallace makes a bet against Bunny, Nasir is faced with an impossible decision—maybe a dangerous one.
Told from alternating perspectives, After the Shot Drops is a heart-pounding story about the responsibilities of great talent and the importance of compassion.
Milla knows two things to be true: Demons are real, and fear will keep her safe.
Milla's whole world is her family's farm. She is never allowed to travel to the village and her only friend is her beloved older brother, Niklas. When a bright-eyed girl named Iris comes to stay, Milla hopes her loneliness might finally be coming to an end. But Iris has a secret she's forbidden to share: The village is cursed by a demon who possesses girls at random, and the townspeople live in terror of who it will come for next.
Now, it seems, the demon has come for Iris. When Iris is captured and imprisoned with other possessed girls, Milla leaves home to rescue her and break the curse forever. Her only company on the journey is a terrible new secret of her own: Milla is changing, too, and may soon be a demon herself.
Suspenseful and vividly imagined, The Cold Is in Her Bones is a novel about the dark, reverberating power of pain, the yearning to be seen and understood, and the fragile optimism of love.
28
Think positive.
Don't worry; be happy.
Keep calm and carry on.
Maeve has heard it all before. She's been struggling with severe anxiety for a long time, and as much as she wishes it was something she could just talk herself out of, it's not. She constantly imagines the worst, composes obituaries in her head, and is always ready for things to fall apart. To add to her troubles, her mom—the only one who really gets what Maeve goes through—is leaving for six months, so Maeve will be sent to live with her dad in Vancouver.
Vancouver brings a slew of new worries, but Maeve finds brief moments of calm (as well as even more worries) with Salix, a local girl who doesn't seem to worry about anything. Between her dad's wavering sobriety, her very pregnant stepmom insisting on a home birth, and her bumbling courtship with Salix, this summer brings more catastrophes than even Maeve could have foreseen. Will she be able to navigate through all the chaos to be there for the people she loves?
Damsel by Elana K. Arnold
The rite has existed for as long as anyone can remember: When the king dies, his son the prince must venture out into the gray lands, slay a fierce dragon, and rescue a damsel to be his bride. This is the way things have always been.
When Ama wakes in the arms of Prince Emory, she knows none of this. She has no memory of what came before she was captured by the dragon or what horrors she faced in its lair. She knows only this handsome young man, the story he tells of her rescue, and her destiny of sitting on a throne beside him. It's all like a dream, like something from a fairy tale.
As Ama follows Emory to the kingdom of Harding, however, she discovers that not all is as it seems. There is more to the legends of the dragons and the damsels than anyone knows, and the greatest threats may not be behind her, but around her, now, and closing in.
Reeling from a shameful breakup with a boy she unabashedly worshipped, Nina drifts between school and her days volunteering at a dog shelter. But she's looking for something more. A way to fix her mistakes. Unsure of how to move on, Nina peels back the moments that have shaped her and given her a view of girlhood distorted by violence and sacrifice. One that led her to do something unspeakable to a fellow student.
As Nina grapples with regret, strange memories of a trip to Italy with her mother start to surface. Layer by layer, Elana K. Arnold reveals their painful effect, and questions what love really means.
Raw, emotional writing and a frank portrayal of the world teen girls live in set this award-winning book apart as a stunning chronicle of self-acceptance.
February
4
The Agony House by Cherie Priest, art by Tara O'Connor
Denise Farber has just moved back to New Orleans with her mom and stepdad. They left in the wake of Hurricane Katrina and have finally returned, wagering the last of their family's money on fixing up an old, rundown house and converting it to a bed and breakfast.
Nothing seems to work around the place, which doesn't seem too weird to Denise. The unexplained noises are a little more out of the ordinary, but again, nothing too unusual. But when floors collapse, deadly objects rain down, and she hears creepy voices, it's clear to Denise that something more sinister lurks hidden here.
Answers may lie in an old comic book Denise finds concealed in the attic: the lost, final project of a famous artist who disappeared in the 1950s. Denise isn't budging from her new home, so she must unravel the mystery-on the pages and off-if she and her family are to survive…
When Betts meets Aiden at the candy store where she works, their connection is like a sugar rush to the heart. Betts already knows the two of them are infinite. Inevitable. Destined to become an us.
Betts has only ever kept one secret from her best friend, Jo, but suddenly there's a long list of things she won't tell her, things Jo wouldn't understand. Because Jo doesn't see how good Aiden is for Betts. She finds him needy. Possessive. Controlling.
She's wrong. With a love like this, nothing else matters.
On one terrible night, 17-year-old Harley Langston's life changes forever. At a party she discovers her boyfriend, Mike, hooking up with her younger sister, Audrey. Furious, she abandons them both. When Mike drunkenly attempts to drive Audrey home, he crashes and Audrey ends up in a coma. Now Harley is left with guilt, grief, pain and the undeniable truth that her now ex-boyfriend has a drinking problem. So it's a surprise that she finds herself reconnecting with Raf, a neighbor and childhood friend who's recently out of rehab and still wrestling with his own demons. At first Harley doesn't want to get too close to him. But as her sister slowly recovers, Harley begins to see a path forward with Raf's help that she never would have believed possible—one guided by honesty, forgiveness, and redemption.
Stella Ainsley leaves poverty behind when she quits her engineering job aboard the Stalwart to become a governess on a private ship. On the Rochester, there's no water ration, more books than one person could devour in a lifetime, and an AI who seems more friend than robot. But something sinister lurks beneath the Rochester's immaculate façade.
When Stella meets Hugo, the nineteen-year-old captain at the helm of the ship, she finds herself drawn to the mysterious boy who's as unpredictable and broody as he is kind. But Stella's suspicions against Hugo mount as the ship is plagued by ghostly hauntings and deadly assassination attempts. Now, she must choose between following her heart or listening to her head.
The high price of perfection is one 'Perfect' Parker Fadley always believed she was willing to pay until the devastating events at a party during junior year fractures the lives of her family and friends. A terrible thing has happened and only Parker knows it's her fault. If being a perfect daughter, student, friend and girlfriend couldn't keep her from making an unforgivable mistake, Parker hopes becoming a perfect mess will at least keep her loved ones from discovering the truth–until the arrival of a curious new student and the unexpected return of an old enemy threaten her tenuous grip on control. Parker will do anything to keep her secret from surfacing . . . but this time the cost might be more than she can afford.
The book featuring the unforgettable character that started it all, now with a new foreword from the author.
When Leo and Naomi are drafted, along with twenty-two of the world's brightest teenagers, into the International Space Training Camp, their lives are forever changed. Overnight, they become global celebrities in contention for one of the six slots to travel to Europa—Jupiter's moon—and establish a new colony, leaving their planet forever. With Earth irreparably damaged, the future of the human race rests on their shoulders.
For Leo, an Italian championship swimmer, this kind of purpose is a reason to go on after losing his family. But Naomi, an Iranian-American science genius, is suspicious of the ISTC and the fact that a similar mission failed under mysterious circumstances, killing the astronauts onboard. She fears something equally sinister awaiting the Final Six beneath Europa's surface.
In this cutthroat atmosphere, surrounded by strangers from around the world, Naomi finds an unexpected friend in Leo. As the training tests their limits, Naomi and Leo's relationship deepens with each life-altering experience they encounter.
But it's only when the finalists become fewer and their destinies grow nearer that the two can fathom the full weight of everything at stake: the world, the stars, and their lives.
Sixteen-year-old Iris itches constantly for the strike of a match. But when she's caught setting one too many fires, she's dragged away to London before she can get arrested. At least, that's the story her mother tells. Soon Iris finds herself in the English countryside, where her millionaire father—a man she's never met—lives. Though not for very much longer.
Iris's father is dying, and her self-interested mother is determined to claim his life's fortune, including his priceless art collection. Forced to live with him as part of an exploitive scheme, Iris quickly realizes her father is far different from the man she's been schooled to hate, and everything she thought she knew—about her father and herself—is suddenly unclear. But there may be hidden beauty in Iris's uncertain past and hopeful future, if only she can see beyond the flames.
Heroine by Mindy McGinnis
When a car crash sidelines Mickey just before softball season, she has to find a way to hold on to her spot as the catcher for a team expected to make a historic tournament run. Behind the plate is the only place she's ever felt comfortable, and the painkillers she's been prescribed can help her get there.
The pills do more than take away pain; they make her feel good.
With a new circle of friends—fellow injured athletes, others with just time to kill—Mickey finds peaceful acceptance, and people with whom words come easily, even if it is just the pills loosening her tongue.
But as the pressure to be Mickey Catalan heightens, her need increases, and it becomes less about pain and more about want, something that could send her spiraling out of control.
Time Bomb by Joelle Charbonneau
A congressman's daughter sick of her cookie-cutter image. A star quarterback with something to hide. A guy who's tired of the star quarterback ignoring his calls. A clarinet player who's done trying to fit in—or trying at all. An orphaned rebel who wants to teach someone a lesson. A guy who wants people to see him, not his religion.
Diana, Frankie, Tad, Cas, Z, and Rashid couldn't be more different, but today, they've all found a reason to come to school a week before the semester starts. Before the morning's over, they'll all be trapped in a building that's been rocked by a bombing. When they hear on the radio that someone inside is the bomber, and planning to set off more explosions, they'll also be looking to one another for answers.
Told from multiple perspectives, Time Bomb is an emotional thriller that will keep readers guessing about who the bomber could be—and what motivated such drastic action.
Melati Ahmad looks like your typical movie-going, Beatles-obsessed sixteen-year-old. Unlike most other sixteen-year-olds though, Mel also believes that she harbors a djinn inside her, one who threatens her with horrific images of her mother's death unless she adheres to an elaborate ritual of counting and tapping to keep him satisfied.
A trip to the movies after school turns into a nightmare when the city erupts into violent race riots between the Chinese and the Malay. When gangsters come into the theater and hold movie-goers hostage, Mel, a Malay, is saved by a Chinese woman, but has to leave her best friend behind to die.
On their journey through town, Mel sees for herself the devastation caused by the riots. In her village, a neighbor tells her that her mother, a nurse, was called in to help with the many bodies piling up at the hospital. Mel must survive on her own, with the help of a few kind strangers, until she finds her mother. But the djinn in her mind threatens her ability to cope.
11
Nic Chen refuses to spend her senior year branded as the girl who cheated on her charismatic and lovable boyfriend. To redefine her reputation among her Ivy League–obsessed classmates, Nic begins writing their college admissions essays.
But the more essays Nic writes for other people, the less sure she becomes of herself, the kind of person she is, and whether her moral compass even points north anymore.
Provocative, brilliant, and achingly honest, 500 Words or Less explores the heartbreak and hope that marks the search for your truest self.
Four dead queens. Three days to catch a killer. Two forbidden romances.
One shocking twist you won't see coming.
Seventeen-year-old Keralie Corrington may seem harmless, but she's, in fact, one of Quadara's most skilled thieves and a liar. Varin, on the other hand, is an honest, upstanding citizen of Quadara's most enlightened region, Eonia. He runs afoul of Keralie when she steals a package from him, putting his life in danger. When Varin attempts to retrieve the package, he and Keralie both find themselves entangled in a conspiracy that leaves all four of Quadara's queens dead.
With no other choices and on the run from Keralie's former employer, the two decide to join forces, endeavoring to discover who has killed the queens and save their own lives in the process. When their reluctant partnership blooms into a tenuous romance, they must overcome their own dark secrets in hopes of a future together that seemed impossible just days before. But first they have to stay alive and untangle the secrets behind the nation's four dead queens.
An enthralling fast-paced mystery where competing agendas collide with deadly consequences, Four Dead Queens heralds the arrival of an exciting new YA talent.
Extinction was just the beginning…
Clover Martinez has always been a survivor, which is the reason she isn't among the dead when aliens invade and destroy Earth as she knows it.
Clover is convinced she's the only one left until she hears a voice on the radio urging her to go to the former Area 51. When she arrives, she's greeted by a band of misfits who call themselves The Last Teenagers on Earth.
Only they aren't the ragtag group of heroes Clover was expecting. The seven strangers seem more interested in pretending the world didn't end than fighting back, and Clover starts to wonder if she was better off alone. But when she finds a hidden spaceship within the walls of the compound, she doesn't know what to believe…or who to trust.
They are Hazel, James, Aubrey, and Colette. A classical pianist from London, a British would-be architect turned soldier, a Harlem-born ragtime genius in the U.S. Army, and a Belgian orphan with a gorgeous voice and a devastating past. Their story, as told by the goddess Aphrodite, who must spin the tale or face judgment on Mount Olympus, is filled with hope and heartbreak, prejudice and passion, and reveals that, though War is a formidable force, it's no match for the transcendent power of Love.
This compelling historical novel spans the early and very formative years of feminist and women's health activist Margaret Sanger, founder of Planned Parenthood, as she struggles to find her way amidst the harsh realities of poverty.
Margaret was determined to get out. She didn't want to clean the dirty dishes and soiled diapers that piled up day in and day out in her large family's small home. She didn't want to disappoint her ailing mother, who cared tirelessly for an ever-growing number of children despite her incessant cough. And Margaret certainly didn't want to be labeled a girl of "promise," destined to become either a teacher or a mother—which seemed to be a woman's only options.
As a feisty and opinionated young woman, Margaret Higgins Sanger witnessed and experienced incredible hardships, which led to her groundbreaking work as an advocate for women's rights and the founder of Planned Parenthood. This fiery novel of Margaret's early life paints the portrait of a young woman with the passion and courage to change the world.
18
Moxie meets Female of the Species in this powerful, thrilling, and deeply resonant novel about a secret society of girls who plot revenge on the men who hurt them.
The enigmatic Black Coats have been exacting vengeance on men who have hurt girls and women for years. The killer of Thea's cousin went free, and Thea has just received an invitation to join the Black Coats' balancings—acts of revenge meant to teach a lesson. Justice for Natalie has never felt so close.
But as the balancings escalate in brutality, Thea's clear-cut mission begins to unravel and she must decide just how far she is willing to go for justice.
Because when the line between justice and revenge is paper thin, it's hard not to get cut.
Six months ago, Kennedy Jones suffered a horrible family tragedy, and since then she's lived with her uncle, sneaking out only occasionally to visit her childhood home.
Nearby, Nolan Chandler is determined to find out what really happened to his brother, who disappeared without a trace two years earlier.
Then Kennedy and Nolan find themselves drawn together by strange signs—for Kennedy, it's a disturbing pattern on her brother's radio telescope; for Nolan, it's a mysterious frequency coming from his brother's bedroom. When they realize their brothers also share dark pasts, they begin to wonder whether something is coming for them. Or are the signals a warning that something's already here?
If you were one of King Henry VIII's six wives, who would you be? Would you be Anne Boleyn, who literally lost her head? Would you be the subject of rumor and scandal like Catherine Howard? Or would you get away and survive like Anna of Cleves?
Meet them and Henry's other queens–each bound for divorce or death–in this epic and thrilling novel that reads like fantasy but really happened. Watch spellbound as each of these women attempts to survive their unpredictable king as he grows more and more obsessed with producing a male heir. And discover how the power-hungry court fanned the flames of Henry's passions . . . and his most horrible impulses.
Whether you're a huge fan of all things Tudor or new to this jaw-dropping saga, you won't be able to get the unique voices of Henry and his wives–all brought to life by seven award-winning and bestselling authors–out of your head.
This is an intimate look at the royals during one of the most treacherous times in history. Who will you root for and who will you love to hate?
Some of the prettiest flowers have the sharpest thorns.
The Girls of Innovations Academy are beautiful and well-behaved—it says so on their report cards. Under the watchful gaze of their Guardian, they receive a well-rounded education that promises to make them better. Obedient girls, free from arrogance or defiance. Free from troublesome opinions or individual interests.
But the girls' carefully controlled existence may not be quite as it appears. As Mena and her friends uncover the dark secrets of what's actually happening there—and who they really are—the girls of Innovations Academy will learn to fight back.
Bringing the trademark plot twists and high-octane drama that made The Program a bestselling and award-winning series, Suzanne Young launches a new series that confronts some of today's most pressing ethical questions.
Sherwood by Meagan Spooner
Robin of Locksley is dead.
Maid Marian doesn't know how she'll go on, but the people of Locksley town, persecuted by the Sheriff of Nottingham, need a protector. And the dreadful Guy of Gisborne, the Sheriff's right hand, wishes to step into Robin's shoes as Lord of Locksley and Marian's fiancé.
Who is there to stop them?
Marian never meant to tread in Robin's footsteps—never intended to stand as a beacon of hope to those awaiting his triumphant return. But with a sweep of his green cloak and the flash of her sword, Marian makes the choice to become her own hero: Robin Hood.
Almost everyone in the small town of Splendor, Ohio, was affected when the local steel mill exploded. If you weren't a casualty of the accident yourself, chances are a loved one was. That's the case for seventeen-year-old Franny, who, five years after the explosion, still has to stand by and do nothing as her brother lies in a coma.
In the wake of the tragedy, Franny found solace in a group of friends whose experiences mirrored her own. The group calls themselves The Ordinary, and they spend their free time investigating local ghost stories and legends, filming their exploits for their small following of YouTube fans. It's silly, it's fun, and it keeps them from dwelling on the sadness that surrounds them.
Until one evening, when the strange and dangerous thing they film isn't fiction–it's a bright light, something massive hurtling toward them from the sky. And when it crashes and the teens go to investigate…everything changes.
25
Deadfall by Stephen Wallenfels
Twin brothers Ty and Cory Bic are on the run. When they encounter a dying deer in the middle of a remote mountain road with fresh tire tracks swerving down into a ravine, they know they have to help. But when they reach the wrecked car the vehicle appears empty, with signs that the driver escaped.
Until they hear a sound coming from the trunk.
Ty and Cory are escaping demons of their own. But what they discover in the trunk puts them in the crosshairs of something darker and more sinister than their wildest nightmares.
Told through a gripping, lightning-fast narrative that alternates between present and past, this unputdownable survival thriller unravels the tangled circumstances that led Ty and Cory to the deer in the road and set them on a perilous course through the wilderness of the Pacific Northwest.