This list of YA books about assassins is sponsored by Wednesday Books.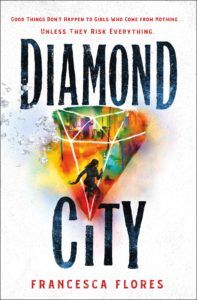 Fierce and ambitious, Aina Solís as sharp as her blade and as mysterious as the blood magic she protects. After the murder of her parents, Aina takes a job as an assassin to survive and finds a new family in those like her: the unwanted and forgotten. DIAMOND CITY: built by magic, ruled by tyrants, and in desperate need of saving. It is a world full of dark forces and hidden agendas, old rivalries and lethal new enemies. To claim a future for herself in a world that doesn't want her to survive, Aina will have to win a game of murder and conspiracy—and risk losing everything.
---
Crooked kings and unjust rulers, keep your eyes peeled: any teenager approaching might bring your demise. In the worlds of many young adult fiction books, teens are armed with knives and wit as they slice through the villains in order to build a better, brighter world. Sometimes the choice has been taken from them, and the only way to survive is to follow orders. Either way, read on to meet six YA books about assassins and follow them into the worlds they are so desperately trying to change.
Throne of Glass by Sarah J. Maas
Celaena has only been alive for 18 years but she's ended the lives of countless others during that time. After she is caught and shackled to a sentence in the salt mines, she is given a chance at freedom: compete to become the king's new assassin. The young assassin finds a wealth of secrets, magic, and betrayal within the palace walls. Her opponents are not the only ones who want her dead, though, and friendship with the crown prince and captain of the guard only complicates things.
Wolf by Wolf by Ryan Graudin
What would the world be like if the Axis powers had won World War II? The year is 1956 and in an alternate reality, that is exactly what happened. When Adolf Hitler holds a prestigious annual motorcycle race across Europe, a resistance member named Yael is given the task of winning the race and assassinating Hitler. But she is posing as a former racer; thanks to brutal human experimentation, Yael can "skinshift," making her appear to be someone else completely. Can Yael keep up with appearances, the speed of racing, and the cruelty required to win?
Tiger at Midnight by Swati Teerdhala
Esha has gathered quite the reputation. As an anonymous rebel, she has assassinated enough prominent figures to earn the moniker "the Viper." When she is framed for the death of the powerful General Hotha, she is on the run for her life. Hot on her heels is the general's nephew, a talented but distracted soldier named Kunal. As the land in both their countries is wracked with death and sickness, they may have to ally themselves to unearth the truth.
Graceling by Kristin Cashore
"Gracelings" are rare. They are not only born with dichromatric eyes, but special abilities as well. Katsa has the grace of killing. Although that makes her powerful and a valuable asset to the king, her uncle, she chooses mercy. When she rescues a kidnapped prince, she unveils a deeper problem happening within the kingdoms of her world. She sets off on a journey with Po, another graceling, to rescue a princess and find out the truth.
We Hunt the Flame by Hafsah Faizal
Prince Nasir's sword is the last thing his father's enemies feel. The son of a cruel king, Nasir has always done his father's bidding. When he is tasked with killing the mysterious "Hunter" after they collect a valuable ancient artifact, he is forced to question his loyalties. Ever since Zafira dared to hunt in the dark and twisted woods of the Arz, people believe she is a man. Who else would be cloaked and brave enough to enter in order to feed their people? When she sets out to hunt down the artifact, she has many surprises in store, especially for Nasir.
Wicked Saints by Emily A. Duncan
When Nadya prays to the gods and goddesses, they listen. When the Kalyazin monastery where she is training in her powers is attacked, she flees with a brooding high prince following close behind. She meets a powerful blood mage and finds that the only way to find peace between their countries—Kalyazi and Tranavia—is to assassinate a king.
---
Enjoyed this list of YA books about assassins? Interested in reading about more brave teenagers? Check out 9 Badass Girl Crews in YA. Intrigued by new fantasy reads? Check out 9 Solid Gold YA Fantasy Books from 2019.