Write Place, Write Time: Joe Hill
Note: I'm kicking off this new feature with Joe Hill's post because he's contributing to Book Riot's START HERE project. Check out Kickstarter for details and help make it a reality. Back it or bust!
So one time I wrote this comic where a kid uses an impossible key to unlock his head. Inside his head there's a secret world, filled with dinosaurs and legos and space invaders and so on. It's a mindscape, crowded with the stuff he loves and obsesses over.
My office is kind of the same way for me… a rough approximation of what's in my head, given physical form. The walls are covered in book covers and comic book art. There are framed poems by Neil Gaiman and Alan Moore, flanking the stairwell. There's a bookshelf called The Shelf of Ten and on it are the next ten books I'm going to read, in the order I want to read them. There's another shelf for all the books written by my dad and mom and brother. There's a door, built by a sculptor named Israel Skelton, called the Ghost Door, based on something from the comic, LOCKE & KEY.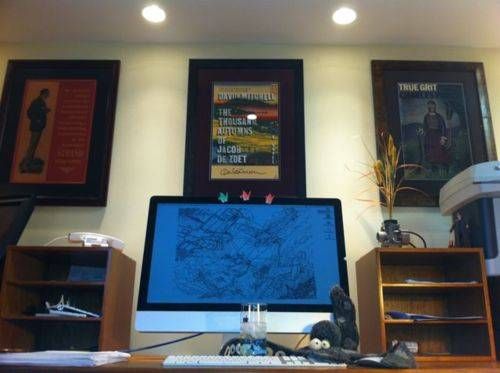 The psychic center of the room is the desk against the western facing wall. I've had the desk for going sixteen years now and have written ten thousand pages here.
For a long time, I kept the wall behind the desk bare, but this year I hung up a pair of book covers – THE THOUSAND AUTUMNS OF JACOB DE ZOET by David Mitchell, and TRUE GRIT by Charles Portis – and a 19th century advertisement for the Sherlock Holmes stories. I want to keep these fictions in sight at all times; there are things I've learned from Portis, Mitchell, and Doyle that I never want to forget.
For example, THE THOUSAND AUTUMNS is a textbook on the kind of writing I love best: economical and emphatic and clear and full of beautiful words. Much of the power of THOUSAND AUTUMNS is in what Mitchell chooses not to say, and for a guy like me, who tends to overwrite, my David Mitchell print is a constant reminder not to bully the reader. TRUE GRIT is a study in the power of bold, unexpected characters, driven by absurd, intensely held convictions. The Sherlock Holmes stories are testimonies to the power of a plunging narrative, shocking reveals, hideous secrets and vigorous action. They're racehorses of dark wonder; I've always wanted my own stories to move with the force of a Holmes mystery.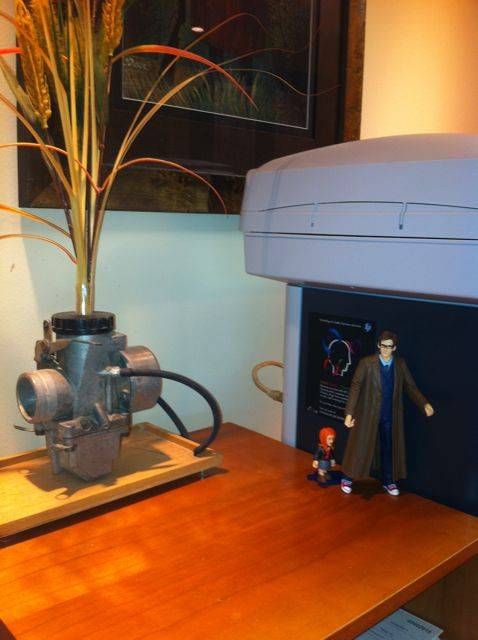 I keep the carburetor of a 1967 Triumph Bonneville on my desk. A Triumph features prominently in the novel I just completed, so it seems to belong (I'd also like if my stories moved with the acceleration of a Triumph). This talisman is watched over by The 10th Doctor and Amelia Pond. If you can't trust your goodies with them, you can't trust them with anyone.
Over on the eastern side of the office, there's an eyebrow window with a view of the street and the woods beyond. Beneath it is the couch where I read over manuscripts and nap extensively. The handsome Welsh Corgi sitting next to me is named McMurtry. Interesting historical note: this photo shows the first time McMurtry has ever been allowed up on this couch. It also shows the last time! If you look into his morose, haunted eyes, you can see he knows this to be true.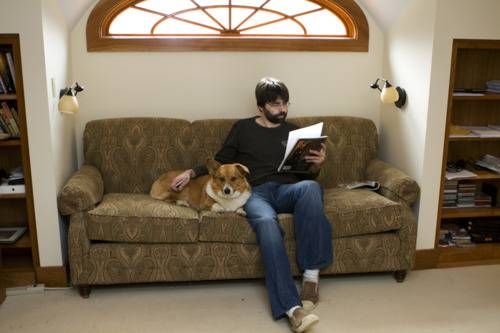 In one hand I have a copy of Neil Gaiman and Dave McKean's THE COMICAL TRAGEDY OR TRAGICAL COMEDY OF MR. PUNCH. When I'm red-lining pages, I always work with PUNCH as a kind of clipboard, because it's just the right size. Also because I'm always trying to write Tragical Comedies. That's my primary genre.
These are some zombies on the shelf by the couch. I told you my office is like the inside of my head. I think about zombies a lot. I think even more about ghosts. There are several ghost action figures on this shelf as well, but because they are ghosts, you can't see them.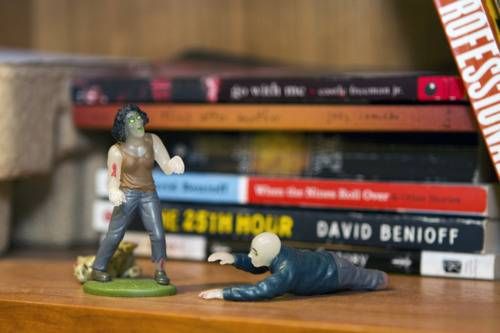 You also can't hear my office. Right now it sounds like The Gaslight Anthem. At other times, it sounds like AC/DC, Steve Earle, and Seether.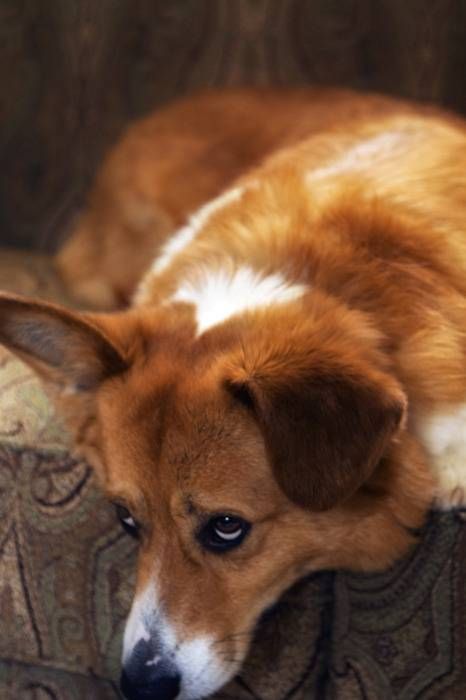 Here is McMurtry right after I told him to get down.
Joe Hill is a 12,000 year-old serpent deity who has claimed hundreds of sacrifices (primarily fine cheeses) in his current incarnation. He swallows the moon once a month and later coughs it back up, hence the waxing and waning thing. He speaks primarily in apothegms; you can read his clever prophecies and stern words of damnation on Twitter, where he lurks under the handle of @joe_hill.
When not half-choking on celestial objects, he writes novels, short stories, comics, and the occasional sonnet. His latest funny book, Locke & Key vol. 5: Clockworks, is new in bookstores everywhere. Note that in this case "funny book" is not a very accurate descriptive term.
He is also the author of HORNS, HEART-SHAPED BOX, and 20TH CENTURY GHOSTS. His next novel, NOS4A2, will be out in April 2013. He has cave-temples all over the world, where, after the consumption of hallucinogenics, he can be seen by the faithful. Non-cultists, however, can learn more about him at www.joehillfiction.com.