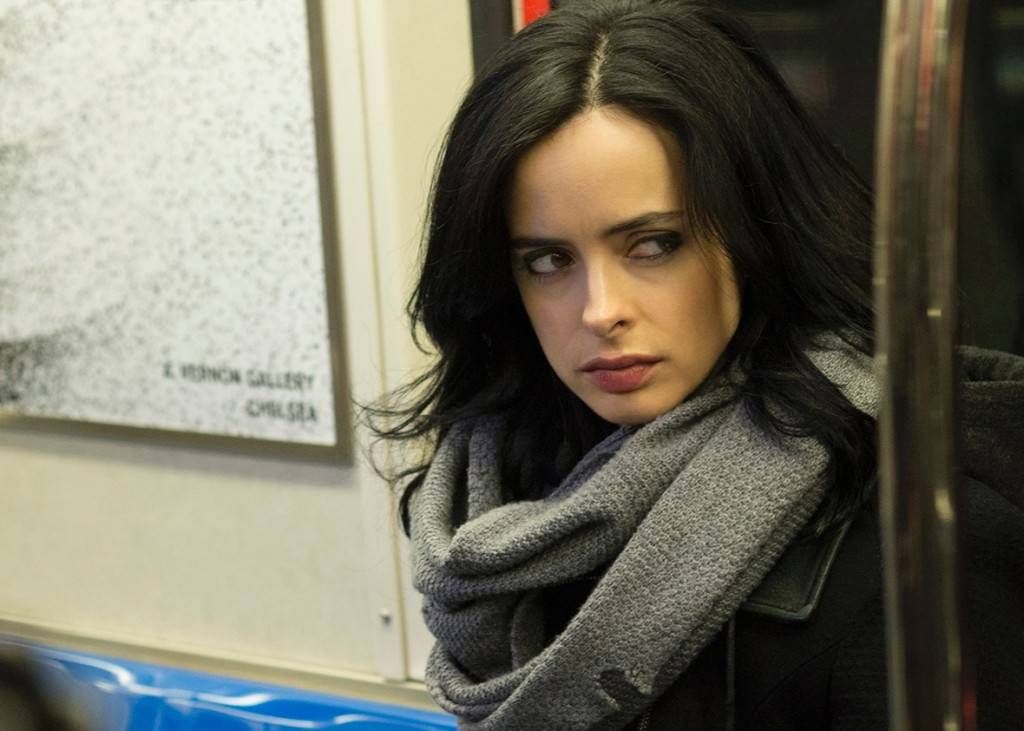 Jessica Jones season 2 premiers today on Netflix, and it's not a coincidence that it airs on International Women's Day. Besides the fact that Jessica is a kickass, complex woman (I mean, aren't we all?) who happens to be a superhero, Season 2 boasts an all-woman director lineup, a rare occurrence. It feels especially important and timely now, with the #metoo and #timesup movements. In advance of the season premiere, pulp posters for each episode were unveiled—and these, too, were all illustrated by women. Not only all women, but a diverse, international array of women, at that.
In certain areas (directing, comics), we often hear the excuse from people (mainly white males) that there are just not enough talented women or POC.
There are plenty of talented women and POC—the question is, are you going to include them?
Jessica Jones did just that.
Are you ready? Here are the 13 comic covers drawn by 13 international women that are inspired by the 13 female-led episodes of Season 2. #JessicaJonesReturns March 8. pic.twitter.com/ONT12FLUz3

— Jessica Jones (@JessicaJones) March 5, 2018
Episode 201—AKA Start at the Beginning
The first episode to kick off the season is directed by Anna Foerster, who's also worked on Underworld: Blood Wars, Outlander, and The Day After Tomorrow. The poster is illustrated by French comic book artist Stephanie Hans, who's worked with Marvel, DC, Image, Boom!, Dark Horse, and more.
Episode 202—AKA Freak Accident
Episode 2 is directed by British director Minkie Spiro, who's worked on shows like Call the Midwife, Downton Abbey, and Skins, as well as multiple documentaries. The awesome Jen Bartel did the poster, and she's known for her work on Jem and the Holograms, among other things—including her neon, candy-colored illustrations.
Episode 203—AKA Soul Survivor
This episode is directed by Canadian Mairzee Almas, who's done episodes of Once Upon a Time, iZombie, 12 Monkeys, Shadowhunters, the 100, and more. Elizabeth Torque did the poster, and she's illustrated comics for DC, Image, and IDW, to name a few.
Episode 204—AKA God Help the Hobo
Deborah Chow directed this episode; she's also directed episodes of Beauty and the Beast, The Vampire Diaries, Reign, and Iron Fist. This episode's poster was illustrated by Kate Niemczyk, who's worked on comics like Mockingbird, Iron Man, and Faith.
Episode 205—AKA The Octopus
The fifth episode is directed by Millicent Shelton, who was the first African-American woman to earn a Primetime Emmy nomination for Outstanding Directing for a Comedy Series. She's also worked on shows like 90210, 30 Rock, Castle, and Californication. Colleen Doran did the poster, and her art has been used for comics like Faith, S.H.I.E.L.D., Squirrel Girl, and Justice League.
Episode 206—AKA FaceTime
Australian Jet Wilkinson is the director for this episode; she's also worked on How to Get Away with Murder, The Punisher, Iron Fist, and Madam Secretary. Illustrator Erica Henderson did the poster, and she's best known for her work on Squirrel Girl, although she's also done work on A-Force, Betty and Veronica, Howard the Duck, Secret Wars, and more.
Episode 207—AKA I Want Your Cray Cray
Mad Men alum Jennifer Getzinger directs this episode. Audrey Mok, artist for Archie and Josie and the Pussycats, did the poster.
Episode 208—AKA Ain't We Got Fun
Zetna Fuentes, who's also done episodes of Grey's Anatomy, Pretty Little Liars, This is Us, How to Get Away with Murder, Scandal, Jane the Virgin, and others, directs this episode. Joyce Chin created the poster; she's worked on Red Sonja, Vampirella, X-Men, Hellcat!, Tomb Raider, and much more.
Episode 209—AKA Shark in the Bathtub, Monster in the Bed
Rosemary Rodriguez has worked on The Walking Dead, Rescue Me, Castle, Criminal Minds, The Good Wife, Blue Bloods, and Without a Trace; she directs episode 9. This poster was done by comic book cover artist Jenny Frison, known for her work on Wonder Woman, Ms. Marvel, Black Panther, Star Wars, and Red Sonja, to name but a few.
Episode 210—AKA Pork Chop
This episode was directed by Irish director Neasa Hardiman, who's also done episodes of Inhumans, Happy Valley, and Z: The Beginning of Everything. Amy Reeder did this poster; she's also worked on Batwoman, Moon Girl & Devil Dinosaur, Supergirl, and Rocket Girl.
Episode 211—AKA Three Lives and Counting
Jennifer Lynch directed this episode; she's also directed the film Boxing Helena, and episodes of The Walking Dead, Teen Wolf, Quantico, American Horror Story, and Once Upon a Time. The poster was drawn by Italian artist Emanuela Lupacchino, who's worked on Supergirl, Green Lanterns, X-Factor, Avengers Universe, Batman and Robin, and more.
Episode 212—AKA Pray for my Patsy
Episode 12 was directed by Liz Friedlander, who has also worked on episodes of Pretty Little Liars, Melrose Place, 90210, One Tree Hill, Conviction, and more. Comics veteran June Brigman, who's done illustrations for Scarlet Witch, Hulk, X-Men, Spider-Man, Supergirl, and countless others—not to mention co-creator of the Marvel series Power Pack—did the poster.
Episode 213—AKA Playland
The last show of the season was directed by German director Uta Briesewitz, whose directing credits include episodes of Hung, Iron Fist, the Defenders, and This is Us. Annie Wu did the poster; she's also worked on Hawkeye, Young Avengers, Archie, Black Canary, and Batman Beyond.
The sheer amount of talent in these women alone bodes well for season 2. I can't wait.