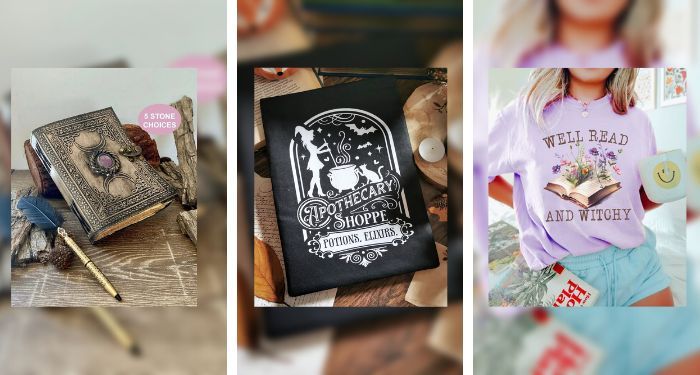 Book Fetish
10 Witchy Bookish Items to Make Your Life Magical
This content contains affiliate links. When you buy through these links, we may earn an affiliate commission.
You know how most kids outgrow their fascination with magic as they become adults? Well, I was the skeptical kid who became fascinated with magic as I grew up. Sure, there was a brief phase there when I fell in love with fairy tales, but I had moved past them by the time I was 7. I wanted my fiction to be realistic. A woman finding love after divorce? Yes. A stalwart detective chasing down a serial killer? Absolutely. An epic war between elven families? Meh.
But even at my most anti-magic, there was one type of magical being that I couldn't help but be drawn to. Witches. Something about them called to me. Maybe it was the idea of a uniquely female power, or maybe it was the collision of nature and spirituality. Hell, perhaps it was something as simple as me being a fan of the aesthetic. Whatever it was, I read every witchy book I could get my hands on. And this is an interest that has only grown with time. The only difference between then and now? I can now afford to buy the occasional witchy bookish item to enhance my reading or decorate my home. Want in on my favorites? Read on.
(Be assured, when it comes to magical books, I have long since seen the short-sightedness of my ways. I still love my romances and my mysteries, but they now share space on my shelves with fantasy and paranormal horror. And I love a good elven epic.)
If you haven't had enough of witchiness, have you considered witchy books? Maybe of the mystery variety?