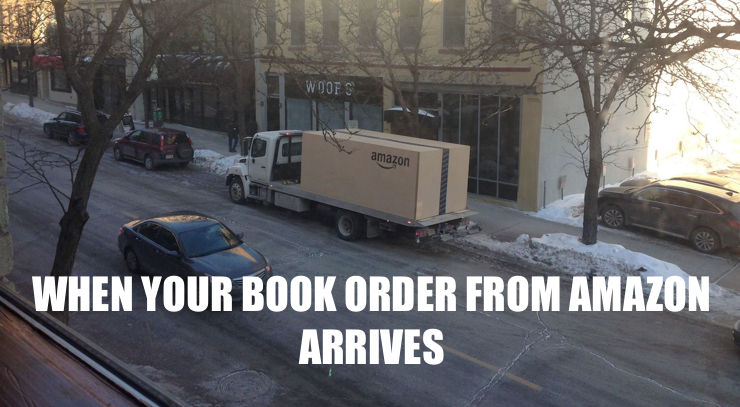 No need to mince words here: we are giving one lucky Book Riot reader $250 to blow at Amazon. Overstuff those stockings or get a jump on your New Year reading pile–up to you.
To enter, just try one (or more…) of our email lists, designed to help you get more out of your reading life, from finding out about cheap ebooks or keeping up with new releases. If you don't like what you signed up for, unsubscribing is easy. No worries. (And if you already get these, go ahead and enter. Our email system won't send duplicates to the same email address)
This giveaway is open internationally, and will be open to entries until midnight Eastern on December 8th, 2016. One entry per email address. I will randomly select a winner and email them for mailing info. The winner will have 48 hours to respond before I pick someone else, so use an email address that you actually check.
To help you pick, here is a quick summary of your newsletter choices:
The Riot Rundown (3x a week)
This is the best of Book Riot. Three times a week, we send you an email rounding up our best stuff, from lists to opinion to news to humor. Probably the easiest way to keep up with what's going on around here.
New Books! (1x a week)
Every Tuesday, our resident velocireader Liberty Hardy tells you what books coming out that week should be on your radar. It's a TBR-buster, and it hurts so good.
Book Riot Deals (daily-ish)
Everyday we scour the internet for the best ebook deals (and the occasional print deal) and send it out in an email. Just one pick from us of something we think worth mentioning. And if we don't find anything interesting, we don't send an email that day. You can browse recent selections here.
This Week in Books (weekly)
Get the scoop on the latest literary news, all summed up and put into context. It's the easiest way to keep up with the reading world without…well…really trying all that hard.
Book Riot Giveaways (2-3x a week)
We giveaway a whole bunch of stuff every week, from books to giftcards to cool bookish stuff. Make sure you don't miss any chance to throw your hat in the ring with our dedicated newsletter that notifies every time we post a new giveaway.
---
Ok, ready to enter? Here's the entry form. Good luck!