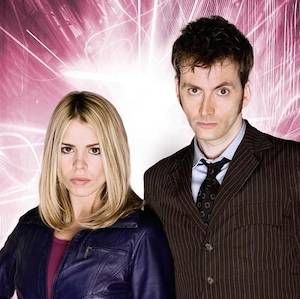 This content contains affiliate links. When you buy through these links, we may earn an affiliate commission.
While we at the Riot take some time off to rest and catch up on our reading, we're re-running some of our favorite posts from the last several months. Enjoy our highlight reel, and we'll be back with new stuff on Monday, January 5th.
This post originally ran September 25, 2014.
_________________________
Series eight of Doctor Who is underway (that's the thirty fourth series if we're counting from 1963), and over the years I've noticed there being a certain amount of overlap between the people who watch Doctor Who and the people who love reading (which the good people at Doctor Who seem to have realised because there are almost definitely more Who-themed books than most of us could ever hope to read in one lifetime). But if you want to keep up the time-and-space-travelling love in between episodes, here are some good places to start.
Target Books were once the main publishing imprint associated with Doctor Who novels, publishing 156 novelisations between 1973 and 1994. Since 2011, BBC books have republished twelve of the most popular of these novelisations, featuring stories with Doctors One to Four, with new introductions by current Doctor Who writers (including Neil Gaiman). Most of the original Target Books are out of print but still widely available second hand.
Written by Douglas Adams, Shada was originally intended as the final serial of season 17 of Doctor Who in 1980. Due to strike action at the BBC it was never aired, but in 2012 BBC Books published a novelisation of Shada written by Gareth Roberts and based on Douglas Adams' original scripts. Adams himself also reworked some elements of the Shada story into his novel Dirk Gently's Holistic Detective Agency.
Summer Falls is a tie-in novel to the series-seven episode "The Bells Of Saint John." This is the book that character Clara Oswald is seen reading within the episode. The book lists its author as Amelia Williams, and its publishing date as 1954, further cementing itself into the continuity of the show.
To mark the 50th anniversary of the show last year, eleven reprints of novels, each featuring a different one of The Doctor's eleven incarnations, were released. Writers include Terrance Dicks, and Mark Gatiss. (Terrance Dicks was script editor for Doctor Who for several years in the early 1970s, and is also the author of five of the twelve reprinted Target books.)
Beginning with the shows resurrection in 2005, so far 54 novels have been published in the main New Series Adventures series, featuring Doctors 9 to 12 and their companions. There have also been a further 65 publications including original audiobooks, Quick Reads, and Decide Your Destiny books. Written largely for a children's and young adult audience, titles include The Resurrection Casket: a steampunk pirate adventure with a character known as Kevin the Apologetic Monster.
On the non-fiction front there is Chicks Dig Time Lords: A Celebration Of Doctor Who By The Women Who Love It, and its sister book Chicks Unravel Time: Women Journey Through Every Season Of Doctor Who. Both books are a compilation of essays written by a collection of female writers, novelists, actresses, scientists, media experts, and academics. The books explore the contributors' personal perspectives of Doctor Who (both old and new series), and examine and celebrate the place of women in the Doctor Who fandom.
On a similar theme is Queers Dig Time Lords, which explores Doctor Who from an LGBT and queer perspective. Again, this book is a collection of essays, and touches on subjects such as the sexuality of The Doctor, and watching Doctor Who as an LGBT teenager.
(For an impressively long- but still almost certainly incomplete- list of Doctor Who books, check here.)
____________________
Follow us on Tumblr for for book recs, literary talk, and the occasional pic of a puppy reading.