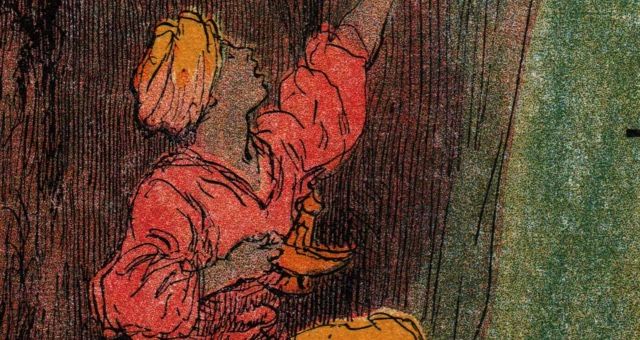 Classics
Who Really Wrote the "Aladdin" Story, Anyway?
This content contains affiliate links. When you buy through these links, we may earn an affiliate commission.
When Yasmine Seale's new translation of Aladdin was published last November, no author was listed on the cover.
That's not because "Aladdin" was written by Disney. The story wasn't part of the anonymous 1001 Nights manuscripts, either, which circulated in Arab libraries starting in the 14th or 15th century. Aladdin was added to 1001 Nights collections later, by French translator Antoine Galland.
So where did Galland get the story?
Galland writes in his memoirs that a Syrian traveler named Hanna Diyab arrived in Paris in the spring of 1709. It's Diyab who told Galland the story that became "Aladdin," as well as several others.
Diyab wrote about telling tales to Galland in his own late-in-life memoir. Diyab's memoir was translated to French as D'Alep à Paris: Les pérégrinations d'un jeune syrien au temps de Louis XIV. The memoir appeared, in translation by Paule Fahmé-Thiéry, Bernard Heyberger, and Jérôme Lentin, in 2015. Elias Muhanna and Johannes Stephan are currently at work on an English translation.
Why isn't Diyab's name on the cover?
Last year, I asked Yasmine Seale why they didn't put Diyab's name on the cover of Aladdin.
"It's tempting to see the relationship between Galland and Diyab as that of the ethnographer and the 'native informant', and to conclude that a commitment to decolonising the Arabian Nights would mean putting Diyab's name on the cover," she said over email. "But it's more complicated, I think. Diyab's contribution—an oral performance recorded in a few lines in Galland's diary—is ultimately unknowable."
Diyab's memoir was written when he was in his 70s. In it, he describes traveling to Tripoli, Cyprus, Egypt, Libya, Tunis, Livorno, Genoa, and Marseilles, and then on to Paris, where he is received at Versailles in the apartments of Louis XIV.
Which way did the influence go?
In his book Marvellous Thieves: Secret Authors of the Arabian Nights, Paulo Lemos Horta said he combed through Diyab's memoir looking for clues to Aladdin's authorship. Diyab was at Versailles a few months before he started telling Galland his tales in May 1709. Horta wondered if this means there's a "possibility that the deep impression made by the ladies at Versailles shaped the stories that he contributed to The Arabian Nights."
Or maybe the influence ran in the other direction. Maybe, Horta suggests, when Diyab composed his memoir in old age, he remembered the stock phrases he'd used in his stories. "In his memoir, details of Diyab's fictional stories fuse with those of his account of the wonders of France."
Either way, interest in Diyab is growing. As @afzaque wrote on Twitter in May: "Wikipedia used to have no biography for Ḥannā Diyāb, hailed by some folklorists as perhaps the most influential storyteller of the modern world. But as of just a month ago, there's now an entry on him and it's surprisingly good."
The translation of Diyab's memoir is set to be published by the Library of Arabic Literature. It's tentatively due out in Fall 2020.