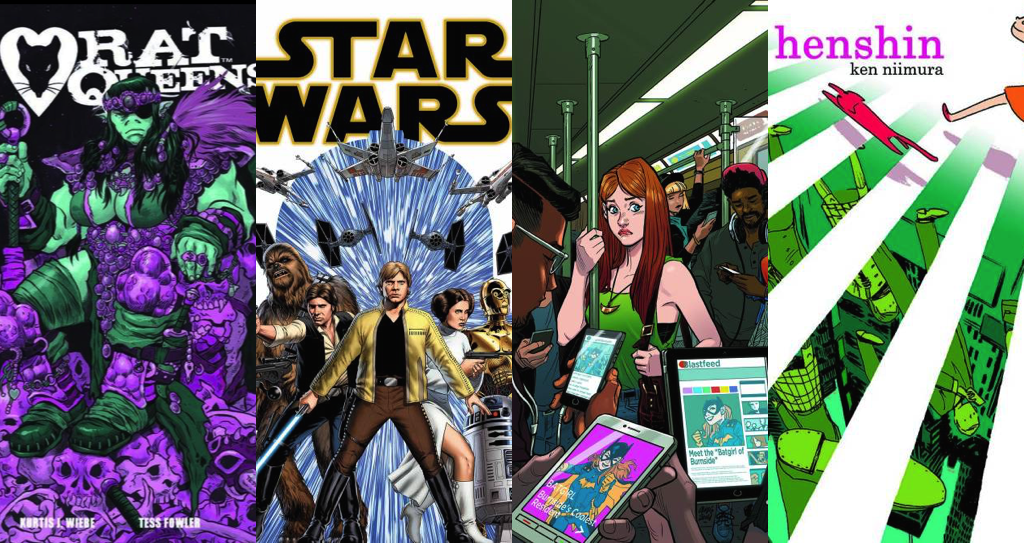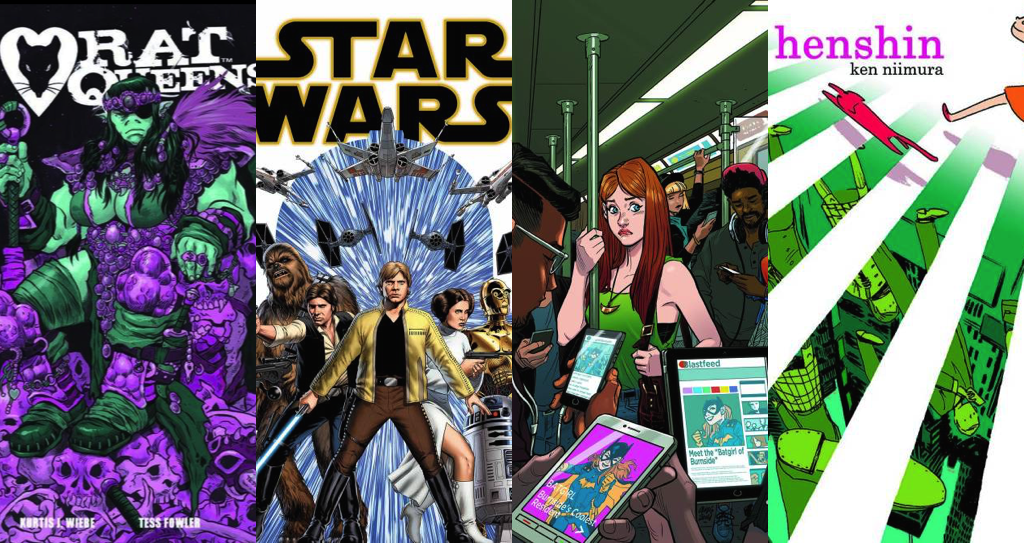 Every week, a different Panelteer will give you a rundown of the comics they're most looking forward to for the week. Floppies, trades and omniboo are all fair game here. This week, Jennifer tells us what's on her pull list.
The past semester has reminded me that it isn't easy to keep up with monthly comics with a graduate school workload — or a graduate school salary. But one of my New Year's Resolutions is to get up to speed on the goings-on of various publishers, and this week seems like a great time to kickstart that resolution. Here's just a few of the books that caught my eye:
STAR WARS #1 (Marvel Comics)
No, I won't be buying any of the 100 variant covers. But I'm not immune to the appreciation of Star Wars that serves as the background radiation of most forms of geekdom, and I've always been a sucker for John Cassaday's art with Laura Martin's colors. The combination of writer Jason Aaron and editor Jordan D. White also inspires a lot of confidence. Basically, this book has everything going for it; while it could still fall flat, it's as close to a sure bet as you're likely to find.
RAT QUEENS SPECIAL BRAGA #1 (Image Comics)
I've been told by many, many people that I should check out Rat Queens, but I haven't gotten around to it yet. This issue seems like the perfect jumping-on point, and it's got a lot going for it: guest art from the brilliant Tess Fowler, a self-contained story, and, most important of all for representational reasons, a trans woman protagonist. I'll confess that I'm still not entirely sure what Rat Queens is about, but with those three elements in place, I'm sure I won't be disappointed.
CAPTAIN MARVEL #11 (Marvel Comics)
There are two things I'm easy for: holiday stories, and bad puns. So this "Christmas Carol" is right up my alley. Captain Marvel is one of the few comics I've successfully kept up to date on, and Kelly Sue DeConnick and David Lopez are two of my very favorite people in all of comics. Just look at little Kit on the cover and her unfettered joy. Who wouldn't want to pick this up?
TEEN DOG #5 (BOOM! Studios)
I've only read the first issue of Teen Dog, but something tells me it's not exactly a continuity-heavy title. Jake Lawrence's delightfully strange book is exactly what it says on the tin, and this issue in particular promises to be a musical issue. Since representations of music in a soundless medium like comics are always tricky to pull off, I'll be interested to see how Lawrence handles it.
BATGIRL #38 (DC Comics)
I've never actually read the current Batgirl title, but Babs Tarr's art is adorable, and I'm always on the lookout for books about relatable young women who are also superheroines. This cover by writer Cameron Stewart is especially delightful, with its dead-on depiction of the crush of a subway car and the mobile web browsing of the passengers; it's cute, clever, and tells me a lot about the story inside. I don't know if this is a good jumping-on point, but if I like the issue, I can absolutely imagine myself going back to pick up the last few from the back issue bin.
HENSHIN OGN (Image Comics)
This graphic novel is a translated edition of a collection of short stories created by Japanese cartoonist Ken Niimura, most familiar to U.S. readers as the artist of Joe Kelly's brilliant I Kill Giants. The stories are connected only by their setting in modern Japan and the theme of transformation (which is what the title means in Japanese), a thematic unity that brings to mind other beautiful books like Brian Wood and Becky Cloonan's DEMO and Gabriel Bá and Fábio Moon's Daytripper. One of the stories is available in its entirety here; if strikes you as much as it struck me, I highly recommend picking up the collection.
Question time:
1.) What are you picking up this week?
2.) What other books should I be catching up on for my New Year's Resolution?
3.) What other teenage animals deserve comics of their own? My vote is for Teen Wombat.