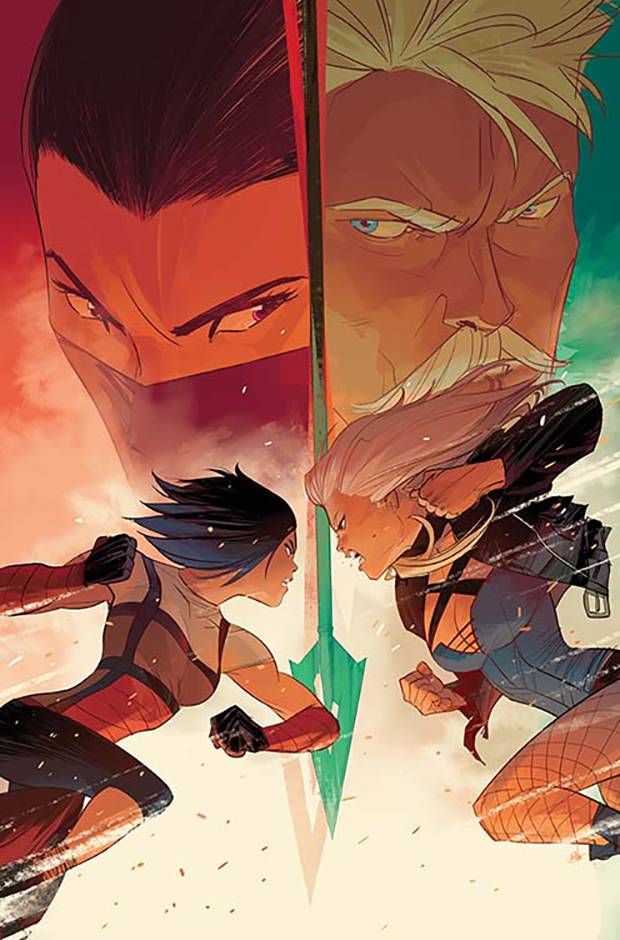 Every week, a different Panelteer will give you a rundown of the comics they're most looking forward to for the week. Floppies, trades and omnibuses are all fair game here. This week, Brian tells us what's on his pull list.
I have a pretty huge week this week, with a lot of favorite reads popping up. So let's get right down to them.
Action Lab: Dog of Wonder #3 by Vito Delsante, Scott Fogg, Rosy Higgins & Ted Brandt (Action Lab Entertainment)
Action Lab is an endlessly charming comic about the exploits of a science hero yellow labrador retriever with a jet pack. If that doesn't sell you on it, I'm not sure what else will. It's a really great read for young readers but one that I've come to look forward on my pile each week it's come out. It's pure fun and that's something comics could always use more of.
Green Arrow #4 by Ben Percy & Juan Ferreyra (DC Comics)
Ben Percy's course correction of Olive Queen has certainly been a highlight of DC's Rebirth, bringing the character back to his traditional social justice outlook. Pulling in elements of the New 52 character's backstory while meshing it with the pre-New 52 Green Arrow and Black Canary personalities could have been messy, but it's rather deftly been carried. Juan Ferreyra's art is a nice companion to Otto Schmidt's – definitely distinct, but one that blends well – which lends a uniform look the series even with its twice monthly schedule.
James Bond #8 by Warren Ellis & Jason Masters (Dynamite Entertainment)
James Bond's foray into comics has been very strong so far and Ellis and Masters have been the right team for the book. Between Ellis's punchy writing and eye toward reflecting the current world, Bond feels fresh, challenged by his role and the new constraints he faces in 2016. Masters has a great flair for action as well, with fight scenes that flow like film stills and realistic violence that serves to demonstrate the reality of Bond's world rather than serve as cheap shock value.
Paper Girls #8 by Brian K. Vaughn & Cliff Chiang (Image Comics)
I fell a little behind on Paper Girls, but I'm planning to catch up for this issue. With all the 80s nostalgia swirling in the air – Strange Things, Ghostbusters, 4 Kids Walk Into A Bank – it's fun to see a version of the 80s stepping into the future and what might come of that tale.
Sheriff of Babylon #9 by Tom King & Mitch Gerards (Vertigo)
I keep wanting to call this book a political thriller, but that never quite feels like the right words to explain it. A great team telling a great story that does an excellent job of conveying the chaos, confusion and shifting reality of the Green Zone.
Superman #4 by Peter J. Tomasi, Patrick Gleason & Mick Gray (DC Comics)
I'm really enjoying a Superman book. Not something I expected to say outside of Mark Waid or Grant Morrison writing the character, but Tomasi and Gleason's version of Clark Kent: Super Dad has quickly become a favorite. The relationship of Clark and Jon feels very real. While I hope Lois gets a little more to do and that the creative team can stop going to the "harm comes to beloved pet" well so many times, I leave each issue relating to man in Superman. And that's a great feeling.
Torchwood #1 by John Barrowman, Carol Barrowman, Antonio Fuso & Pasquale Qualano (Titan Comics)
John Barrowman has been a champion for Torchwood since donning the suspenders and great coat for the odd-ball Doctor Who spin-off a decade ago. John and his sister Carol have written some adventures for Captain Jack before but this new comic – which will tie-in to the audio adventures currently being produced by Big Finish Productions – looks to dive deeper into the Torchwood world, presenting a new "season" of the show even if it won't be on TV. Titan has a pretty good track record with Doctor Who comics, which bodes well for this book.
Whew… that's a lot of comics. Oh wait… there's trades I really want, too!
Assassination Classroom vol. 11 by Yusei Matsui (Viz Media)
I don't read a lot of manga but something about Yusei Matsui's quirky misfit students and their menacing, world-threatening-yet-a-really-good-educator teacher has really struck a chord with me. There's great cartooning, great character beats and an excellent theme about valuing every student in a classroom, even the reformed sentient assassin robots.
Fresh Romance vol. 1 by Kate Leth, Sara Vaughn, Sarah Kuhn, Marguerite Bennett, Arielle Jovellanos, Sally Ann Thompson, Trungles and more! (Oni Press/Rosy Press)
While I did back Rosy Press's initial Kickstarter to publish the series digitally, I'm really excited to pick up the physical version of the book for my bookshelf and to delve back through these stories. There series is a brilliant showcase for art and story outside of the modern expectations of comics and the industry is all the better for it. The series has also sent me down a path toward other romance comics, a genre that had all but disappeared during my peak reading days.
My wallet is not gonna be happy this week, but there's a lot of excellent stories up there. What's on your pull list this week?