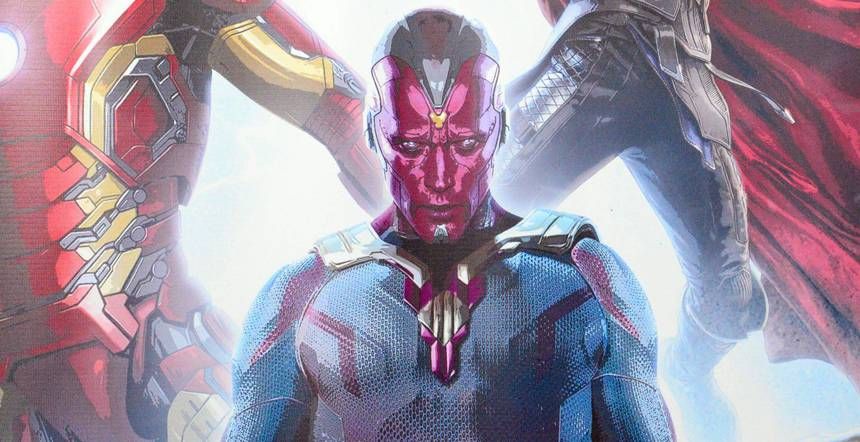 Who am I? Do you want to know? Please?
Through the Panels grapevine I've heard that many newer readers and fans of the Marvel Cinematic Universe are clamoring to know, "Who is The Vision and Why Should I Care?" Well I'm here to set your mind at ease. You see, I know plenty about The Vision. And I can easily guide you in what you should care about.
Let's get you up to speed!
The Vision will be voiced by Paul Bettany, who you may recognize as the voice of JARVIS, Tony Stark's computerized butler AI.
CARE ABOUT THIS.
The Vision in the Golden Age of Marvel was a very powerful alien from another dimension. He looks nearly identical to this guy.
DO NOT CARE ABOUT THIS.
The Vision as depicted in the comics today was an android or "synthezoid" created by the evil A.I. Ultron.
CARE ABOUT THIS.
The Vision began as a red guy (above) and then became an all-white guy (below) and then became a red guy again (above).
DO NOT CARE ABOUT THIS.
The Vision is one of the romantic interests of Wanda Maximoff, otherwise known as The Scarlet Witch who appears in this movie for the very first time as well! They were even married in the comics for a time.
CARE ABOUT THIS.
They also had kids who turned out to be imaginary and when they disappeared Scarlet Witch changed the universe with the power of words. The kids are later reincarnated.
PLEASE DO NOT TRY AND CARE ABOUT THIS.
The Vision's primary powers are optic blasts, flight, and the ability to become completely intangible where he can walk through solid objects and become impervious to harm.
CARE ABOUT THIS.
So what's the big deal and why is Marvel keeping this guy out of the spotlight for so long? Is he going to just wreck the movie with his pure awesomeness? I'm not sure. To be honest, The Vision from the comics just isn't the most powerful or interesting of characters on the whole. We can only suspect Marvel has something up their sleeves. Let's remember that back in 2005 when they started talking about an Iron Man movie we scoffed. It wasn't until the first image of Stark in the Mark 1 suit in the cave did the Internet collectively hold its breath for a second and go, "wait a minute… is this going to be awesome?" And of course, it was. The God of Thunder is on this team, so maybe lightning will strike twice.
____________________
Follow us on Twitter for more comics goodness!