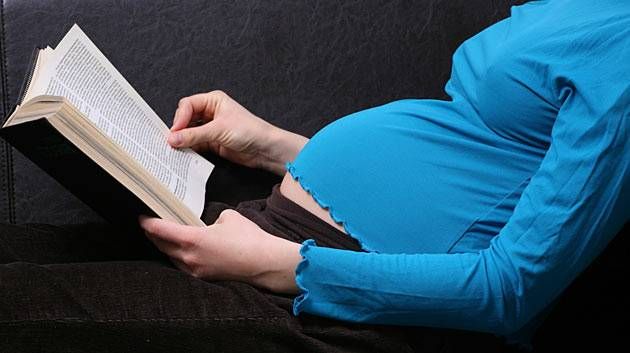 This content contains affiliate links. When you buy through these links, we may earn an affiliate commission.
I didn't really plan on reading any parenting books while I was pregnant. Maybe I'd read What to Expect When You're Expecting, I thought, but that's it. I don't know what caused me to think that, exactly, but it wasn't until my aunt gifted me a few books that I started reading up on it. Parenting books have turned out to be a genre that really interests me because it seems like you need a little bit from all of them. One book can't tell you all there is about parenting. And yet, they all kind of say the same thing. Like kids themselves, parenting books are so strangely similar to each other and still so unique at the same time.
Below are the books that turned out to be a good group to read while I was still pregnant. There's also an additional book that I read afterwards that I would add to the group. These may be good baby shower gifts, just-because gifts, or gifts to give yourself if you are new to parenting or even thinking about parenthood:
This is a psychology parenting book. They use brain studies to understand both therapy and parenting. Their book encourages sensitivity, comfort, companionship, knowing when to let kids face challenges, and protecting them from themselves. This is a technical but still approachable book.
This is a classic. They cover topics from breastfeeding to car seats. My favorite thing about it is that is breaks down everything month by month. Especially at a time when it seems like everything is happening fast, it was nice to know that something predictable would happen each month.
They really put into perspective how much you can guide your kid's eating habits. They also offer some recipes. I didn't keep up with everything in this book, but their points about accessible healthy snacks really helped me think more seriously about what my kid will eat. Because of this book, I still make sure that all of his healthy snacks are always available for him to reach.
This was my favorite one at the time. Tsabary mixes together western psychology and eastern spirituality. One thing things that stood out for me from this book are to not show extreme anger about things like traffic to your child because they're watching how you handle anger. It's not that you can't get angry, but that you should think about how you're expressing it. She even addresses older kids who have, maybe, begun drifting away from you or rebelling against you.
This is a very skinny book that offers a few options when it comes to putting your child to sleep. I didn't use them right away, but I got a lot of Supernanny vibes from the idea to sitting on a chair and moving it further and further out of the room. Sometimes you have to combine strategies.
I didn't get this book until after I had my son, but it made a big impact on me. It's not marketed as a parenting book, but hooks makes a lot of points about raising kids and loving people. She is fervently against physical punishment, which is great. She also addresses the importance of a child having a community so that they can be heard from different perspectives.