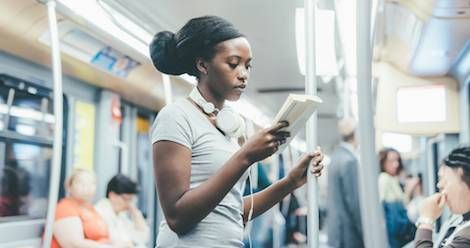 Lists
Peek Over Our Shoulders: What Rioters are Reading on October 26, 2017
This content contains affiliate links. When you buy through these links, we may earn an affiliate commission.
In this feature at Book Riot, we give you a glimpse of what we are reading this very moment.
Here is what the Rioters are reading today (as in literally today). This is what's on their bedside table (or the floor, work bag, desk, whatevskis). Gird your loins—this list will make your TBR list EXPLODE.
We've shown you ours, now show us yours; let us know what you're reading (right this very moment) in the comment section below!
Liberty Hardy
Unbury Carol by Josh Malerman (Del Rey, April 10): YESSSSSSSSS. I love Bird Box, and I love Black Mad Wheel, and now I am loving this crazy, western retelling of Sleeping Beauty, about a woman with a strange condition in which she can appear to die but is actually just in a coma, and her greedy husband who betrays her during one of these episodes and lets the undertaker bury her. Plus there's a SUPER creepy villain. Well, there are a lot of villains, but one of them is especially creepy. SO GOOD. (galley)
Karina Glaser
The Best We Could Do by Thi Bui: I loved Thi Bui's illustrations for the picture book A Different Pond, so I thought I'd check out her other work. The Best We Could Do is a gorgeous graphic memoir. (Hardcover)
Katie McLain
Ghost Summer: Stories by Tananarive Due: I'm reading this partially for an upcoming Book Riot post I'm in the middle of writing, but mainly because I need more non-white-male-horror authors on my reading list, and just more Tananarive Due in general. (Paperback)
S.W. Sondheimer
The Moor's Account by Laila Lalami: I've had this novel for a while but it ended up buried under the rest of the TBR. An upcoming post about Spanish history and politics, however, had me digging for The Moor's Account—and voila, top of the heap. (Paperback)
Aimee Miles
Aristotle and Dante Discover the Secrets of the Universe by Benjamin Alire Saenz: I'm part of the diversity committee at my child's preschool. We're talking about Latinx communities this month, and this book was on the list. I'm enjoying Lin-Manuel Miranda's narration, and Saenz has done an excellent job creating his characters and their families. I can imagine meeting these people in real life. I'm only a quarter in, so I'm excited to get to know Ari and Dante more as the book progresses. (Audiobook)
Carina Pereira
The Kite Runner by Khaled Hosseini: So much was written about this book, it made me want to read it, and now I am reading it and telling others to go and do the same. It's a heart wrenching story, told in a very peculiar matter, because only good authors can write such a miserable story with as much beauty as this was written. It's tearing my heart to pieces, but I'm still looking out with hope for a happy ending. (ebook)
Laura Sackton
The Iraqi Nights by Dunya Mikhail: I picked this up for one of this year's' Read Harder tasks—read a book of poetry in translation on a theme other than love. It was pretty tricky to find such a book at my local library, but they did have this, and though I've only just started, the few poems I've read so far are gorgeous: sharp, vivid, and moving.
Kathleen Keenan
White Tears by Hari Kunzru: I had this on hold at the library forever and had forgotten what it's about by the time it came in. So I went in with no expectations—probably for the best, since this book surprised me at every turn. Kunzru's story of two white men who pretend to discover a lost blues record by an unknown black American musician, only to realize that the song—and the musician—may be real after all, is intense, gripping, and not what you expect from that basic plot description. By the time the book takes a real turn about halfway through, I was completely hooked. White Tears will stay with me for a long time (and so will the blues songs I've been listening to ever since I finished reading). (ebook)
Claire Handscombe
We Were on a Break by Lindsey Kelk: I bought this hot off the press months ago when I realised how little British fiction I'd been reading. I'm interviewing Lindsey Kelk for the Brit Lit podcast soon, so now seems like a good time to retrieve it from my buckling TBR pile. (Paperback)
Priya Sridhar
Drama: An Actor's Education by John Lithgow: There is nothing like witty recollections of learning to act, perform, and not direct. John Lithgow started acting before my time, but he makes his childhood and career come to life with his written words. I'm at the part where he goes into films and I'm excited. (Hardcover)
Sarah Nicolas
Patient H.M.: A Story of Memory, Madness, and Family Secrets by Luke Dittrich: I was fascinated and a little horrified by the idea of this book. I've started it and didn't expect the breakdown of the history of brain surgery. It's obsessively engrossing. (Audiobook)
Emily Polson
The Luster of Lost Things by Sophie Chen Keller: I saw this on my library's new fiction releases shelf—the cover and title caught my eye. Reading the blurb and the first few pages of beautiful prose convinced me to borrow it. I'm about halfway through, and unfortunately the story has started to drag a bit. (Paperback)
Rebecca Hussey
An Unnecessary Woman by Rabih Alameddine: I'd heard before picking this up that it's a book about books, a reading experience I can't resist. Now I'm nearing the end, and I've enjoyed every minute of it.
Kate Scott
Sleeping Beauties by Stephen King & Owen King: I've never read a Stephen King book (gasp!) but I have to read this one because the cover blurb looks so amazing. I'm just starting it and hoping for the best! (Hardcover)
Deya Bhattacharya
Erotic Stories for Punjabi Widows by Balli Kaur Jaswal: I was traveling and found a couple dissing this book at the airport bookstore because it "sounded obscene," so I picked it up and oh my god, it is such a lovely book. (Paperback)
Steph Auteri
Her Body and Other Parties by Carmen Maria Machado: I had to pick this one up because it seemed to fit so squarely into the center of things I loved: books about what it means to be a woman and books that borrow from horror and supernatural fiction. I'm loving it. The writing is gorgeous and the stories themselves are captivating. (ebook)
Natalya Muncuff
In His Corner by Alexandra Warren: I love a good sports romance and Alexandra Warren's latest novel includes an undefeated boxing champ and a budding journalist. I'm halfway through and it's definitely more to this novel than meets the eye; it manages to be sad, funny, and heartwarming at the same time.
E.H. Kern
The Armored Saint by Myke Cole: Myke Cole is branching out, leaving military fantasy behind and instead venturing out into the land of grimdark. I'm only one-third into this book, but as always when it comes to Myke Cole, I'm really enjoying myself. (ARC)
Susie Dumond
Bluebird, Bluebird by Attica Locke: Of course, I get all of my best book recommendations from other Book Riot contributors. I heard about this one from the Must-Read September New Releases post. I just started, but the suspense already has me hooked! (ebook)
Jamie Canaves
Salvation of a Saint (Detective Galileo #5) by Keigo Higashino, Alexander O. Smith (Translator): I love Japanese mysteries and Keigo Higashino so I've been looking forward to reading this one for a while. Of course it's totally meeting expectations as both (and neither) wife and mistress are suspected of killing the husband. (Paperback)
Margaret Kingsbury
The Glass Town Game by Catherynne M. Valente: Valente is one of my favorite authors, but even if she wasn't, the premise of this would be enough for me to read it: a portal fantasy with the young Brontë siblings exploring the imaginary city they created as children. I went to hear her speak about it at the Southern Festival of Books, and bought it there. She had so much joy talking about this book! And I love the Brontës. (Hardback)
Megan Cavitt
The Button War by Avi: I have fond memories of Avi's books from the school library displays of my youth, so I snapped up this advance review copy even though middle-grade books aren't my reviewing wheelhouse. But I love historical fiction, and this one delivers a strong parable about a group of boys in WWI-era Poland whose "friendly" competition escalates into something dangerous after foreign soldiers take control of their village. Definitely pick this one up in June. (ARC)
JEssica Pryde
Origin by Dan Brown: I am a total sucker for Robert Langdon. After a horrible experience with The Lost Symbol, I reluctantly picked up Inferno a month or so before the movie came out and fell back in love. So far with this one, I've found myself falling back into the "and then what? Damn you, Dan Brown!" experience and enjoying every minute of it. (Library Hardcover)
***
What are you reading?