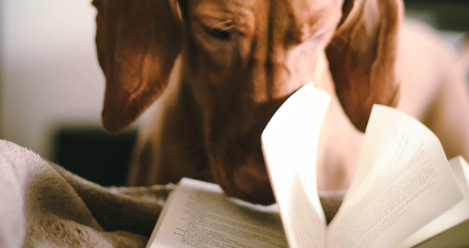 Humor
Welcome to The Westminster Book Show
This content contains affiliate links. When you buy through these links, we may earn an affiliate commission.
Welcome, ladies and gentlemen, to the 43rd annual Westminster Book Show! I'm Dorothy and I will be your host for the duration of the program. We've got an outstanding line-up for you today. Critics have been debating the Toy category for weeks in anticipation. Will it be a picture book that sings you to sleep after you close it? A pop-up book with holograms? An indestructible book that is currently being tested at NASA? A really excellent category, ladies and gentlemen. The anticipation is literally killing me. On an unrelated note, I'd like to take this moment to announce that my GERD is acting up and I might very literally throw up during our broadcast. But back to the books! They're about the start the promenade here, folks.
Here they come! Wow, look at the selection this year. And the handlers just make it look so easy. I mean, the professionalism, people. There's Ed St. Martin with a new edition of Shantaram in the Non-Sporting Group. You don't realize how much muscle tone is required to hold a book at such a steady height and walk at such an even, brisk, pace. It is not a lot. I do know that Ed's regimen includes voluntary library shelving and moderate dairy intake. And the book looks wonderful, doesn't it folks? Just perfectly crisp corners. Ah, and look at Ed's facial expression as he smells the interior of the book. The judges really look for that, that emoting which so perfectly conveys, "yeah this is new book smell." Just fine, fine work by one of our most experienced handlers. And to think that Ed started as a publicity assistant at an independent publishing house in Dallas! We are really proud of how far one of our own has come.
And here comes Tim Dugin with Michiko Kakutani's The Death of Truth in the Terrier group. Don't underestimate this group, folks, they're of small trim size but that does not mean for one second that they are not deadly serious. As in, death of TRUTH serious. Watch carefully how Tim lifts the flaps of the jacket right in front of the judges. They love seeing that high quality paper in action—and look at them nodding in approval! I think I saw judge number four get out his inhaler! Don't be fooled, it is TENSE down there. And I'm getting word here that judge number three just added The Death of Truth to his Goodreads—that is surely a good sign, folks!
Ok, now here comes the Working group, which has really become an interesting category in the last few years. It used to be dominated by cookbooks, but now you've got you Marie Kondos, Ikigais, fermentation guides, organic baby food recipe books, your Swedish death cleanings. And here comes Salt, Fat, Acid, Heat, a controversial frontrunner in this category. There are—wait for it—no photos in this Working group book. Something we almost never see, folks, is the illustration element. So rare to see, but so, so impressive. Ok, Simon Shoester with Salt, Fat, Acid, Heat is approaching the judge's table now. Oh my gosh, did you see that?! He gave the judges just the swiftest peek at the end papers, ladies and gentlemen. If you are watching from home you can't hear the uproarious applause, but my god Salt, Fat, Acid, Heat is clearly going to be a crowd favorite. I think we've got a real Best in Show contender here.
The herding group comes out next—and this category has struggled in recent years. Harry Potter and The Hunger Games dominated for so long; we've really yet to see something captivate the group in the last few competitions. And don't forget that captivation is absolutely crucial in this category. People these days are resistant, are insistent on "thinking for themselves." If Donald Trump writes a book, we might see a real contender, haha! Anyway, here is Fifty Shades of Grey—she just refuses to quit. And now You Are a Badass. No clear favorite yet, but we'll see how the judges score later on.
Wow and here is a shocker coming out now. Tom Brady just stepped out, with wait for it, his OWN BOOK in the Sporting category. It's very rare that we see authors walk with their own books, it's almost always professional handlers, so wow this is a ballsy move. I hope he doesn't come to regret this; sometimes you see authors just deflate in front of the judges.
We've got a great show coming for you, folks, so stay tuned. Just a quick word from our sponsors and then we'll be right back. Oh wait, no, no, I am getting word that we have absolutely no sponsors. Instead, I will be reading you a short message from our organizers:
"To contribute to our GoFundMe campaign, visit:
www.westminsterbookshow.com/contribute/pleasehelp/longliveprint/ nolitetebastardescarborundorum."