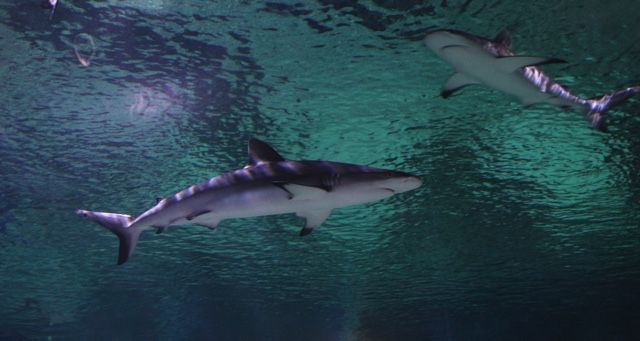 Humor
Welcome to Shark Tank for Books
This content contains affiliate links. When you buy through these links, we may earn an affiliate commission.
Welcome to Shark Tank For Books! There's blood in the water already—literally, we had to haul out the riot gear to beat back the tide of applicants. It got rough. Matt Higgins was forced to read A Shore Thing without safety gear. While we're saddened that he can't join us today, we're all very happy to report that the hospital managed to save both of his eyes and get him a good trauma therapist. We're rooting for you, Matt!
Meanwhile, let's hear some pitches from the lucky few whose ideas have captured our remaining Sharks' imaginations.
Hi, I'm Henry David Thoreau, and this is a picture of the farmers, workmen, and family members who made this book possible. They're chained to society's expectations, so I didn't credit them or invite them here.
I don't want to spoil my hit book, Walden, but in it I basically live my best life in my own place next to a lake for a year and write down what I think about losers who have jobs. A real man only needs his mind, a conveniently located overgrown apple orchard, and his mom to do his laundry for him. The main sell is me, an awesome real man. Having thought about nothing but my own excellent opinions for a whole year, I'm now totally qualified to tell other people what to think. I dunk hard on society. The fact that I hate on the very people who I want to buy my work is going to give critics a lot to talk about. Tiny house hipsters and middle class male academics are going to eat it with a spoon for the next, like, 150 years.
This one is a born classic. You're picking a winner, which is me. I'm the winner. I win. No? Why not?
Hi, I'm Haruki Murakami. You're my team because you're reading my words right now, and words need to be read to have meaning. This pitch could be my book. We're creating it together as you read. You're still reading, so it's obviously worth your time already.
I think I'll call this book Kafka on the Shore. It will feature a young man, his mother, and a plot so abstract that you're going to need to read it three or four times before you decide that you have no clue what's going on. By then, you'll love it. It'll be your favorite book. It's going to make you a deeper person. My book is a journey that you will explore again and again, finding new byways and insights each time. Think of it as an Oedipus retelling, but more…complex. Modern. Artsy. And there are talking cats!
I can see by your deep frowns that the Oedipus part really has you thinking. I knew that would be a selling point!
Hi, I'm Alice Walker. Yes, that Alice Walker. Today I'm here to talk to you about my adorable chickens and how the human ability to bond with animals can feed our souls. My book is called—no, not The Color Purple. Yes, I know, people do know that one. This is kind of a tender memoir, kind of a labor of love. It's called The Chicken Chronicles and it's about—no, it's not a follow-up. Not a sequel, no. Could you please sit for a minute? It's OK. I get that a lot.
Anyway, chickens are very popular pets at the minute, and rightfully so. I feel that there's a poetry to their care and keeping, to the cycle of life playing out before you—no, I don't have a chicken named Shug. Yes, that's a very nice idea. Of course I'll think about it. Of course I'll sign your book.
Before I leave you—thank you, it's been very nice for me too, so nice to meet fans of The Color Purple. But I do want to leave you with a copy of The Chi—thank you. That's very nice of you to say. It was a good book, although of course not the only one I ever published. For example, I'm here to pitch The Chicken Chronicles, which is also a very good book.
Sigh.
Hi, I'm Anne Rice. I have no team because I am a pure force of creativity who needs no…I'm sorry, was that a yawn? A yawn? I'll have you know that Blood Canticle is high end sexy vampire literature with Jesus. It's art. Yes, art! And you are lucky for the opportunity to hear about it!
Fuck you. You don't deserve me.