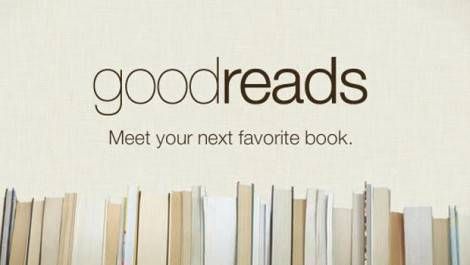 How To
Ways to Shelve Your Books on Goodreads
The beauty of Goodreads is the shelves, am I right or am I right? They're lists of books, but called shelves, because books. Their existence is the main reason I've stayed with the site for a decade (whoa).
But the thought of them can be daunting. So many options! So many options within those options!
Never fear. I've spent far too many hours spying on Goodreads accounts and taking notes. And let me tell you, people take their shelves *very* seriously.
Starter ideas for shelves:
Year read. I did this for a while, but with the option to mark the dates you read a book in the review section, I've only kept a shelf for the current year. (You can view your yearly stats by going to My Books > Tools > Stats. Here's what mine looks like.)
Format/status/location. Audiobook, ebook, print? Library book? Borrowed from a pal? Owned? On deck?
Genre. Fiction vs. nonfiction, essays vs. short stories vs. comics vs. poetry. The options here are a little easier to define by going to a book's page and checking what common shelves are.
Author and book identifier. Author of color? Queer? From another country? Book translated from its original language?
Examples:

First, a simple user: My brother. He's not a huge reader, but I made him get an account because my one form of peer pressure is getting people on Goodreads. He has a shelf for books he sees in store windows, separate shelves for books related to his work as a music educator, and, of course, one for the Read Harder challenge.

Rioter Jessica Woodbury's shelves are so neat and orderly. Format, genre, and best-of lists. I love it and wish I'd kept my own set of my yearly favorites. Or that I created a definitive genre list like she has.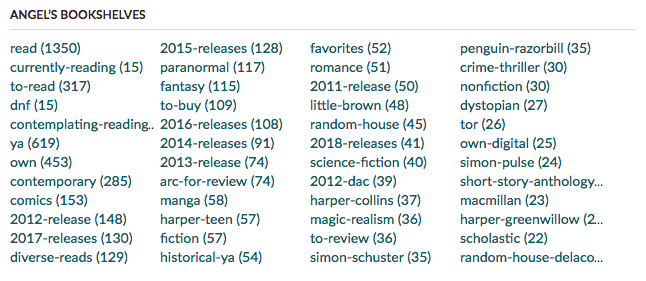 Rioter Angel Cruz's system makes my head hurt, but for someone who reads as much as she does, it makes sense for her to narrow every book down to publisher and release year. And these are just the most used of her shelves. Phew!
Here are mine. Goodreads is the only place I log my books, so every time I acquire one, it gets added. My shelves get more specific for things I'm really interested in (cats! food!), but I also like watching the trend of broad genres.
Very specific and emotional options:


These shelves always boggle my mind, but hey, I ain't here to judge. I poked at the top reviews of some really popular books of the last few years, and these are on reviews of books people have really hated. Interesting to note that these lengthy shelf names are almost only used for books people don't like. *rubs chin*
Phew. We did it. And this is just the tip of the iceberg.
What are your go-to shelves on Goodreads? Let us know in the comments!