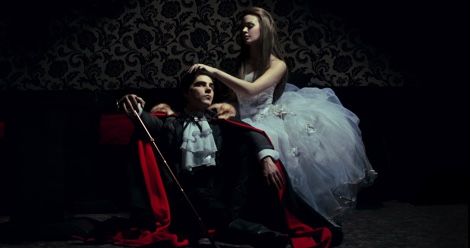 Horror
28 Blood-Suckingly Good Vampire Books for Adults
This content contains affiliate links. When you buy through these links, we may earn an affiliate commission.
Trends emerge and die, and then they come back again. Especially when it comes to the undead. Whether vampires are in vogue or not, vampire novels are always lurking around and finding readers to suck in. And it's easy to see why—from the literary to the horrific to the campy to the undeniably hot, the various ways the vampire tropes have been played with and reinvented have spun out into endless variety that offers something for just about anyone. Here are 28 great vampire books for adults of every flavor to satisfy your thirst for bloodsuckers.
After young Abraham Lincoln discovers his mother was killed by a vampire, he pledges to dedicate his mind and body to the study of vampires, so that he can pursue vengeance. And thus the historic figure and his ax pave a path that takes him all the way to the White House and demands the worst kind of toll on his personal life.
In this first book of the Virgin Blood series, college student Juliet finds herself in the questionable situation of breaking into the frightening mansion near campus. Within it, she finds the beast—vampire Kane Viscardi. Lucky for her, Kane is a little different from other vampires.
Carmilla By Joseph Sheridan Le Fanu
This 1870s classic is one of the original vampire novels that set off the trend, but is often overshadowed by Dracula. In this gothic tale, seduction of the forbidden and the bounds of societal mores are explored as the young woman Carmilla is seduced by a female vampire.
This 23rd novel in Prachett's extensive Discworld series, he brings his satirical humor to vampires. Once Uberwald's undead are invited into the castle to celebrate the birth of King Verence's daughter, they seem to be moving in permanently. And these modern vampires' hunger for awful fashions and bloodlust are most unwelcome, even if they do love the sunlight.
Domingo is just a kid scraping by on the streets of Mexico City when a descendant of the Aztec blood drinkers, the beautiful Ati, closes in on him, and he falls for her head over heels. Unfortunately, Ati gets by feasting on the young. But even more pressing right now, she has to get to South America to escape the rival narco-vampire clan.
Slave Luna seeks out a witch for help after her abusive master impregnates her, determined to do whatever is necessary to end it. But after, she is abducted by a monster with a lust for blood. Luna is sure her life is over, but instead finds a tormented creature who reawakens her humanity in this first novel of the Darkling Trilogy.
Vampires and slayers are at war in Caldwell, New York. Six brother vampire warriors—the Black Dagger Brotherhood. All love to kill, but Wrath brings the thirst for blood to a new level in his determination for vengeance against the slayer who murdered his parents. Meanwhile, one of his warriors is killed, and his half-breed daughter is brought into the world of the undead and its many pleasures.
The novel that started the True Blood craze. Waitress Sookie Stackhouse finds her ability to read minds makes dating unpleasant, but is thrilled when she finds handsome vampire Bill's mind is quiet to her. But when people start turning up dead and a gang of violent vampires start seeking out Bill, it seems dating a vampire has different kinds of challenges.
Descent by Gabrielle Estres
A Cambridge professor has been murdered. In the aftermath, his protégé Dr. Andrea Hendrickson receives a parcel full of letters a century old, and the secret her friend died trying to protect. One the Catholic Church has worked with the world's greatest leaders to hide for centuries, centered on the legend of Vlad the Impaler…who is still alive.
Dhampir by Barb Hendee, J.C. Hendee
The most renowned of vampire slayers, Magiere, is ready to settle down with her half-elf partner Leesil. Unfortunately, it wasn't fast enough to escape the attention of three vampires who know Magiere's true identity and are hungry for vengeance.
Dracul by Dacre Stoker, J.D. Barker
It all started when Bram and his sister began to notice the strange behavior of their caretaker, as people went missing in a neighboring village. The caretaker vanishes from their childhood only to reappear years later. This prequel to Dracula follows Bram Stoker himself in his face-off with the most terrifying of creatures. An origin story for the most famous and feared of the vampires.
Riverboat captain Abner March can see plainly there is something wrong with the wealthy and pale Joshua York who has commissioned him for a ride up the Mississippi River. But the promise of a brand new boat felt worth the risk. From the author of Game of Thrones, this is a chilling take of what a man will risk for immortality.
Fledgling By Octavia E. Butler
A young girl fights to uncover her memories and discovers she is not girl at all, but a 53-year-old vampire. Along with this discovery comes a flood of other memories of her former life, taking the reader into the depths of racism, sexism and other forms of hate and ignorance.
By day Anita reanimates the dead, and by night she kills the undead. But then she has to join forces with master vampire Jean-Claude to solve a series of murders, and finds herself drawn to him. Romance and horror come together in hot adventures in this first Anita Blake, Vampire Hunter novel.
The author of The Princess Diaries brings her quirky perspective to vampires with this first novel of the Insatiable series. Heroine Meena is as over vampires as the rest of us, but is stuck in a job where she writes about them constantly. Then she meets Prince Lucien Antonescu, with a dark side that forces Meena to reconsider her position on the undead.
As a mysterious new girl moves to Oskar's Swedish town, his classroom nemesis has finally gotten his due—murder. Oskar knows there is something strange with this strange girl from down the street, but he can't stay away.
Vampire and demon hunter Damali faces a group of rogue vampires who are killing the artists of Damali's music label. Except the marks they leave on their victims aren't normal for a vampire kill, indicating more than a blood lust—these corpses are mutilated beyond recognition. The monster behind it all is no typical vampire. He's the most powerful and seductive Damali has ever encountered.
An epic adventure from one of romance's top authors. Vampire Lilith has lured countless men to their death with a soul-stealing kiss. One of them was Hoyt's twin brother. A mere human, Hoyt is powerless against her, but derives power from the goddess Morrigan for a chance to even the score. The first novel of the Circle Trilogy.
Soon after Jessica marries David, he makes a horrifying confession: 400 years ago, he was part of an Ethiopian sect that traded their humanity to escape death. And the sect has come for him, determined to take him away from his new Miami life.
In this Stephen King classic, writer Ben Mears returns to his childhood township. He reconnects with old friends and sparks up a new romance, but meanwhile, a boy has gone missing, and an unspeakable evil living within 'Salem's Lot has been turning its residents into vampires.
Ian is a master vampire and he is as bad as they come, with the power to go with it. But he has made an enemy of demon Dagon, who is out for his soul.
Veritas, however, wields justice within their world, and she's out for Damon herself. Joining forces against him, Ian and Veritas uncover a heated passion between them in this first novel of the Night Rebel series.
Jane heads to New Orleans to hunt down a particularly nasty vampire. Her efforts draw her into the city's steamy vampire society, and draws out important history of her own Cherokee heritage and her skinwalker powers.
The Strain by Guillermo del Toro, Chuck Hogan
An airplane stops dead on the tarmac of JFK. The CDC is called in to address the unsettling situation, and sends Eph to the scene with the Canary project, a team that focuses on biological threats. Then even more incidents occur in other parts of the country, and a vampiric virus unleashes onto the masses.
The beginning of Jim Butcher's bestselling Dresden Files series. Featuring Chicago's only wizard detective for the paranormal, Harry Dresden, this first story features a violent murder executed with dark magic. Harry sees nothing but an opportunity to boost his business.
Vampire Hunter D by Hideyuki Kikuchi, Yoshitaka Amano
Far in the future, vampires known as the Nobility have dominated humanity for hundreds of years, and civilization is in ruins. Villages are seeking Hunters to protect them against the vampires, and also their genetically manufactured demons and werewolves. But not all Hunters are equal, and some bring a different kind of danger with them.
Vlad by Carlos Fuentes
Yves and his wife help a mysterious European refugee in search for a home that will meet his peculiar needs, like blackened windows and an escape tunnel. As the story unfolds, it becomes clear that the refugee Vladimir Radu is a different Vladimir altogether—the Impaler, still undead after all these years.
---
What are your favorite vampire books for adults?