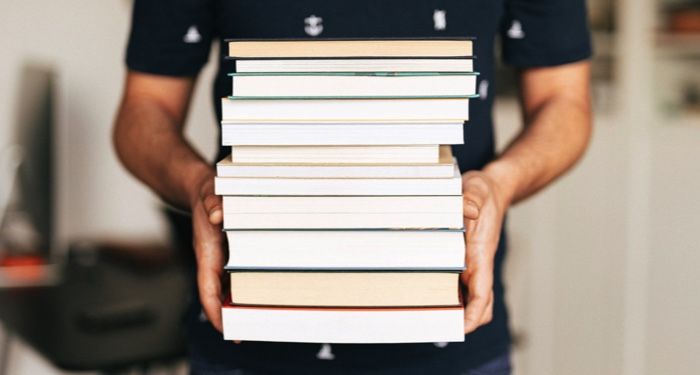 News
United States Artists Announces the 2021 Class of Fellows
This content contains affiliate links. When you buy through these links, we may earn an affiliate commission.
The United States Artists (USA) announced its 2021 class of Fellows yesterday, and it's the largest class in the organization's history. USA is a philanthropic arts organization based in Chicago, and their mission is to support the development of artists' visions at any stage of their careers. Sixty U.S.-based artists across ten artistic disciplines have been named USA Fellows and will receive $50,000 in funding to support their artistic work.
The ten categories for artistic disciplines are as follows: Architecture & Design, Craft, Dance, Film, Media, Music, Theater & Performance, Traditional Arts, Visual Art, and Writing. Some past notable fellows in writing include playwright Annie Baker (2011), essayist Charles D'Ambrosio (2007), comics writer Lynda Barry (2019), and journalist Lisa Armstrong (2019). In the writing category, USA Fellows cover wide genres because the organization is committed to choosing innovative artists and writers addressing a variety of issues in the American arts world.
This year's USA Fellows for writing are Alexander Chee, Eve L. Ewing, Honorée Fanonne Jeffers, Dunya Mikhail, Elizabeth McCracken, Natalie Y. Moore, Danez Smith, and Ocean Vuong. Like all the different disciplines, these fellows were chosen by a panel that USA put together in order to represent a variety of perspectives. The 2021 writing panelists were Brigid Hughes (the editor of A Public Space), novelist Jacqueline Woodson, and Don Share (former editor at POETRY Magazine).*
This year's Fellows have made contributions with many types of writing from very diverse perspectives, reaffirming USA's commitment to highlighting artists from all backgrounds at all stages of their careers. Since these writers have work published, we wanted to highlight some of their books so we can get excited about what the USA Fellow funding will allow them to produce in the future.
The 2021 USA Fellows Reading List
Critical Funding for Artists
Last year, United States Artists also joined with other arts organizations to start Artist Relief, which provides emergency funding to artists impacted by the COVID-19 pandemic. Artist Relief gave $5,000 grants to artists in dire need. Applications closed on December 10, 2020, but they're working on options for starting them up again. Although everything is pretty unclear in the realm of arts funding right now, organizations like USA do seem committed to preserving the work and lives of artists.
These writers run the gamut of genre and form, and it's clear that USA is always trying to represent how different artistic contributions can be. The USA board chair Ed Henry has said, "it is more important than ever that we continue to support individual artists." The COVID-19 pandemic has had far-reaching effects on the lives of artists and performers, especially those that rely on being able to be in a room with audiences. Authors and bookish institutions have had to make big changes in response to the pandemic, from book release delays to new library rules. Without the ability to travel and promote their work at local bookstores, writers have had a tough time. It's more important than ever to support innovative voices, like the USA Fellows, who push us to confront American mythology and reality.
*Editor's Note: This post has been updated with 2021 panelists. The names previously listed were part of USA's 2020 writing panel.