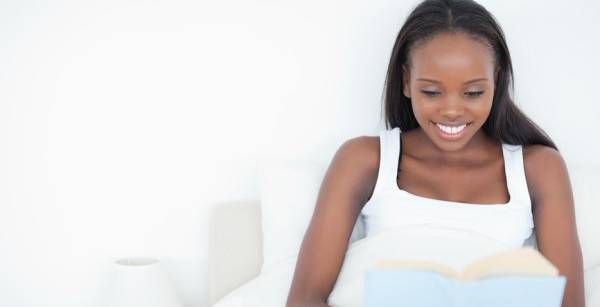 Lists
My Three Favorite Ways to Read
Most important is what you're going to read, but just a half-a-step down is where you're going to read it. It's like that rule someone made up about how skilled actors can only improve a script a letter-grade. I'm sure Meryl Streep would have been great in Teenage Mutant Ninja Turtles, but you would still have walked out of the theater feeling like you'd wasted $10. If you're just not clicking with a book, you might be more likely to stick with it if you're reading it with a mug of hot chocolate under a quilt in the middle of January, than if you were snatching a few pages between commercial breaks.
My favorite ways to enjoy a book:
1. Outside at my parents' house.
My parents still live in the house I grew up in. It's two miles down a dirt road in the middle-of-nowhere Florida. I locked my keys in my car a while back, which necessitated me driving out to the road to meet the AAA guy, and guide him to the house (directions will not suffice after nightfall. We wouldn't be seeing those people ever again) The first thing he said when he got out of his truck? "If I hear banjos, I am punching you out and leaving."
It could not be quieter. Hundreds of acres of trees, and not a trafficked road or noisy neighbor for miles.
I visited a few weeks ago to housesit. It was just me and the animals for three blessed days eating wings in the bed, and reading The Prodigal Summer by Barbara Kingsolver. I could not have selected a more apt book. Interwoven narratives about three women caring for and deriving a living from the Earth on their own terms. Mix in a comfy chair on a shaded patio, and you've got yourself the recipe for the perfect read.
2. In bed until the wee hours of the morning
Is there anything more satisfying than marathoning a great book until your eyes cross, pleading for sleep? No, there is not, and I just discovered my Ben & Jerry's flavor (Half-baked)
I got started in elementary school with Animorphs and Dear America, grew to Harry Potter, and now burn out light bulbs to Cut Me Loose by Leah Vincent and Eleanor & Park by Rainbow Rowell. You don't even feel the discomfort trying to find the best way to catch the light. All you can do is read.
3. During my hair appointment
I get my head painted and my ends trimmed every two months. I will continue to be artificially blonde (in my defense, it was much lighter before puberty) as long as there is dye or developer or bleach on this planet.
I'm not scared of you, zombie apocalypse.
I really enjoy getting my hair done for two reasons 1) It's someone who is not me being all about me for two hours (when you are single and living independently, this is gold, even if I do pay her $$$ to do it) 2) It's a pre-planned stretch of mostly uninterrupted reading time. I spend the preceding days planning what book I bring with me. Because, once I'm there, and the goop is on my head, there is no going back. Favorites? Little House and The Witch of Blackbird Pond because I can read that book innumerable times a year, and always be ready for another go-around.
What are your favorite ways to enjoy a book?