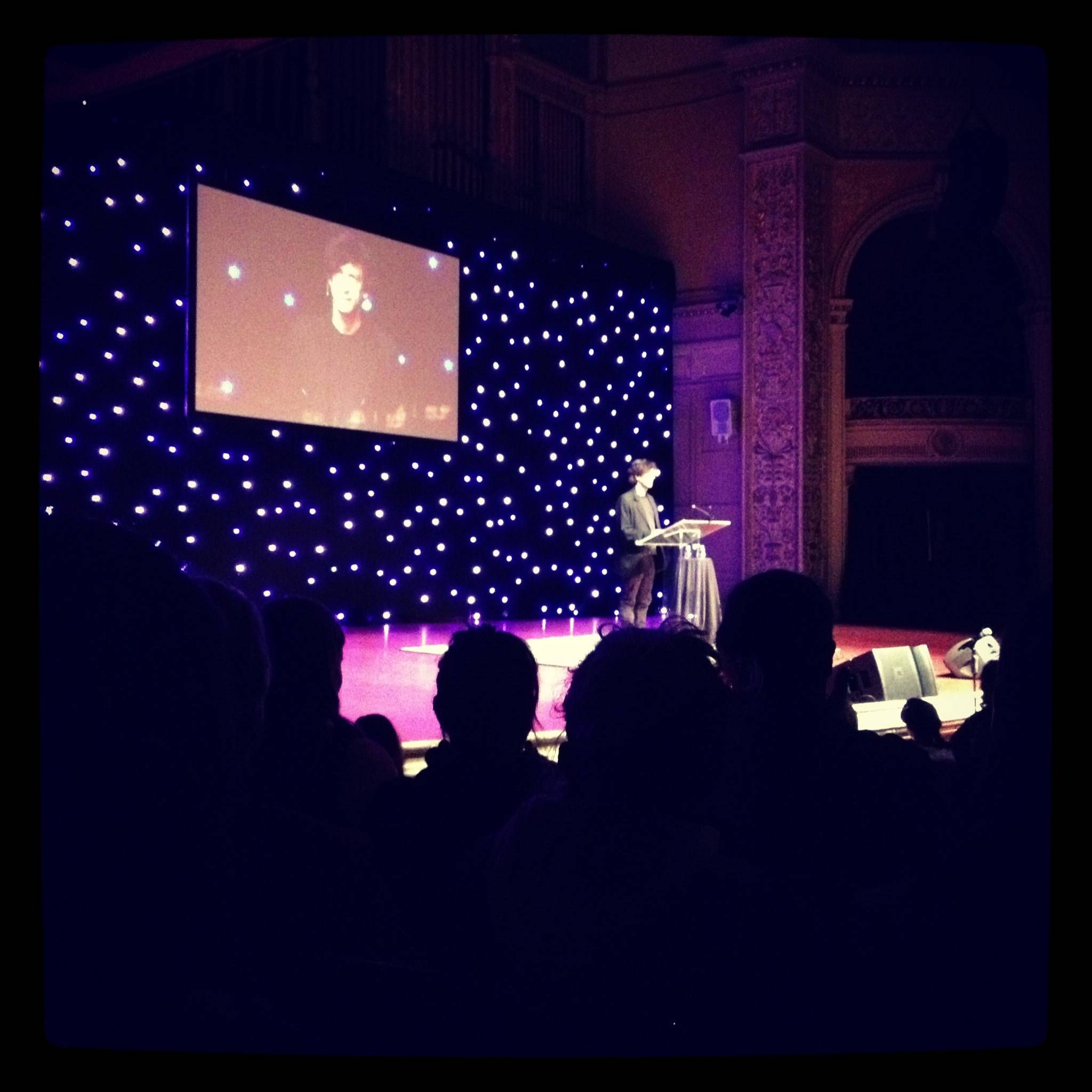 Events
The Only Thing Better Than Reading a Book by Neil Gaiman…
This post is part of our Neil Gaiman Reading Day: a celebration of one of our favorite authors on the occasion of the publication of his new novel, The Ocean at the End of the Lane. Check out the full line-up here.
People across the US were disappointed to hear that Neil Gaiman's current book signing tour will be his last. Hearts were broken, babies cried, and Gaimanites made offerings to the literary gods in hopes that he will one day change his mind. Extreme reactions, I know. But if you've been to one of his events, you understand what all the fuss is about. He's just as good as speaker as he is a writer – maybe even better.
I saw Neil in conversation with John Hodgman at a small conference in Soho on the day before he began his American Gods anniversary tour in 2011. It was a very low-key event, with only about 100 people in attendance, and maybe 40 of those stayed past the luncheon for his talk. Some of them even claimed that they didn't know who he was (HOW is that EVEN possible?!?). To begin the conversation, Hodgman told a story about the way in which Neil talks to people, whether one person or a whole auditorium full of them, as if he has known them forever. He treats everyone as if they are old friends. It's true. I saw that for myself at the end of the talk when I was lucky enough to ask the final question.
Gaiman was there to talk about the ways in which he interacts with his audience (blogging, Twitter, etc…), and whether or not that is a good thing (on Friday, he announced an upcoming social media sabbatical to concentrate on his writing). I asked about the #8in8 project, in which he found inspiration for song lyrics from Twitter. I had watched with fascination on Twitter that day, and I was riveted by his reply. He addressed it directly to me, not to the whole crowd, and it felt like we were sitting across a table, having a drink or something. His path out of the room took him by my seat, and he stopped to shake hands and chat a bit further (he recognized my name from Twitter – SQUEE!). He really does have this sincerity about him, and it's darn near irresistible. It's no wonder that the stops on that tour were sell-outs. People just can't get enough.
Last year, I found myself in Pittsburgh on an extended visit with my mom, when I found out that Neil would be speaking at the Carnegie Music Hall in celebration of the anniversary of Stardust. He talked about the novel, read an excerpt from The Ocean at the End of the Lane, and revealed a hint about the opening sequence of his latest Dr. Who episode, about which he then swore the whole auditorium to secrecy (and which is now moot, since it aired last month). This theater held more than 1000 people (if memory serves), but that moment was no less intimate than the one in Soho, when there were more empty seats than occupied ones.
Gaiman has a way of making the whole audience comfortable, of making them feel as if they have shared a special moment. For those who have attended a Neil Gaiman event, the news that he wouldn't be on the road as much as he has been in recent memory was very disappointing, and it meant that the tour for Ocean has received a lot of attention. Some locations sold out almost immediately, a few still have limited tickets available, and a lucky few haven't had tickets go on sale just yet. People are afraid of missing out on a truly memorable experience – but they shouldn't be. He said he wasn't going to sign anymore. He didn't say he was going to stop speaking. These days, he even sings now and then. We can thank his wife for that.
If you're going to be near one of his appearances, and you have been wondering what all the fuss is about, just take a look at this response to a question from an audience member in Pittsburgh:
[youtube]https://www.youtube.com/watch?v=8uM3i7gYay4[/youtube]
Now, go out and buy a ticket. Get a book signed. Have that moment where Neil Gaiman feels like your oldest and dearest friend. And if you're at the Dallas event, look me up. I wouldn't miss it for the world.
_________________________
Sign up for our newsletter to have the best of Book Riot delivered straight to your inbox every two weeks. No spam. We promise.
To keep up with Book Riot on a daily basis, follow us on Twitter, like us on Facebook, , and subscribe to the Book Riot podcast in iTunes or via RSS. So much bookish goodness–all day, every day.