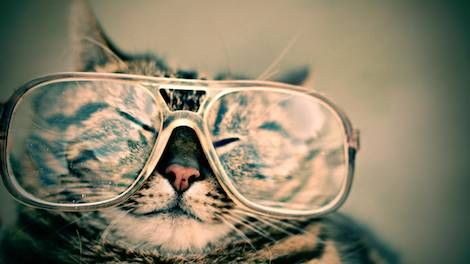 This content contains affiliate links. When you buy through these links, we may earn an affiliate commission.
As the mother of two cats, and one cat-obsessed little girl, I consider myself something of an expert when it comes to identifying and promoting the cutest cats featured in children's literature. From picture book to chapter books to graphic novels, cats make for great character studies. For one thing, they share a lot personality traits with kids, ranging from the adorable playfulness and general puzzlement of kittens (and babies) to the charming indifference/destructiveness (and okay, the snuggles, too) of toddlers. It's easy to sub out cat for kid when reading stories featuring cats. As an adult, I also love books about cats, and the more pictures, the happier I am! Is there anything better than a cat's face? Or the sweetly soothing curl of a cat's body in rest? Here are eight of my daughter and I's favorite books featuring cats.
Cat on a Bus by Aram Kim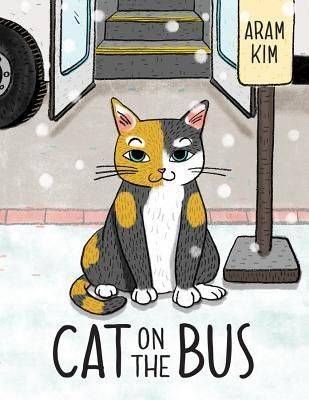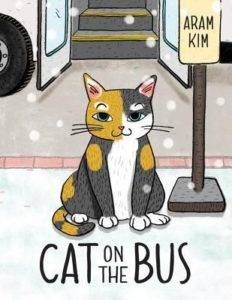 I'll admit I swooned a little bit when I saw this book come in to the library where I work. The zen like smile on this cute patchwork cat made me immediately more calm than I had been just a few minutes before. The story follows a tiny little cat who hitches a ride on a bus in search of a safe and quiet place to sleep. She catches the eye of a passenger who brings her home to his family. A happy ending all around!
A Cat Named Swan by Holly Hobbie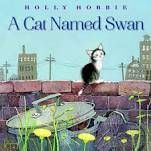 No one draws animals cuter than Holly Hobbie. Creator of the beloved Toot and Puddle series about two well dressed and adorable little pigs, Hobbie recently published a sweet and simple story about a homeless cat. Moving from a ragged life on the streets to a cozy, comfortable life of luxury with a loving family, This cat's happy ending will delight readers. And Hobbie's beautiful watercolor illustrations will have you squealing on every other page!
Chi's Sweet Home by Konami Kanata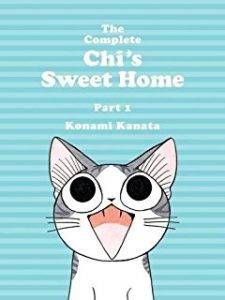 Just look at that kitty face. Chi's Sweet Home follows a spirited little American Shorthair kitten who gets separated from her family on a walk. This popular manga title features panel after panel of a perplexed Chi as she navigates her new life with a family. Her kitten accent will crack you up: "Pwease, no more! I'm gonna Pway dead" — this after a rather traumatizing first bath. Sure to please both pre-readers and older kids into manga and chapter books.
Kitten's First Full Moon by Kevin Henkes
I'm not a tattoo person, but if I were, I would probably get a tattoo of Kevin Henke's eponymous Kitten cleaning her paws. This classic story, illustrated in simple black and white, follows a sweet little kitten as she chases the big bowl of milk in the sky. Spoiler Alert: It's not a bowl of milk!
Captain Cat by Inga Moore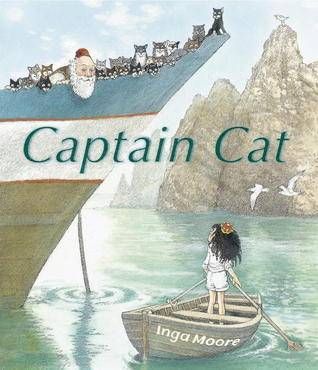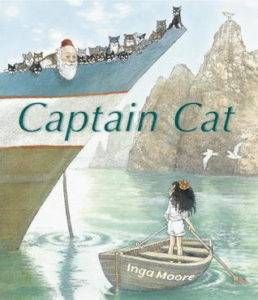 Inga Moore creates such beautiful picture books. If you're ever in search of a gift for a birthday party or baby shower, be sure to look for her large format books. Her art is so stunning, you will be tempted to frame the illustrations and hang them on your wall (I've actually done this). In Captain Cat, Moore tells the story of a quirky sea captain who collects cats on his travels. One day he gets blown off course and discovers a beautiful, out of the way island, full of delightful citizens and a child queen who is thrilled to have a visitor. The only unpleasant thing about this idyllic place ? They are overrun with rats ! Well, Captain Cat has just the solution for that. Every single cat face (and there are many) in this story has a personality of its own. You and your children will enjoy examining the myriad tiny details of Moore's enchanting world.
Ginger by Charlotte Voake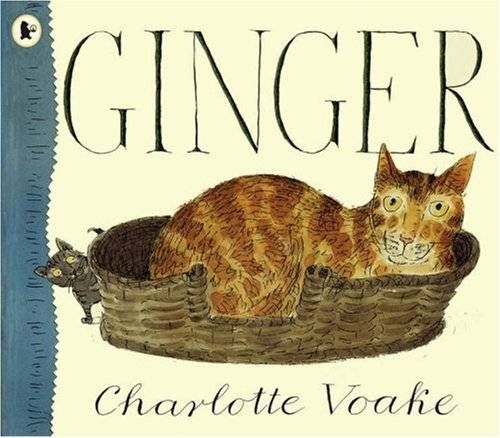 My daughter and I have spent countless hours reading and re reading the story of Ginger –a fluffy orange tabby whose peaceful home life is interrupted by the arrival of a friendly little kitten. Voake's evocative sketches and perfectly articulated cat figures bring these characters to life. But it's the affronted expressions on Ginger's face that are worth the price of admission with this one.
Catwings by Ursula LeGuin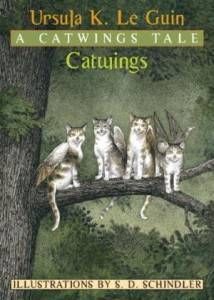 Street cats with wings ! That's really all I should have to tell you before you run off and by this book. But I'll elaborate: Down in an alley dumpster, in a busy city, Mrs. Jane Tabby gives birth to four kittens. These are not ordinary kittens, however– each one has been born with a pair of wings. Worried for their safety, Mrs. Tabby sends the siblings to a better life in the country, where adventures ensue. The wonderful illustrations and odd, but interesting tone (think Jane Austen meets Jane Eyre, with cats) appeals to both kids and their parents.
Archie Snufflekins Oliver Valentine Cupcake Tiberius Cat by Katie Harnett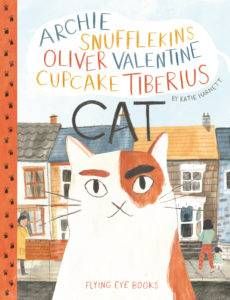 Despite having one of the longer, stranger picture book titles out there, this is an exceedingly sweet book about the place of one particular cat within a diverse city community. The titular cat main character makes the rounds every morning, visiting a different household, each of which has its own unique name for him. Despite the outpouring of affection, this cat maintains a frown. He isn't happy roaming and he wants a home! One day he shows up at the quietest house on the street, where an older woman lives on her own. What happens next? You'll have to see for yourself.
Did I miss any? What's your favorite cat book?