Comics Newsletter
The Best Manga Books from Arguably the Most Influential Japanese Artist
This content contains affiliate links. When you buy through these links, we may earn an affiliate commission.
The worldwide popularity of manga is no secret. You can frequent just about any bookstore or public library here in the States and find manga of all kinds. To highlight a few, there is manga for teens, manga for adults, LGBTQ manga, and romance manga. I have personally witnessed countless teens rushing up to the circulation desk at public libraries to check out stacks of manga. The teens will read them all in a day or two and be back for more. It is surreal but amazing to see.
But did you know that much of manga today was influenced by one person? Shigeru Mizuki was one of Japan's most respected artists. A World War II veteran who lost an arm due to an explosion, he invented gekiga, dramatic manga, and the yōkai genre (ghosts, phantoms, and supernatural monsters). From his bio: "He has received almost every award the comics industry has to offer, including the Kodansha Manga Award, Eisner Award and the Angouleme Award, as well as the Shiju Hosho Medal of Honor and the Order of the Rising Sun. He was a member of the Japanese Society of Cultural Anthropology, and traveled to over sixty countries around the world to engage in fieldwork on the yōkai and spirits of different cultures." Here are some of Mizuki's most notable works:
Kitaro by Shigeru Mizuki, translated by Jocelynne Allen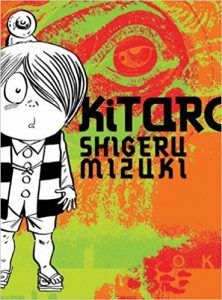 Meet one of Japan's most popular characters of all time: Kitaro. Created by Mizuki, Kitaro is a one-eyed monster boy whose hair is an antenna that senses paranormal activity. Kitaro has jet-powered sandals and can blend into his surroundings like a chameleon. Originally created in 1959, Kitaro went on to inspire a plethora (say it like El Guapo from Three Amigos) of Japanese television shows, video games and films. Kitaro turned into a nine-volume series that proved to be not only one of the most successful manga series of all time but also one of the most influential. These books are fun and filled with some of the most amazing art you will ever see. Mizuki truly was a master of telling a story through images. I highly recommend this one.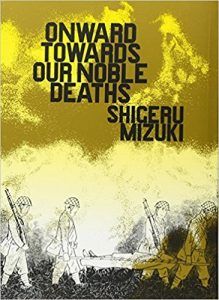 Onward Towards Our Noble Deaths was Mizuki's first book to be translated into English. This semi-autobiographical account is truly amazing because although Mizuki was a soldier in the Japanese Army, he was highly critical of Imperial Japan during and after his years of service. This book is no exception. The satire in this one is comical, yet, surreal. The title itself is a mock of the Japanese Army's mentality toward the end of World War II: Soldiers must fight and march on towards their deaths at any and all costs. Mizuki and his fellow soldiers didn't want to die due to some ineffective, pointless and "honorable" death charge. Many of the men had families, children and lives they desperately wanted to get back to. Mizuki uses his experiences to convey the devastating consequences and moral depravity of the war. This book was highly received and is one that will surely have you saying "wow!" The illustrations are amazing and truly one-of-a-kind. If you don't start off with Kitaro, I suggest you start with this one.
Shigeru Mizuki's Hitler by Shigeru Mizuki, translated by Zack Davisson
In good old fashioned Mizuki style, Hitler comes off as a comical yet accurate biography of the insane dictator and fascist who is directly responsible for millions of deaths. (I must note that there is nothing comical about World War II or the loss of life endured by so many). Mizuki fought for Japan, meaning he was part of what was known as the "Axis Powers" during World War II. Japan allied themselves with Germany and Italy in an attempt to conquer Europe, North Africa and East Asia. However, Mizuki had always been a critic of the war so he held nothing back in this one. Beginning with Hitler's time in Austria as a starving art student and ending with a Germany in ruins, Shigeru Mizuki's Hitler retraces the path Hitler took in life, coolly examining his charismatic appeal and his calculated political maneuvering. The Munich Beer Putsch, Hitler's ascent to chancellor, the sudden death of his half-niece Geli, the Battle of Stalingrad, his relationship with Eva Braun, and his eventual demise: all are given equal attention in this thorough and compelling biography. Again, the illustrations in this one are great. This is another one I recommend.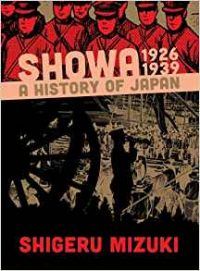 The Showa Period, or Showa Era, refers to the period of Japanese history during the reign of Emperor Hirohito. Although Mizuki's third book ends in 1953, Hirohito reigned over Japan until his death in 1989. Mizuki was born in 1922 during some tumultuous times in Japan. The first volume deals with the period leading up to World War II, a time of high unemployment and other economic hardships caused by the Great Depression. The second volume covers the final moments of the lead-up to World War II and the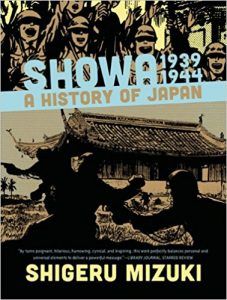 first few years of the Pacific War, and is a chilling reminder of the harshness of life in Japan during this highly militarized epoch. The third and final volume recounts the events of the final years of the Pacific War, and the consequences of the war's devastation for Mizuki and the Japanese populace at large. These volumes are thoroughly researched and depict a way of life for Japan during the first half of the twentieth century. Coming in at over five hundred pages a piece, these books are not exhaustive reads, however, because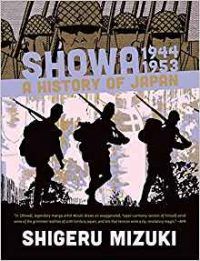 their stories are compelling and the illustrations are truly unmatched. The amount of detail Mizuki poured into these artistic masterpieces is truly amazing. Can you imagine spending time illustrating a 500 page book? I know I would never have the patience for something like that. I recommend these reads to anybody who wishes to educate themselves about Imperial Japan. This microhistory of Japan is fascinating and will mesmerize all readers.
If you are in the mood for some great manga, I recommend you start with Mizuki. I assure you, you will not be disappointed.