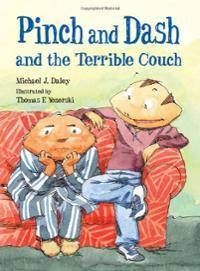 Middle schools and high schools are piling on the summer reading right now, but — at least in my neighborhood — teachers of the younger elementary school set seem content to leave kids to their own devices. Which is great, but sometimes a little guidance doesn't hurt. If you haven't had a chance to ask your favorite bookseller or librarian for recommendations, start with a few of these recent books aimed at the kindergarten-to-second-grade crew:
Pinch and Dash and the Horrible Couch: The latest installment in this Charlesbridge series revolves around the acquisition of an unfortunate piece of furniture. Kids will enjoy it on one level, while parents have an excuse to reminisce about that time they brought home a chair someone left sitting out by the trash bins.
Anna Hibiscus: Atinuke's series about an adventurous girl growing up in urban Africa — the author is Nigerian, but Anna's nationality is never specified — has been flying under the radar for a while now, but it's ready for a wider audience. The vibrant illustrations seem to reel in everyone who picks up a copy.
Bink & Gollie: Best Friends Forever: The continuing adventures of Kate DiCamillo's mismatched but inseparable pair of girls. No carnivals this time, but a question of royalty does threaten to come between them.
Dirty Bertie: This series has been out in the UK for years, but it's a fairly recent import to the US, and with titles like Fleas! and Worms! in the mix, it's got clear appeal to those readers who prefer a bit — or more than a bit — of gross with their literature.
Branches: This is Scholastic's new line, with five different early chapter book series. David Lubar is the imprint's headliner, with his Looniverse series, but there are plenty to choose from: Boris the Warthog keeps company with girly-girl Missy, and the girls of Lotus Lane share the shelf with the Notebook of Doom.
White Fur Flying: Patricia MacLachlan and dogs. Really, what more do you need to know? Patricia MacLachlan, y'all!
The Rescue Princesses: If you can't beat the princess-industrial complex, subvert it! These princesses have had enough of dressing up and being sweet, and they've decided to do something more productive with their lives. But they're still royalty.
Nancy Clancy, Secret Admirer: The Fancy Nancy marketing machine really doesn't need my help. They've already figured out that Nancy's original fans are moving into chapter book territory, and they've responded accordingly. But you know what? I've always been a fan of Nancy and her attempts at elegance.
____________________________
Sign up for our newsletter to have the best of Book Riot delivered straight to your inbox every two weeks. No spam. We promise.
To keep up with Book Riot on a daily basis, follow us on Twitter, like us on Facebook, , and subscribe to the Book Riot podcast in iTunes or via RSS. So much bookish goodness–all day, every day.