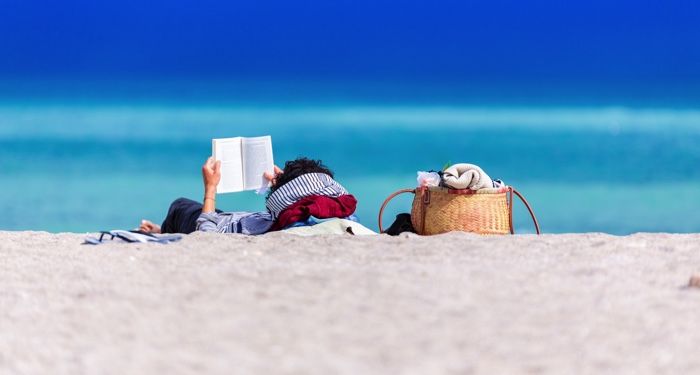 Culturally Relevant
Describe Your Perfect Summer Day & We'll Give You a Matching Queer SFF Read
This content contains affiliate links. When you buy through these links, we may earn an affiliate commission.
Summer is looming around the corner. Concerts, travel, playgrounds, ocean waves, the lake, sweat, rumbles of thunder in the distance, nighttime fireworks, day lilies blooming and AC roaring: June, July, and August are here. From the rush of AC coming out of stores or the first much-needed sip of a cold drink on a hot day to the sound of the ice cream truck and the hissing of cicadas, all summer's small magics are headed towards us on a crash course.
So whether you're a fan of summer or whether you'll be inside yearning for the pumpkin spice season to come, I bet you're already thinking about what book you'll have in your bag for the next three months. Do you need a wonderful queer science fiction or fantasy read for the summer? If so, I have you more than covered. Queer SFF is my jam — and I also consider myself an expert on beautiful summer days.
With my quiz, you'll be able to make some choices about your perfect summer day, from brunch to a picnic to upcoming plans — and armed with all of that information, I will deliver you the perfect queer SFF book for you to read via a super-scientific process. Enjoy!
All Results: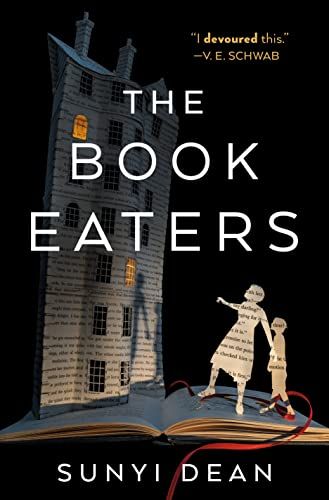 Devon was born into an old, traditional family, one of a secret few, that devours books and stories to stay alive and empowered. Devon was raised as a princess, on a curated diet of restrictive fairy tales and sexist stories. But when she grows up, she discovers that her family expects her to make sacrifices she isn't prepared to make. She flees with her son in tow, and what commences is a rich book about generational trauma, queerness, survival, and a mother who is willing to do whatever it takes to protect her son.
Content warnings for graphic violence, misogyny, domestic abuse, child abuse, confinement, sexual assault.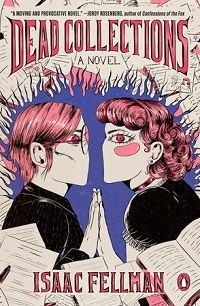 This book is half trans love story and half ghost story. Archivist and transmasc vampire Sol is already kind of struggling in life. He's secretly living in the sunless archives where he works and getting regular blood transfusions. But when they take in the collections of a deceased sci-fi author, weird things start happening, and he reaches out to the author's widow, Elsie. This book is a fun, fluffy romance that takes on deeper issues of transphobia, questioning, and queerness.
Content warnings for transphobia, dysphoria, outing, grief, ableism, homophobia, biphobia, mental illness.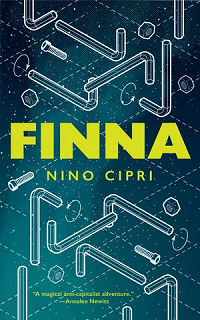 Finna by Nino Cipri
Dive into this lowkey silly novella about over-worked retail employees being forced (per their contracts) to go into the wormholes popping up at their warehouse store and try to find a grandmother who fell into it. Naturally, the two chosen for this are the anxious, depressed Ava and her nonbinary ex Jules…who just broke up a week ago. This is an absurd portal fantasy with good character growth and fun action, and it's a speedy read too.
Content warnings for death, violence, mental illness, transphobia, homophobia, classism, anxiety/panic.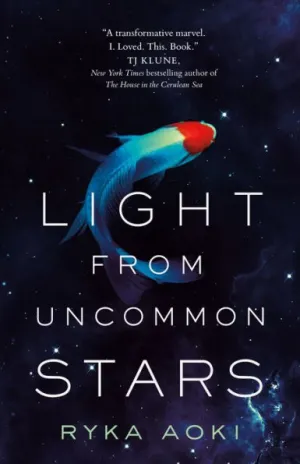 This book has it all. A secret family of interstellar refugees running a donut shop as a cover as they try to fix their spaceship undercover. A woman who made a deal with the devil to get tremendous violin talent in exchange for delivering seven prodigy souls. And her newest, and last, prodigy: a young trans girl running away from an abusive household. This book is queer as heck, warm and wild — an explosion of a story about found family and tough choices.
Content warnings for transphobia, sexual assault, child abuse, racism, homophobia, dysphoria, deadnaming, self harm, suicidal ideation.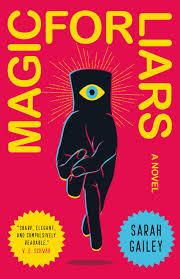 Private investigator Ivy Gamble has a magical sister who teaches at an American magic high school. She, unfortunately, is normal. She's always been the boring sister, but she lies to herself a lot, and when she's asked to investigate a murder at her sister's magic school, she lies to herself and to others that she's totally capable of uncovering the killer and staying 100% impartial and unemotional the whole time. It's a satisfying mystery but also a great book about love, sisterhood, facing the truth, and learning to let people go.
Content warnings for abortion, body horror, grief, death, medical trauma, grief, substance abuse, fatphobia, mental illness.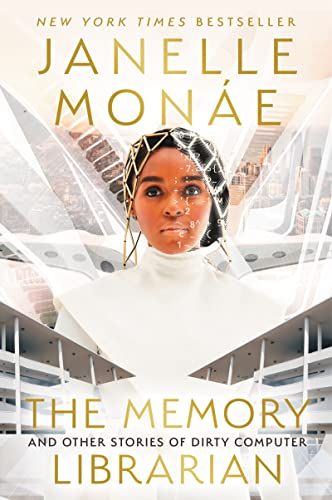 This is one of my favorite books of recent years. Janelle Monáe expands on her world of Dirty Computer with the help of five extremely talented authors. They bring her Afrofuturist, queer world to life. Under New Hope's totalitarian government, a director librarian struggles with what to do about a blooming resistance to memory logging, a student finds a pantry where time stands still, and a group of young kids see a glimpse of possible future. It's a beautiful queer book about resistance, gender nonconformity, and survival in a cyberpunk world.
Content warnings for homophobia, transphobia, racism, police brutality, institutionalization, grief, ableism, mental illness, xenophobia, classism.
All Luli Wei wants is to be a Hollywood star — but the film business is dangerous. It runs on a fae-like system of blood magic, sold souls, sacrifice, predatory producers, and steeply priced contracts. Luli is facing an already bloodthirsty industry as a young, queer Chinese American girl from Hungarian Hill, and she risks being type cast, dismissed, and denigrated in a place where they'll do anything to get to you or your loved ones if it means a potential profit. But Luli is pretty cutthroat herself, and she's willing to do anything to become the star she knows she is destined to become.
Content warnings for racism, homophobia, misogyny, xenophobia, violence, substance abuse, self-harm, death, sexual assault, fatphobia.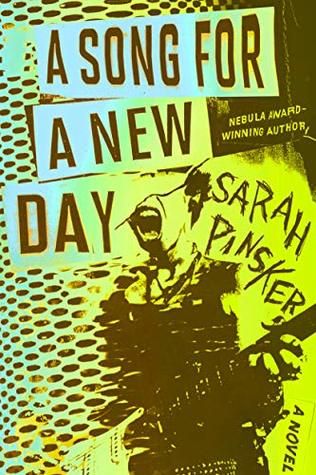 After a series of terror attacks and a influx of pandemics, the government shuts down all live events and gatherings. Long after, people have gotten used to virtual life and drone delivery — a life without physical contact. Rosemary loves that life, but her new job wants her to infiltrate a real-life gathering of musicians resisting the system by performing illegally live and convince them to step into the more profitable, virtual spotlight. A book released pre-pandemic that feels particularly real now, A Song for a New Day shows why sci-fi is always a reliable way to explore the possibilities of our future, both in its possible terrors and in its possibility for hope and resistance.
Content warnings for panic attacks, terminal illness, death, homophobia, violence.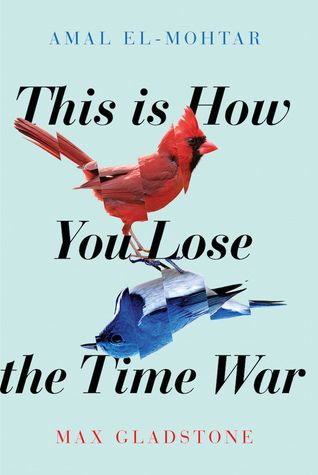 I had quite a bit to say about this book even before Bigolas Dickolas had it trending on twitter. This lush, poetic book made up of love letters exchanged between two time-traveling secret agents fighting a timeline war on opposite sides is full of some of the most beautiful language I've ever read, but don't be mistaken — it's also a wild science fiction story of timeline braids, tweaking of history, and rich unexpected worlds. The moment I first read this book, I wanted to start over and read it again.
Content warnings for death, violence, body horror, torture.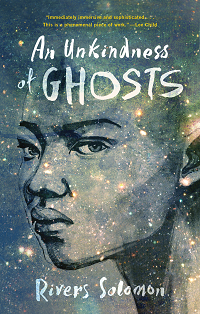 Generations after humanity abandoned earth, they live in a regimented and classist spaceship, the HMS Matilda, with sharp limitations and harsh power structures. Odd, brilliant scientist Aster, surgeon Theo, and paranoid Giselle, are trying to survive the world they live in any way they can — but Aster thinks her mother's coded journals might be a key to escaping the world they're in. This is a hard read sometimes, but well worth it for its rich story of queerness, found family, and survival.
Content warnings for sexual assault and violence, racism, violence, police brutality, child death, mental illness, torture, suicide, self harm, transphobia, grief.
---
If you read one of the amazing books in this quiz, let me know on Twitter!
Looking for more summer reads? For more queer recommendations, check out my list of the 100 most influential LGBTQ+ books of all-time. For more great SFF, check out Liberty Hardy's list of the best fantasy books of summer 2023, or dig into our SFF archive.