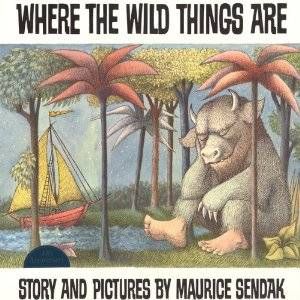 This content contains affiliate links. When you buy through these links, we may earn an affiliate commission.
The often overlooked truth about children's books is that they are written by… adults. As in, real, live human adults who sometimes swear, get into fights, and even–gasp–have sex (or in the case of Roald Dahl, a lot of sex).
In Wild Things! Acts of Mischief in Children's Literature, three of the industry's leading voices, Betsy Bird, Jules Danielson, and Peter Sieruta (who sadly passed before the publication of the book), take us on a fascinating and well-researched tour of the wild side of children's literature.
In doing so, they not only show us the human face behind many of our beloved classics, but they also reveal the extent of children's literature's power as an art form.
With Wild Things! hitting bookshelves this month, we briefly caught up with Betsy and Jules for a few questions about the always interesting, sometimes subversive, and even bawdy, world of the children's book.
---
Book Riot: Your book goes into rich detail about the history of subversion in children's literature. For those who still think of kids' books as all fluffy bunnies and rainbows, why is children's literature such fertile ground for subversion?
Jules Danielson: Well, for one, we discuss briefly in our book how there is a lot of freedom in children's literature precisely because it is often dismissed or condescended to. A book in the adult market might be subject to all kinds of scrutiny, but children's books are sometimes dismissed as trifles. And, as we write in the book, when you aren't being watched too closely, creativity blooms – and the unmentionable or taboo gets its day in the sun. The example we give is of Langston Hughes writing children's fare during his blacklisted McCarthy years.
Alison Lurie has previously written about this – that in children's books unpopular opinions in the world of adult literature—and that which is often hushed in mainstream culture—finds a home. One of several examples Lurie gives is Lewis Carroll's Alice's Adventures in Wonderland with the courts of the Red Queen and the Queen of Hearts, which could easily be subverting the court of Queen Victoria. There's also a great deal of pedagogical satire, given that all the adults in the book are mad or cruel, etc. The only sensible person in the whole book is Alice herself, Lurie writes.
What do you think, Betsy?
Betsy Bird: Oh, absolutely. No one ever suspects the children's book. Remember too that Phil Nel co-wrote that fantastic book Little Rebels which collected different examples of radical children's literature. It's amazing what you can get away with when nobody's looking. That isn't to say that subversive literature doesn't get in trouble. Remember the brouhaha that surrounded Lane Smith's It's a Book because it dared to use the word "jack-ass" (correctly in describing a donkey) on its last page?
Which brings us to the other reason it happens. Naughtiness. Folks are sometimes subversive in retaliation against the mentality that all literature for kids is ootsy-cutesy stuff. So when you write something like It's a Book you know you're going to be getting a reaction. It's like shooting fish in a barrel, really.
BR: If someone asked you for one example of a truly subversive children's book, what would you hand them? And what authors working today are carrying that mantle of subversion?
Jules: One of my favorites is The Paper Bag Princess, written by Robert Munsch and illustrated by Michael Martchenko. (Hard to believe it's by the same person who wrote Love You Forever.) I always like to see princess-based tales turned on their heads, and in this one, Elizabeth isn't going to put up with any nonsense, thanks very much, from Prince Ronald, who has a very tired and unfortunate set of expectations in mind for how a girl should act. I often give it as a gift at baby showers.
But I think the contemporary king of subversive picture books is the great Stinky Cheese Man himself, who gets some time and attention in our book.
As for who is carrying the mantle of subversion … Well, huh. That's hard. Because there are different ways to be subversive. One of my favorite contemporary picture books is Mac Barnett's Guess Again!, illustrated by Adam Rex, which intentionally subverts picture-book expectations (especially when it comes to guessing game-type plots or rhymes). And it's a GREAT story-time read with very young children, but I digress.
And I think Jon Klassen's I Want My Hat Back is delightfully subversive, given the ending. POSSIBLE MURDER. I will never, ever forget the first time I read that book.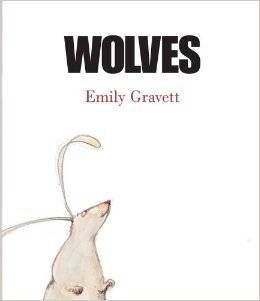 Betsy: Agreed. Barnett and Klassen are truly carrying on the subversive mantle, handed down to them by Lane Smith and Jon Scieszka (though obviously those guys are still going strong). When it comes to women who carry on the mantle, however, the Brits tend to have us beat. While I would argue that on this side of the pond Lisa Brown is the one to watch, the currently reigning queen, in my book, is Emily Gravett. If you don't believe me then read the end of her title Wolves. Point made.
In terms of what book I'd hand someone looking for one example of the truly subversive, that's a toughy. My husband would claim The Giving Tree but we differ on that point (and indeed Wild Things contains a pro and con section on that very book). I'd consider older books like Uncle Shelby's ABZs by Shel Silverstein (which wasn't really for children anyway) as well as more recent titles like A Rule Is to Break: A Child's Guide to Anarchy by John Seven and Jana Christy (a book that made the Tea Party go crazy not too long ago) or the upcoming Me & Dog by Gene Weingarten (which may be the first atheist picture book I've ever seen).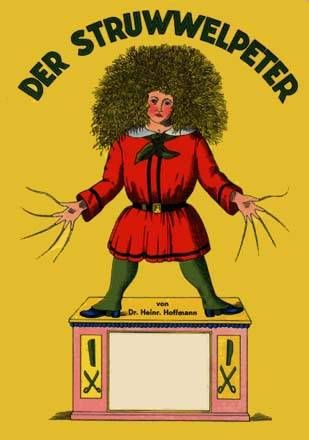 In the end my heart belongs to a boy with wild tangled hair and fingernails that bring to mind that guy in The Guinness Book of World Records (don't even pretend like you don't know what I'm talking about). Struwwelpeter by Heinrich Hoffman was subversive before there was subversion, baby! It was a reaction against all these boring didactic tracts for kids, and just sort of cranked the whole notion up to eleven. Why shouldn't you play with matches? BECAUSE YOU'LL BURN TO DEATH AND MAKE YOUR CATS CRY!!! Why shouldn't you suck your thumb? BECAUSE AN EVIL SCISSOR MAN WILL COME AND CUT THEM OFF OF YOU!!!
Good stuff.
BR: There's a lot of touching detail in Wild Things about the role the LGBT community played in the world of children's literature (and vice-versa), and while things have gotten better, you also note that there is still a ways to go. What do you think will be the next breakthrough for the LGBT community in children's books?
Jules: I can't help but answer this as a Southerner and say that I merely long for the day when books with gay characters aren't shunned or reported to the school board or some such thing. All of our country has a long way to go with marriage equality (and I don't mean to pick on the region of the country where I live, which has a lot of great things going for it), but the South—if you look at legal recognition alone—arguably has the farthest to go. I gave a presentation recently on new picture books and mentioned two 2014 titles about gender-nonconforming (these were two books about boys who like to wear dresses), and I could see and sense the discomfort in the room, including someone who shook her head disparagingly at the very existence of these books.
Betsy: I'm a New York librarian myself, so we don't have quite the same problems up here. That isn't to say there isn't a far distance to go, though. As Jules says we've definitely seen an uptick in gender-nonconforming picture books. They're all about boys, though, and they concentrate solely on clothing. What I'd like to see would be the 21st century equivalent to William's Doll for boys or maybe some picture books where a girl wants to actually be a boy. Then there are books by transgender authors. Considering how much b.s. gay authors have to face in their daily lives (you'd be amazed how often their school visits are cancelled) the very few transgender authors probably deal with much worse situations. We have a ways to go.
BR: For a few weeks now, you've been posting on the book's website, featuring stories that were cut from the final version of the book. I'm sure they were all hard to cut, but do you have a favorite outtake?
Jules: For poignant, I liked our post about James Marshall's gravesite. I'm a big Marshall fan.
But for sheer laughs alone, I get a kick every time out of the story of when Hans Christian Andersen visited Charles Dickens.
Betsy: My pick as well! I was heartbroken when that Andersen/Dickens story got cut. It just didn't fit in with our final product, but to this day I lament its passing. If I were to name a story besides that one, I think I'd go with the story of the British M.P. who tried to get the Winnie-the-Pooh toys back in Britain and faced the wrath of, of all people, Rudy Guiliani. That story's just nuts!
BR: Finally, if you had to pick one person (living or dead) as the Ultimate Badass of Children's Literature, who would it be? (Editor's note: Ultimate Badass of Children's Literature is not an official title… yet.)
Jules: Hands down, illustrator Trina Schart Hyman, who seemed fearless. All I can say is that, if you read our book, you'll see why. (Two words: Tombstone. Copulation.)
Betsy: Not to be confused with tombstone copulations, which would be another book entirely.
Jules has gone with the greatest badass of children's literature deceased. If we were to sort through the living, I might have to vote for Jack Gantos. The man served time in a federal prison, for crying out loud. But more than that (and that's a lot) he's just gotta be the bravest man alive in terms of trying things. Consider the work he's done on everything from Rotten Ralph to The Love Curse of the Rumbaughs (a book that haunts me to this day) to the sheer guts of the Joey Pigza series. That man is Badass #1.
Save