This content contains affiliate links. When you buy through these links, we may earn an affiliate commission.
Is it just me, or will 2017 go down in the history books as one of the weirdest years humanity ever persevered through? Without harping on the obvious, a lot of weird, awkward, uncomfortable and downright tragic things have happened this year; ever the optimist, I choose to believe 2018 will be way better. I mean, what goes down must come up, right? (Technically, the saying is reversed, but you get it.) In the meantime, here are four enjoyably strange comics to read through these strange, trying times.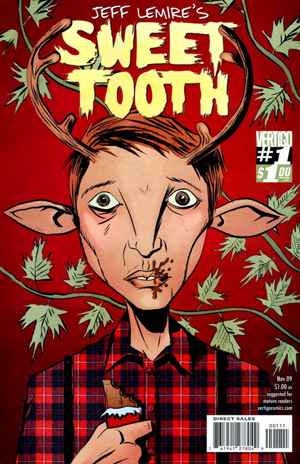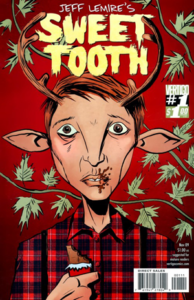 At this point, Jeff Lemire is a household name in comics. But I hadn't read anything of his, aside from his glorious Teen Titans: Earth One, and when I originally purchased Sweet Tooth, my mom (who frequently refers to comics as "cartoon books") got sucked into it before I got the chance. I finally stole the series back from her bookshelf, and holy sh*t. Not only is Lemire now on my list of auto-buy authors, but his haunting story has refused to leave my brain. If you don't know, Sweet Tooth is set at the end of humanity's reign on Earth—a mysterious illness known as The Plague has slowly but surely decimated the human population, which is also slowly but surely being replaced by a generation of human/animal hybrids who are immune to the sickness. Readers follow Gus, a naive 9-year-old deer/human hybrid with psychic abilities, as he joins forces with a tough-as-nails former-hockey-playing badass-currently-waiting-to-die man named Jeppard to survive. With knife-sharp writing, chaotic artwork, and beautifully grim colours (I know José Villarrubia's name isn't on the cover of any of the collected editions, but if not for his colouring, the series would be missing something essential), Sweet Tooth is a must-read. Gus is the kind of protagonist you want to see win, but that you also want to protect, and watching his character growth is a wonderful experience, even in the midst of such a fictional hellscape. This is the perfect book to inspire hope, a feat of the imagination, and an assurance that this too shall pass.
The Life After
by Joshua Hale Fialkov (writer) and Gabo (artist)
I've championed The Life After, a comic book written by an atheist about the afterlife, before. But I recently reread all four volumes, and found the strange, fantastical elements dealing with what happens after we shuffle off this mortal coil, was exactly what I needed (again). The Life After begins where most stories end—in the division of purgatory reserved for those who committed suicide. Jude's life is a never-ending repeat: he wakes up, catches the bus to work, does his job, takes the bus home, and falls asleep on his couch watching a mediocre cooking show, only to do it all over again the next day. He has no idea his barely-existing survival is actually an illusion. One day, on the bus home, Jude flips the script by retrieving and returning the handkerchief of Nettie, a woman who is none-the-wiser about the world around her. When he taps her on the shoulder, he finds he can see her memories, her pain. Shocked from complacency into the hard truth of the situation, Jude and Ernest Hemingway (yeah, that Ernest Hemingway) undertake their greatest mission yet: protesting purgatory, to change the fate of billions of lost souls. Fialkov imagines a comfortingly underwhelming afterlife (God is a potato!), but to be honest, it's Gabo's masterful art and luxurious colours that put this book a cut above the rest.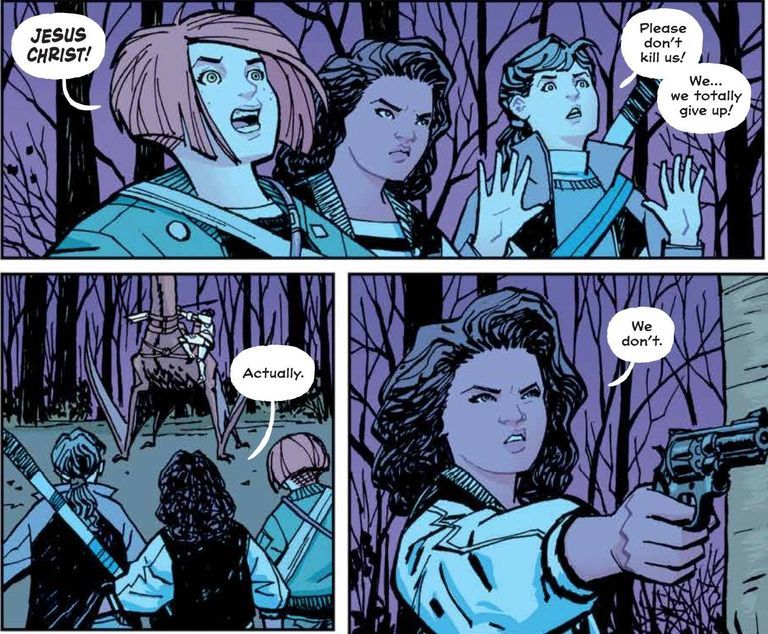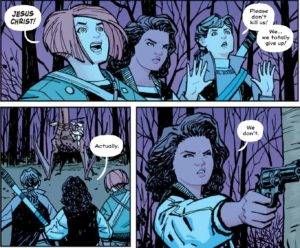 Paper Girls
by Brian K. Vaughan (writer) and Cliff Chiang (artist)
If you're like me and the second season of Stranger Things is already old news (give me moar!!!) you'll want to dive into Brian K. Vaughan's scifi/mystery comic book series. Paper Girls is set in the 1980s, and follows (pretty obviously) a group of young paper girls who keep to their routes in the town of Stony Stream. The night they all officially meet is also the night the world as they know it goes to sh*t, and aliens invade their formerly typical existence. I'm not a product of the '80s, so I don't get the nostalgia hype, but Paper Girls riffs on the same cord as Stranger Things. Honestly, Paper Girls can get confusing, and you'll be thrown into new adventures with more questions than answers, but that's what makes it such a spellbinding series!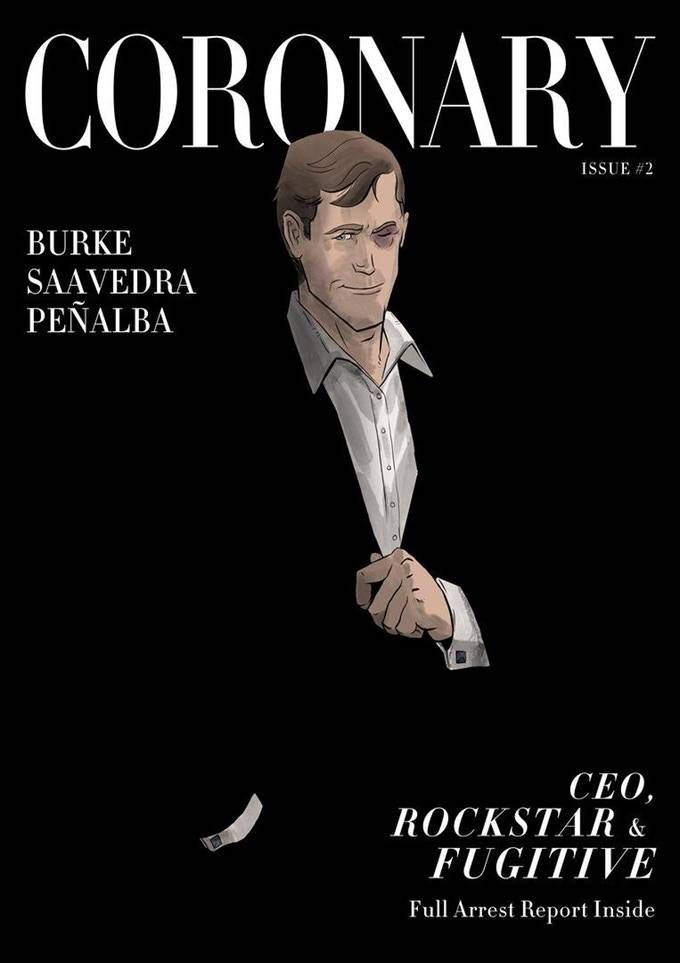 Coronary
by Ryan Burke (writer), Joel Saavedra (artist), and Damian Peñalba (colours)
Coronary is a crowdsourced comic about how far people will go to attain society's convoluted definition of "beauty." Men and women are chomping at the bit to get their hands on slick businessman Justin Sharpe's instant beauty pills (side-effects include a horrifying death, but like, whatever. You do you). On the other side of the equation, there's Luna, possibly the only person on the planet who is not buying what Justin is selling. Plus, she's not shy about telling him where to stick it. Coronary only has one issue out, with 11 more to go (the second is due out in February of 2018), but the whole story is already written out and it's already shaping up to be a must-read classic. Burke knows exactly who his characters are and how their journey reflects the real world's strange but constant struggle with the beast that is insecurity. But Coronary would merely be a pipe dream without Saavedra's exquisite art and Peñalba's sharp, ambiance-enhancing colours.