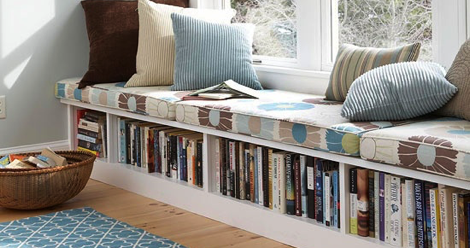 How To
Storing Books When You Live in a Small Space (and Can't be Bothered With DIY)
I'm far from a book hoarder, yet I have far too many books. I'm not at the point where this ever-expanding collection is threatening my relationship or my health. I'd like to keep it that way.
Here are some ideas for storing books when the space is small and money is tight. Some of these are practical. Others are whimsical. A few are flat-out ridiculous. Well, this isn't the most serious of lists.
Cardboard box – Beloved of many a college student (my former self included), nothing's more versatile than a box used side-down to store books. Well, nothing's more dismal-looking either.
Under furniture – On Gilmore Girls, Rory Gilmore had a well-loved pile of books under her bed. I keep books waiting to be read under the couch. Sure, it's not great for vacuuming, but there is plenty of dead space underneath furniture to squirrel away books.
Behind the stairs – It seems unlikely that my apartment-bound self will ever live in a house with stairs, but an apartment with a mezzanine level is a possibility. Keeping books in the unused space behind stairs seems like a nifty idea.
Plant rack – After realizing that the plants on the bottom levels of a tiered garden rack just weren't getting enough light, I decided to repurpose this rack for books (pictured above). You can't store very heavy books on it, but the effect is neat.
On the floor – Tidy stacks of books along a wall are an easy way to brighten up a room…and laze your way into some half-hearted book storage.
Unused appliances – For people who never cook, an oven isn't the worst place to keep a few books. Ditto the broiler (I'm still hazy on what these do), dryer (in a sunny climate, this is generally unnecessary), and dishwasher (for small households, washing by hand might be preferable).
Dresser – Many of us have more books than clothes. A wardrobe or dresser can be an excellent place to house books.
Beneath every conceivable surface – Imagine placing one or two volumes beneath a desktop computer, potted plant, arrangement of knick-knacks, the rolls of toilet paper in the bathroom, etc. Sure, it may be difficult to remember where each book is. But there's a strong cumulative effect of brightening up every room.
Of course, if your towers of books are on the verge of toppling over, there's always the option to pass your books on…
Save
Save
Save