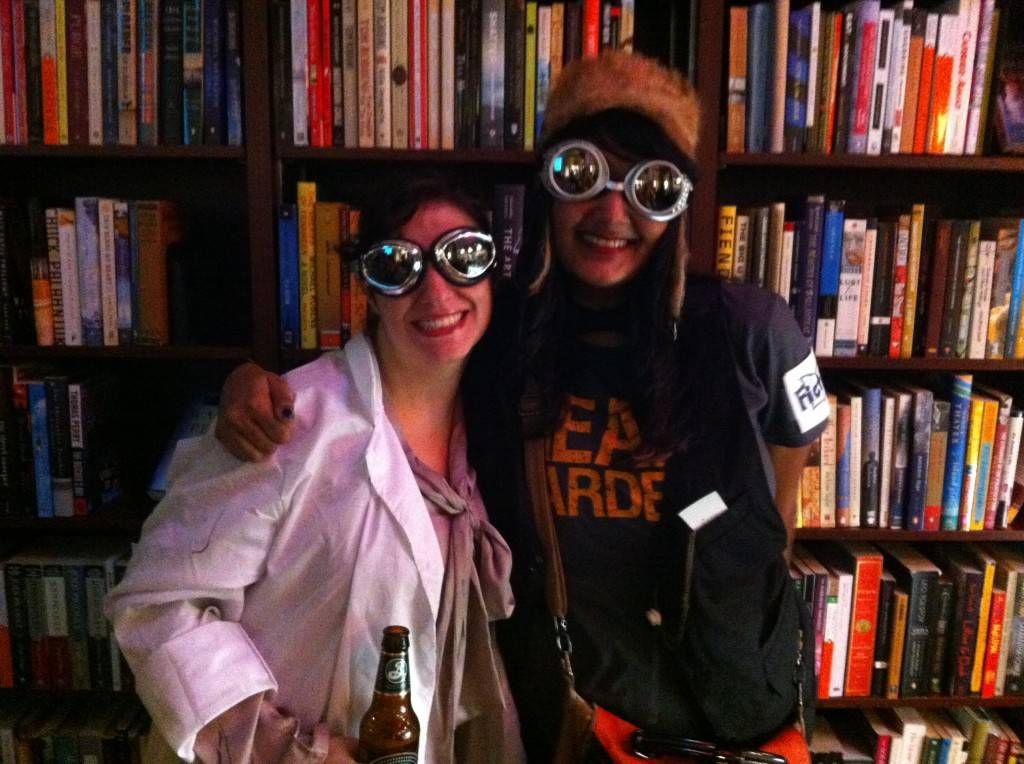 On October 31st, the night of my favorite holiday, Housing Works Bookstore and Cafe invited readers to attend the New Venetian Carnival, a celebration of steampunk featuring Jean-Christophe Valtat (Luminous Chaos, Aurorarama), Katherine Gleason (Anatomy of Steampunk: The Fashion of Victorian Futurism), and Noam Berg (Anatomy of Steampunk contributor).
If you're not familiar, my quick and dirty definition of steampunk is: a genre of science fiction that typically features Victorian-era settings and variations on steam-powered technology. But of course, it's much more complicated than that!
Aided by Melville House's own Dustin Kurtz, the panelists discussed the ins and outs of the (dare I say, controversial) genre — its politics (historically suspect at best), the various forms it finds in pop culture, its rules (or lack thereof) and its value. I was introduced to steampunk as a young reader of Jules Verne, and got my first real contemporary taste with the webcomic Girl Genius by Phil and Kaja Foglio. And while I'm more of a cheering-from-the-sidelines fan than a full-fledged enthusiast, the discussion was wide-ranging enough for both novices and experts to appreciate. It was particularly refreshing to hear Berg go from noting the period's political challenges ("If you weren't a moneyed white male, your life was terrible.") to noting the joy of stretching the realities of historical accuracy.
And then, we moved on to the costume contest!
Left to right: Leisl Schrader (society lady), Aven Moony (voodoo witch), and Book Riot's own Preeti Chhibber (embodiment of steampunk fan fiction) brought to life the varied spirit of steampunk, and won prizes! Honorable mentions go to pretty much everyone else there; the costumes were truly incredible.
"Jenn, I don't know about this steampunk stuff, where should I get started?" you ask. I have recommendations! Aside of course from the aforementioned comic Girl Genius, genre-granddaddy Jules Verne, and featured author Jean-Christophe Valtat (whose titles are best described as what would happen if Jane Austen dropped a lot of acid, got lost in a snowstorm with the Marquis de Sade, and then tried to write about the experience), here are a few more of my favorites:
Cherie Priest, Boneshaker: Explore an alternate 1880s Seattle underground, fall in with a cabal of armed and dangerous rebels, discover the true identity of a mad inventor — and don't get eaten by the zombies!
Felix Gilman, The Half-Made World: The American West is a frontier in more ways than one as demonically possessed trains battle it out with the devotees of The Gun, strange things lurk on the fringes of known civilization, and everyone else is caught in the crossfire.
H.G. Wells, The Time Machine: This one really needs no introduction, and if you haven't read it yet NOW IS THE TIME.
Nick Harkaway, Angelmaker: While half of the book takes place in contemporary England, the other half brings artisanal steam and clockwork technology to World War II, with incredible madcap results.
These books are guaranteed to make you as happy as Rioters Ali and Preeti (beer and goggles sold separately):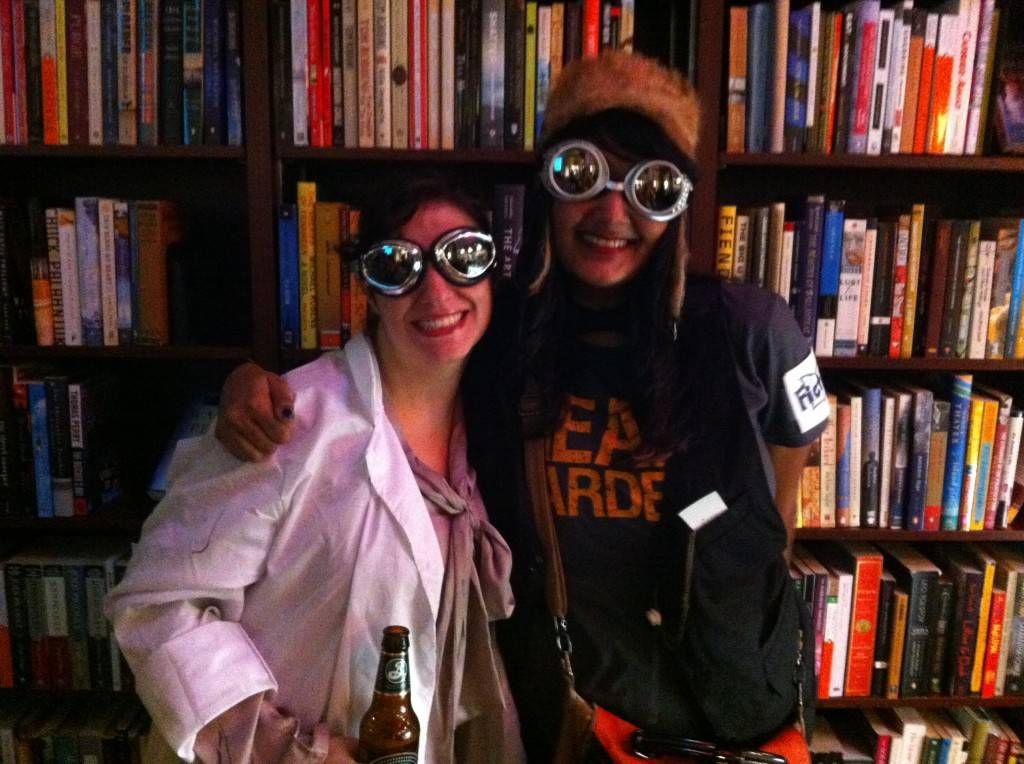 What about you, friends; got any recommendations?
_________________________
Sign up for our newsletter to have the best of Book Riot delivered straight to your inbox every two weeks. No spam. We promise.
To keep up with Book Riot on a daily basis, follow us on Twitter, like us on Facebook, , and subscribe to the Book Riot podcast in iTunes or via RSS. So much bookish goodness–all day, every day.