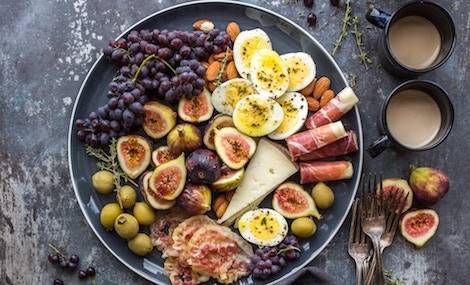 How To
How to Start a Cookbook Club
My love for cookbooks began when I first became a bookseller. I would often find myself drifting to the cooking section to take in the tempting photos and pour over recipes, gathering ideas and inspiration in between customers. I love good food and cooking, but purchasing cookbooks often felt like a huge commitment that I wasn't quite prepared to take on. So many recipes, so little time! How would I know if a cookbook was worth owning until after it was already on my shelf? One day, I was discussing my cookbook fascination/trepidation with a friend who owns a local organic market, and the idea came to us: What if we started a cookbook club?
In many ways, cookbook club is a lot like a regular book club. It involves a group of somewhat like-minded people who meet regularly to discuss a chosen book. Only with cookbook club, that book is a cookbook, and instead of bringing discussion questions, everyone brings a dish from the cookbook for a potluck. We talk, eat, share, and bounce ideas off of each other. And there are rarely leftovers.
While my original intent was to get to know my cookbooks a bit better and eat good food, I've been surprised by just how much I get out of our monthly meetings. Cookbook club allows us to explore a cookbook in depth, to try out a wide range of recipes relatively quickly, to expand our horizons, and to learn from each other. Since being a part of cookbook club, I've given much more thought to preparing menus, I've learned how to make really excellent soups, and I no longer find cauliflower an utterly useless vegetable. Plus, I always find myself excited to try recipes that I flipped past before, expanding my repertoire in exciting directions. Black bean burgers, why not? Cabbage and carrot salad, sure. I've even learned how to prepare tofu, which is a major accomplishment for a girl who was brought up on a farm!
If a cookbook club sounds like something you might enjoy, here are some tips for getting started!
Set a meeting time that gives people ample time to prepare their food.
When picking a time for the cookbook club, we considered week nights at first, because weekends are often packed with other events and obligations. But then we remembered that unlike other book clubs, cookbook club takes some prep work before the meeting even starts. Since we all work during the week, we ended up picking Sunday evening as our meeting time, giving people enough time to enjoy their Sunday mornings and prepare their dishes before the meeting. We meet at five p.m. and are usually done before seven—not too late to get ready for Monday again!
Keep the meeting logistics stress-free!
Since cookbook club does require some upfront preparation, asking someone to host might add extra stress to the group. We try to keep things as simple as possible by meeting in a public area, and by using paper plates and disposable utensils. Our club meets in the classroom space of our local organic market, but other good meeting places might be community centers or community rooms in your public library (just as long as they're cool with you bringing in food!). We all pitched in our first meeting by bringing plates, napkins, cups, and utensils, and we keep them in a tote bag that the market lets us stash in their storage room. Clean-up is a breeze and no one is stuck with dishes!
Determine how you'll pick your cookbook upfront!
While the idea of choosing a cookbook can seem daunting at first, it won't take long before everyone has ideas and opinions and it's best to establish a fair decision-making process early on. In our club, we welcome and encourage members to bring cookbooks they enjoy to every meeting, and pass them around. When it comes time to choose, we discuss important attributes, such as cookbook availability, whether or not the ingredients will be difficult to get (picking an Ottolenghi book when you live in a small Midwestern town might be a challenge!), and season. Then we vote on the books until we've narrowed it down to our winner. We usually pick our books one at a time, but we made an exception in July when we all knew that we'd want a particular apple-themed cookbook for fall. As the member who works at a public library, I make a point to check out cool cookbooks and bring them to meetings in case we find ourselves stuck on ideas.
Pick books that are in print and easily available!
One of the perks of being hosted by our local market is that the market purchases two copies of the month's cookbook pick and donates one copy to the local library and adds the other copy to the market's in-store cookbook library. That way, if members are unable to purchase a copy of the cookbook, they can still participate. We don't always pick new cookbooks, but we try to make sure that they're in print and readily available for those who'd like to purchase.
Stay connected and talk about what you want to make beforehand!
Our group created a Facebook group where we can chat and post notices about the next meeting and the cookbook we're using. We had a quick discussion about food allergies and dietary restrictions our first meeting, just to be aware of what everyone's needs are, but we don't cater meals to particular diets or tastes. We also create a document for each meeting where people can informally sign up for the dish they wish to prepare. This isn't required, but it does help us get an idea of how many people plan on attending, what the balance of appetizers to entrees to drinks to desserts is, and helps us avoid duplicate dishes—although we don't think double dishes would be the worst thing in the world!
Trust your instincts, and don't be afraid to try new things!
As a general rule, we always try to follow the recipes as printed. But sometimes that just doesn't work. I love my club because we know that the kitchen can get messy, substitutes are sometimes needed, and things don't always go according to plan. When that happens, we share how we tweaked the recipes, and we talk about our challenges. There is absolutely no judgment when a recipe doesn't turn out, someone runs out of time, or has to swap mascarpone for goat cheese. The important (and fun!) thing is that we talk things through and learn how to do better next time.
Are you a member of a cookbook club? What are some of your favorite cookbook recommendations?