This content contains affiliate links. When you buy through these links, we may earn an affiliate commission.
After I created my comics challenge, I've already noticed that I am picking out comics and graphic novels more mindfully and reading things I wouldn't have chosen before, and I love it. Rather than create extra reading work for me (which I feared) or box me in with reading, in a strange, unexpected way, it's actually made me more efficient, and I'm enjoying what I read. It's still early, but I think it will be a good thing. So of course, I created another one—because the year is ahead of us, and at the end of the year is what every Star Wars fan is waiting for: Episode IX. To this day, I am upset that its original vision (focusing on Leia) won't come to pass, but I'm looking forward to it nonetheless. (But really, as a HUGE aside, where IS Leia's story? We have a Solo stand-alone movie but no Leia stand-alone movie? How in the world did THAT happen?).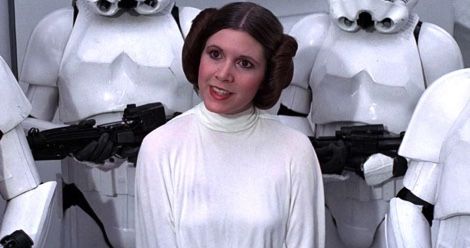 So to get me in the mood for Episode IX and provide plenty of Star Wars inspiration throughout the year, I created a Star Wars reading challenge. There are hundreds of Star Wars books from which to choose, and that's not even counting the comics. (And there are some really awesome ones coming out this year—I am especially excited about E.K. Johnston's Queen's Shadow; Padmé has long deserved a book). I only recently started reading the Star Wars books in earnest, and the amount of backstory and information about the galaxy is amazing: from Alderaan to Yavin, there's something for every Star Wars fan in the books and comics. Even if you love the movies, the Star Wars reading galaxy can be a little overwhelming, and it's my hope that maybe this reading challenge will help it be less so.
Here it is!
Novelization of a SW movie.
Graphic novelization of a SW movie.
First two volumes of a SW comic series.
SW book with a female lead.
Middle grade SW book.
Book from an Empire POV.
Book from a Rebel Alliance POV.
SW book/comic written by AOC.
SW book/comic written by a female.
SW anthology.
SW reference book.
A book from Legends.
Book/comic focusing on Luke.
Book/comic focusing on Han.
Book/comic focusing on Leia.
Book/comic focusing on Vader.
Free choice.
SW "manual" (like The Jedi Path, etc.).
A book from the new Canon.
Young readers SW book.
Book on the history of SW/pop culture and SW/etc.
I'm excited to do these, and hopefully finish the challenge before seeing Episode IX. Do you read SW books/comics?