How To
Spring Gardening: How-To Plant and Garden Books
This is the time of year, at least on the mid-Atlantic coast, I grasp at straws: winter will be over soon, won't it? Please? The treatment is garden books, seed catalogues. All those rose faces and robust tomatoes.
I'm mostly a fantasy gardener, oh but what fantasies! And they could be carried out in the soil, of my backyard, with the following books about gardening.
Who nowadays does not want to raise chickens? Creating Your Own Backyard Farm: How To Grow Fruit and Vegetables, and Raise Chickens and Bees by Nicki Trench has me gaga over the possibilities of producing my own honey. I appreciate her honesty about carrots, too: "When growing carrots, you'll get used to the knobby and odd-shaped examples that have been absent from supermarkets for many a year." She makes you feel you can do this, that is, gardening…and crochet. For instance these "super-cute" little sweater-vests for your honey jars. I'm thinking my fantasy chickens would also looking dashing in these vests, yes?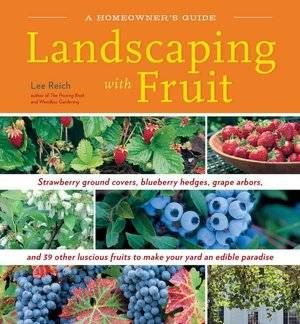 Landscaping With Fruit by Lee Rich. You will simply flip, and think to yourself why did I not consider strawberries as a ground cover? Ingredients to make a smoothie could be in your hot little paw within minutes if you grow them on your patio. There is also a section, much appreciated by me, called "Renewing A Neglected Shrub." Did you know blueberries are a shrub? Yes, and you can line an allee with them. The landscape gardening term allee ("King Louis XIV was a fan") is an "easy way to make a bold landscape statement with a line that harmoniously knits together the scene to carry your eyes and perhaps beckon you forward."
God knows late in winter the only way for a gardener to go is forward toward The $64 Tomato by William Alexander. The subtitle is cautionary: How One Man Nearly Lost His Sanity, Spent A Fortune, and Endured An Existential Crisis In The Quest For The Perfect Tomato. You will see yourself in these pages, or at any rate I saw myself, with my heirloom seeds, the face of Wil E. Coyote on my face, and bills for several varieties of garden trowel. But no matter! It is a hobby, gardening! And satisfying in a way that collecting tropical fish is not.
There is nothing like growing your own food, even if it is (as I have done) just a radish. It's the beginning of boldly going off the grid for a split second, and coming back to the farmer's market with great relief and appreciation that some people do this professionally. But what do our gardens say about us? What is this current fascination with chickens? These are complicated recessionary times is what our small but very aspirational victory gardens say. Wade Graham's wonderful American Eden From Monticello To Central Park To Our Backyards: What Our Gardens Tell Us About Who We Are tells the story of America through our common heritage of shrubs, trees, allees, and hopes. We're constantly reinventing our landscape. Now, where's my trowel?