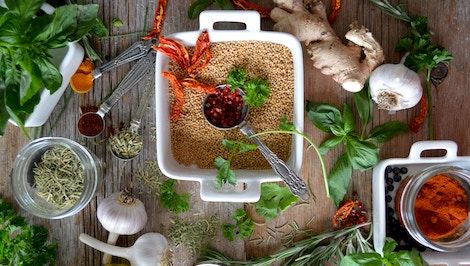 This content contains affiliate links. When you buy through these links, we may earn an affiliate commission.
Straight talk, y'all: I lived 20+ years in the South, but they were some internally contentious periods. There were aspects of the South that I never could adjust to—including the heat, but mostly related to the racism. But there are also things about the South that I begrudgingly came to love and consider part of my own heritage: the few wisteria days of spring. Coca-Cola and the word "y'all." Southern literature, especially from Flannery O'Connor and Harper Lee. And, inevitably, Southern food and, because of that, Southern cookbooks.
You can't NOT love Southern food. I don't care where you're from or what you grew up eating; if you pretend you can resist the butter- and meat-decked beans and greens, the fried vegetables of every variety, the Cajun spices and meaty, rich soups, the BBQed bits dripping with sauces and love: I'm calling nonsense.
When I crave my occasional home now (far away, where no one seems to appreciate okra properly), it's for the friendships I maintain in the South, my distant spiritual community, and, yes, dishes like fried green tomatoes. (That is not a proportional list.) Even sometimes-Southerners develop strong opinions about the best way to eat grits, what constitutes BBQ, and whether it's biscuits and gravy or chicken and waffles that truly make a brunch experience shine.
If you, too, find yourself wistful for Southern tastes with sides of charm, these Southern cookbooks are a quick way back. Enjoy—and do come back, y'all, again and again.
Soul Food Cookbook Classics
I love this soul food cookbook. In addition to straightforward recipes for fried chicken, every cut of pork, grits, and other Southern staples, it's filled with Strobel's own poetry and musings, tales of her restaurateuring (the story about her kicking Ruth Reichl's table out because one of the guests got mouthy is just beautiful—seems Reichl thought so, too!), and just…style. Strobel's food has style and endless appeal. Don't put it down without giving the green tomato mincemeat recipe a try!
A season-by-season celebration of Virginia cooking, Edna Lewis's book is a classic for a reason. Lewis brought Southern cooking into the mainstream, pulling it from the country into the realm of general comfort and refinement. If you see Southern food in fine dining now: credit to her.
This cookbook takes you down to basics from the Freetown farms of Lewis's youth—down to making butter in a butter churn. It's about memory as much as instruction, if not more so. Meal planning guides—for example, a spring breakfast bounty includes bacon and eggs, but also honey from woodland bees and dandelion blossom wine—are intoxicating.
Sweet Home Café Cookbook from the National Museum of African American History
You cannot talk about Southern food without acknowledging how much of it is rooted in African American traditions and experiences, and I would not try. This 2019 James Beard nominee for the Best American Cookbook goes to the roots of Southern cooking, drawing on the eponymous Café's locally-sourced dishes and its modern adaptations. Move from Pea Tendril Salad into Shrimp & Grits, from Maryland Crab Cakes and Fried Green Tomatoes toward Chow Chow and Banana Pudding. If it sounds like I'm reading from your neighborhood Southern restaurant's central menu: there's a reason for that. This is an essential book for any Southern kitchen.
Contemporary Soul Food Cookbooks
Soul by Todd Richards
His brick-and-mortar is Richards' Southern Fried in Atlanta's Krog Street Market, serving dishes like Chicken & Waffle Wings (I'm salivating) with sides of Collard Green Pho (oh, god, I'm so hungry) and Cobbler that've garnered him considerable attention. In this absolutely gorgeous cookbook, you'll be tempted by recipes for Shrimp and Grits with Grits Crust and Shrimp Butter; Okra, Andouille, and Crab Fritters; and Grilled Peach Toast with Pimento Cheese. I'd offer to let you borrow my copy, but: drool marks on the pages. Get your own.
Beyond my mom's food, I credit two things with my own appreciation for all things culinary: my time in the South and Top Chef. Carla Hall, a fan favorite on the show, has a cookbook that celebrates both—and I do mean celebrates, because every bit of her work is exuberant. Go for the Shortcut Deviled Eggs with Bread and Butter Pickles for a party staple, or switch on over to her Spoonbread Dressing for a celebration that doesn't require more than one participant. You'll be salivating for the tasty, playful, and fun twists on soul food classics that run throughout this book, and you'll want to undertake about twelve—let's call them "quickfire challenges," and not "days of going overboard and cooking everything because it all sounds so good that narrowing it down is impossible"—recipes in one go.
Tradition-Oriented Southern Cookbooks
This James Beard Award–winning title (Best American Cookbook) comes from a chef whose food is all about preserving the culinary traditions of the South. He's the chef behind the Husk restaurants (start with slow smoked pork ribs in a Sorghum BBQ sauce and preserved peach, move into cornmeal dusted catfish with greens—you get the idea!), and soon he'll be opening a much-anticipated restaurant in Nashville centered around Appalachian cuisine. Before its doors open, get a taste of his style here, from his Hoppin' John recipe down to his "manifesto," which includes good advice like "buy the best you can afford" and "cook in the moment." P.S. the photographs are beautiful.
English's cookbook is all about preparing meals from what's at hand—which also means ensuring that your pantry is replete with the essentials and embellishments that make it possible to produce a great Southern dish on the fly. Focused on canning, preservation, and the home pantry, she'll teach you how to make pickles, jams, and essential sauces first, and then how to wind them into your seasonal dishes. She'll prompt you toward Grit Cakes with Country Ham and Applesauce, Pecan Coins and Pimento Cheese, Ambrosia, and Southern Greens with Chow Chow. Down-home, bright photographs make the experience of English's book all the more comforting.
It's the Southern cuisine you know with a twist—because the high hills of Appalachia make cooking a different kind of challenge than it is in the low country. Ingredients are different; availability is more strained. Tullock's book reminds its audience that hunting and gathering is a key component of Appalachian cuisine; berries and nuts run throughout, as does a particular concentration on roots, tubers, and mushrooms. This might not SOUND Southern to you, but rest assured: everything you're craving is still here, from cornbread to BBQ, from Fried Green Tomatoes to cobblers, but there're also Pickled Ramps, Oven-Dried Apples, Heirloom Tomato Chutney, and Shuck Beans with Bacon, all with a nice dose of history to go alongside it. (Also, there're Pickled Hot Dogs. Yes, you read that right.)
New Southern Cookbooks
Southern, Asian, comfort, Texan: all of these modifiers can be applied to Silverstein's dishes, and often multiple at once. The Tokyo-born son of a Chinese American–meets–Jewish American family, he brought his style to Texas but left nothing behind. His food truck (The Peached Tortilla—and there's a sit-down restaurant, too) is an Austin, Texas, favorite because of dishes like Charred Brussels Sprouts in Bacon Jam and Brisket Eggs Benedict, and his fusions are not to be missed. The cookbook itself is bright with bursts of color and temptations like Bacon and Shrimp Okonomiyaki and Kung Pao Brisket.
Lee's food, like Silverstein's, is more new South than old—all about the fusion of cultures that makes cities like Atlanta so irresistible to visit and/or live in. His recipes include Southern staples like grits, greens, chicken, and gravy, but all with twists that honor his Korean heritage as much as his Kentucky life. Alongside delectable recipes for oxtail stew with lima beans and braised brisket with a bourbon-peach glaze, you'll get fascinating stories about how Lee brought his unique tastes—favoring umami and the marriage of food traditions—into the popular imagination.
Southern Drinks and Desserts
Raised in a Florida town where racism "wisped westward," where the flavors were informed by Jamaican, Haitian, and Cuban cultures, and where her childhood kitchen experiences were more about the necessity of cooking than the joy of it, Guy is positioned to discuss the "romance" of food with nuance—and she does so, in her desire-awakening cookbook, which centers on baking. Go for Saffron Soymilk Pie, Pepper Jelly Thumbprint Cookies, or Cajun-Rubbed Flatbread to pep up your meal; or trend homier with Blueberry Drop Biscuits and Pecan Pie Rugelach. Organized by sensory experience (Guy doesn't forget that mouthfeel and aroma are as much a part of enjoying food as taste), this is a book that you'll want to indulge in.
While dry counties still pepper the South and, until recently, it was insanely frustrating to crave both brunch and a Bloody Mary on an Atlanta Sunday morning, cocktails are still a part of Southern heritage—and they're certainly a part of fine dining experiences there today. This guide trips through Southern laws and regions, capturing the cocktails we associate with the South where they grew, from Mint Juleps to the Sazerac, and pairing them with light eats to go along with. (I'm saying "light," but I mean in size: you'll be snacking on deviled eggs and sweet potato biscuits with pepper jam.) This is the South of countering hot summer nights with ice-shaken drinks; of long, drawling conversations with friends; of the experience, not its circumscription.
---
Hit the comments to share your favorite Southern cookbooks!