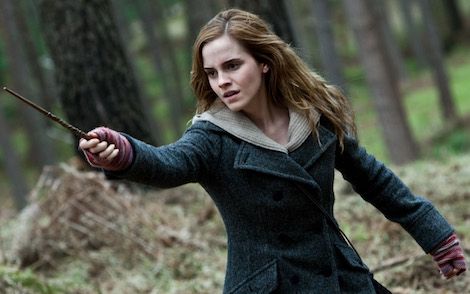 Lists
Songs to Add to Your Harry Potter Playlist
This content contains affiliate links. When you buy through these links, we may earn an affiliate commission.
You'll never go wrong with "Hedwig's Theme," but there are songs outside the movie soundtrack that you can add to your Harry Potter playlist. Whether you're hosting a wizard party, rereading the series, or looking for background music, here are some songs that create a magical Hogwarts atmosphere.
"Test Drive" —How to Train Your Dragon soundtrack
Using another franchise's soundtrack feels a little bit like cheating, but the music is so good, I couldn't help myself. It's the perfect song for any scene about flight. So after you read about Harry riding a broom, driving a levitating car, or (fittingly) flying a dragon, close your eyes and turn this on. Emotional roller coaster guaranteed.
Check it out on YouTube, iTunes, or Spotify.
"Le Jour le Plus Froid Du Monde" —Jack et la Mecanique du Cour soundtrack
This song is also from another movie's soundtrack, but it has a whimsy similar to Hogwarts. If you'd prefer it, there's an English version, but I like the French much better. It feels a little more magical.
The lyrics themselves explain a plot line to a different story, but the overall tone fits Harry's lonely moments perfectly. While listening, imagine Harry's early life on Privet Drive. It's especially chilling and poignant as you envision him shivering in the shack by the ocean.
Check it out on YouTube, iTunes, or Spotify.
"Steady State" —Penguin Cafe Orchestra
This is wholly and completely the theme song of the Burrow. In its plucky melody, it balances busy and calm all while evoking a feeling of home. While it plays, one can easily imagine a morning with the Weasley family.
Check it out on YouTube, iTunes, or Spotify.
"What's This?" —Nightmare Before Christmas soundtrack
I added this less because it evokes magic and more because I think it's funny. (It's still pretty magical, though.) This was Harry's mindset throughout his entire first year at Hogwarts. And also throughout the rest of his years at Hogwarts.
Check it out on YouTube, iTunes, and Spotify.
"The Marriage of Figaro Overture" —Mozart
This whirlwind orchestral piece is for the Triwizard Tournament. The upbeat tempo nicely depicts the spirit of a cheering stadium.
With its somewhat overwhelming, joyful tone, the overture also plays well with Harry's first moments in Diagon Alley.
Check it out on YouTube, iTunes, and Spotify.
"Saturn" —Sleeping At Last
This is a gut-wrenching, poignant song about death and loss. If you don't add it to your Harry Potter playlist, at least add it to your library.
It's best played after Sirius's death. Or Cedric's death, Remus's death, Fred's death, Harry's death…You get the idea.
Check it out on YouTube, iTunes, and Spotify.
"War" —Hypnotic Brass Ensemble
This song has a lot of trumpets, which means a lot of bravado, which means a lot of Gryffindor. It especially fits Quidditch matches and any moment of Gryffindor pride (Fred and George triumphing over Umbridge is always a classic).
Check it out on YouTube, iTunes, and Spotify.
"Carol of the Bells" —The Christmas Piano Guys
Any version of "Carol of the Bells" is fine for your Harry Potter playlist, but this delicate variant by The Christmas Piano Guys is particularly striking to me. The gentle music conjures mysterious wonder, and the notes are so soft that they verge on haunting.
It fits well with the mystical history of Hogwarts. Perfect for The Chamber of Secrets.
Check it out on YouTube and Spotify.
"Welcome Home, Son" —Radical Face
Despite the title referencing a "son," I think the song perfectly applies to Ron and Harry and Hermione—particularly Ron's departure and return in The Deathly Hallows. The lyrics "You were never supposed to leave / Now my head's splitting at the seams" feel uncannily similar to Harry's perspective.
Also, with a little tweaking, the title could read "Welcome Home, Ron." Don't mind me; I'll be crying over here.
Check it out on YouTube, iTunes, and Spotify.
"Once Upon a December" —Anastasia
I like both instrumental and lyrical versions of the song, but I prefer Emile Pandolfi's instrumental while reading, so that's what I linked below. If you've ever watched the brilliant animated movie Anastasia, you'd know that the song's overall sentiment is nostalgia and forgetting one's family. Harry can relate.
Listen to it alongside the Mirror of Erised, Hagrid's gift to Harry at the end of the first book, or visits to Godric's Hollow.
Check it out on YouTube, iTunes, and Spotify.
"Pure Imagination" —Willy Wonka and the Chocolate Factory (orchestral)
You might have been waiting for this one. After all, many fans have noticed the similarities between Dahl's books and the Harry Potter series. Although most people draw parallels to Matilda, Rowling's world also has a likeness to Charlie and the Chocolate Factory. Stepping into Willy Wonka's chocolate factory is a lot like Harry stepping into the wizarding world.
Gene Wilder's classic song has been remixed, covered, and performed on Broadway. Its brilliance lies in the whimsy and wizardry of, uh, pure imagination. The somewhat eerie and uncertain introduction could reflect Harry's own disbelief as he processes the world around him.
Check it out on YouTube, iTunes, and Spotify.
"Old Friends" —Ben Rector
This song doesn't quite fit the magical theme of this Harry Potter playlist, but it's such a wonderful ode to friendship. Whether you're reading through Luna Lovegood quotes, imagining the Marauders, or celebrating your real-life Harry Potter friendships, this song has your back. Be prepared for the warm and fuzzies.
Check it out on YouTube, iTunes, and Spotify.
"Jazz Variations on Hedwig's Theme" —Scott Bradlee's Postmodern Jukebox
I know I said no songs from the movie soundtrack, but this rendition needs to be on everyone's radar. This is for anyone who listened to "Hedwig's Theme" and thought, "Wow, I wish I could dance to this." Harry Potter meets the '20s, minus the Fantastic Beasts plot line.
Check it out on YouTube, iTunes, and Spotify.
So there you have it! The scattered Harry Potter playlist you never asked for. Hopefully, these songs have you feeling magical for Harry Potter's U.S. 20th Anniversary. And if you're anything like me, maybe it got you reading the series again. Sorry in advance for the late nights and Order of Phoenix tears.