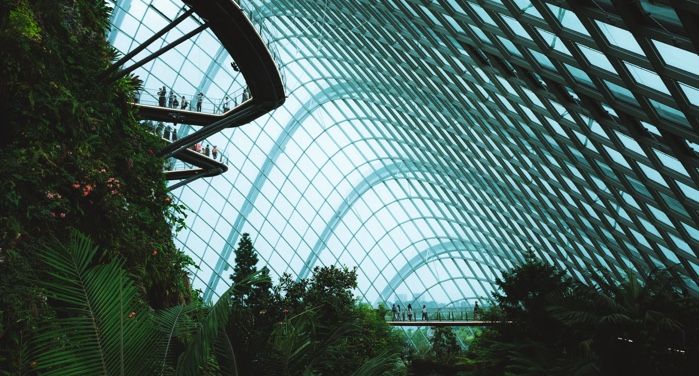 This content contains affiliate links. When you buy through these links, we may earn an affiliate commission.
While a great deal of science fiction involves gloom, doom, and cynicism about humanity's fate (Apocalypse! Dystopia! Grimdark!), there are bright spots of optimism within the genre. Meet solarpunk.
What Is Solarpunk?
The overall vibe of the solarpunk genre is often described as inspired by Art Nouveau, Victorian, and Afrofuturist motifs. Illustrations of solarpunk landscapes often look hypermodern, light, airy, and colorful, but can also be rich in elegant detail. Most of all, everything is so, so green. Just covered in leaves. Like Ewoks moved into the Watergate.
Along with this visual style, the spirit of solarpunk is one of craftsmanship, egalitarianism, and optimism where technology can be put to work to solve our greatest problems.
The first mentions of solarpunk trace back to the late 2000s, but the sub-genre became more widely recognized thanks to the Tumblr of Miss Olivia Louise, who frequently posted images that reflect what's become recognized as the solarpunk aesthetic, and had a post in this style and explaining it go viral in 2014.
What Are Solarpunk Novels?
Solarpunk, as a name for a science fiction sub-genre to fill a void within science fiction, was first suggested in 2008 by Republic of the Bees, which pitched it as parallel to steampunk, in that both spun away from modern technologies and built instead on variant directions technology could have gone instead.
Solarpunk has also been compared to cyberpunk — but while cyberpunk imagines a future in which technology had led to new, darker problems for humanity, solarpunk offers a more hopeful take, in which technology has led to solutions. In fact, the result is often quite utopian.
More than just a motif or a take on technology's potential, solarpunk worlds also often offer a version of humanity that has optimized its societal potential with a higher cultural awareness, equality across genders and races, and heightened creativity.
Classic Solarpunk Novels
Thought the name "solarpunk" wasn't recognized until recently, authors have been writing in this style for much longer.
Modern Solarpunk
In recent years, solarpunk has started to emerge from all kinds of storytelling, from film to comics to anime and, of course, novels.