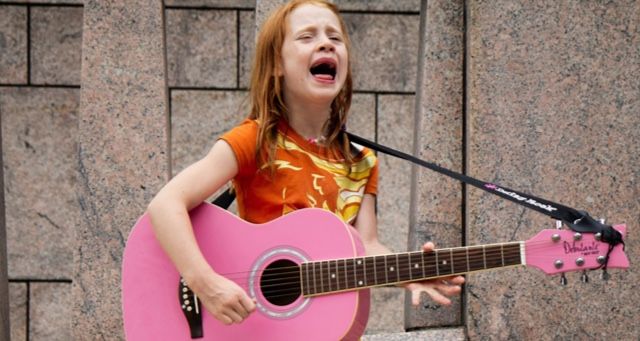 Children's
Make Storytime Musical: 8 Singable Picture Books for the Vocally Shy
This content contains affiliate links. When you buy through these links, we may earn an affiliate commission.
Most children are naturally drawn to music. Most children enjoy having stories read aloud to them. Mix the two together and you have a winning combination!
The parent education initiative, Every Child Ready To Read, which guides many public libraries in their approach to promoting early literacy, lists singing and reading as two of the five practices that will help children build a solid foundation for literacy. (The other three practices are talking, writing, and playing.) By putting picture books to music, caretakers can double the positive effects of their one-on-one reading time with their children.
For folks out there who are musically inclined, developing a tune that fits a book's text might not seem daunting. However, there are probably some of you who'd like to give singing picture books a try but might be shy about singing and don't know where to start. For you, I've pulled together a list of books that already have established melodies to go with the words. So, warm up those pipes and start singing!
Follow an intrepid chipmunk from day into night as he embarks on a quest to reach the stars. Jerry Pinkney beautifully illustrates this classic lullaby in dreamy colored pencils and watercolors, which will make readers young and old ponder the mysteries of the nighttime sky just like his chipmunk.
Every Little Thing by Bob Marley, adapted by Cedella Marley
Based on Bob Marley's "Three Birds," Cedella Marley's adaptation channels the joy of her father's song in the pages of this book. The young boy in this book experiences ups and downs over the course of his day, but through it all, he spreads kindness and doesn't allow anything to get him down. I'll bet, if you sing this book aloud to yourself or a young listener, you'll feel like "every little thing's gonna be alright!"
What a Wonderful World by Bob Thiele and George Davi Weiss, illustrated by Ashley Bryan
The song "What a Wonderful World," made famous by jazz great Louis Armstrong, has such a positive message that all children (and grown-ups!) should hear. That message is enhanced even further with Ashley Bryan's brilliantly colorful illustrations in this book.
Don't expect moos and baas in this reworking of "Old MacDonald Had a Farm." Rather, Isadora has readers grunting like the hippos and snorting like the warthogs living on Old Mikamba's game farm. Baboons, giraffes, cheetahs and many more beautiful African animals grace the pages of this book, and children will delight in making the unique sounds of each creature.
When Mom finds her little boy painting everything in the house, she declares, "You ain't a-gonna paint no more!" Little does she know, he has a hidden supply of paints which he proceeds to use all over his body while singing, "I ain't gonna paint no more!" Sung to the tune of "It Ain't Gonna Rain No More" the text is punctuated with rhymes naming the parts of the body where our young artist paints himself. Get ready for giggles when he starts the rhymes with "I'm such a nut, I'm gonna paint my…WHAT?!"
The regular ol' "If You're Happy and You Know It" is always a crowd-pleaser, but throw jungle animals into the mix and the fun multiplies exponentially. Great for getting the wiggles out, this version has little ones beating their chests like orangutans, crawling around like snakes, and roaring like lions.
"This Old Man" gets a facelift with bebop, scat, and jazzy rhythms and rhymes in Ernhardt's lively reimagining of the traditional song. From the drummer tapping bippity-bop to the trumpeter playing too-toot doodly-doot, all the jazz men in the book will get readers tappin' their toes and singing along.
As his name suggests, the Pout Pout Fish is a real gloomy Gus. Even though his sea creature friends try to cheer him up, he thinks "spreading the dreary-wearies" is his lot in life, until a mysterious new fish comes along and gives him a big ol' smooch and changes his outlook in a major way.
(This book is a bit of an outlier because the Pout Pout Fish song isn't too widely known, but it's such a kid-pleaser, I had to include it. Check out The Pout Pout Fish Song video to learn the melody.)
---
Once you get more comfortable singing these picture books, try setting other books to the same well-known tunes, or other popular kids' songs. Books with lots of repetition and rhyming are usually the best for this. Soon enough, you may be composing your own little ditties!
And if you want another great list of picture books to sing to, take a look at Words and Songs: Popular Songs Turned Children's Books.