Show and Tell: Riot Readers' Favorite Bookish Objects
To celebrate our new Quarterly box, in which you'll receive awesome books and bookish stuff we love that we think you'll love too, we asked you to share your favorite bookish objects. A whole bunch of Riot readers submitted photos of their Book Fetish-style goodies, and we've picked some of the best ones to share with you today.
Raina Z.: "My boyfriend surprised me with this on my 20th birthday. He'd folded the pages of a copy of Terrier, by Tamora Pierce, into a big "20." In the picture, it's resting on top of another copy of Terrier, which he'd given me for my birthday way back when we were in 7th grade together (we weren't dating at the time). It's one of the best gifts I've ever gotten."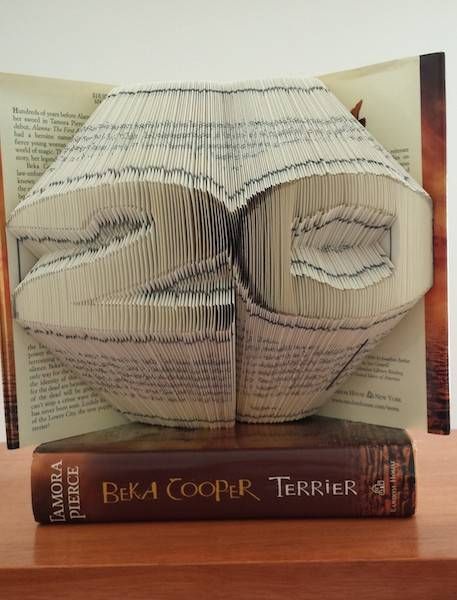 Cary G.: "This is my Oscar Wilde action figure (it is important to note that he is not a doll, mostly because I also have an Oscar Wilde doll). He sits on my computer monitor at work at the Fondulac District Library. He loves to sass my coworkers and the occasional patron, but gets really bent out of shape when people mistake him for the 8th Doctor, played by Paul McGann."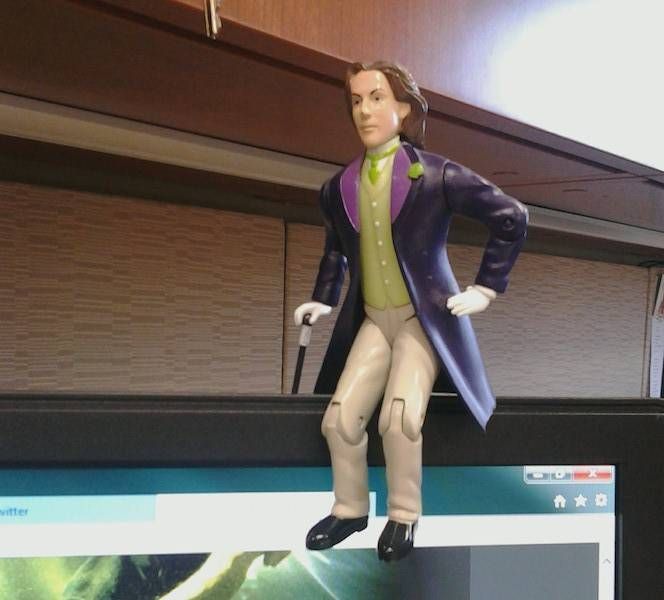 Becky C.: "I practice calligraphy, and I love to take beautiful quotes and place them on pages of old books. I bought a book at a library sale just for this purpose, and while some hate crafting with books, I like to think of it as a way to immortalize the books. My favorite quotes to use often come from W.B. Yeats, his words were like wine. These were practice paintings, but soon I'm going to make actual prints of them, and place them in frames around my library. I also plan on creating a fully book-themed Christmas tree using the rest of the pages from the book to make ornaments."
Gamma T.: "I'm away at school, so I have lots of books but few bookish objects with me. But this one I slipped into my baggage and tacked up near my bookshelf. A gift from my daughter, it is not only an object of self-identity, but a upbeat reminder of the wayward paths to bookish success. This is one of "Laini's Ladies," created by Laini Taylor, who pursued a dual path of tchotchke creator and writer until the writer gig consumed too much time to do both. On this blog, she is better known as the author of Daughter of Smoke and Bone, but at my house, her work is nailed to the wall."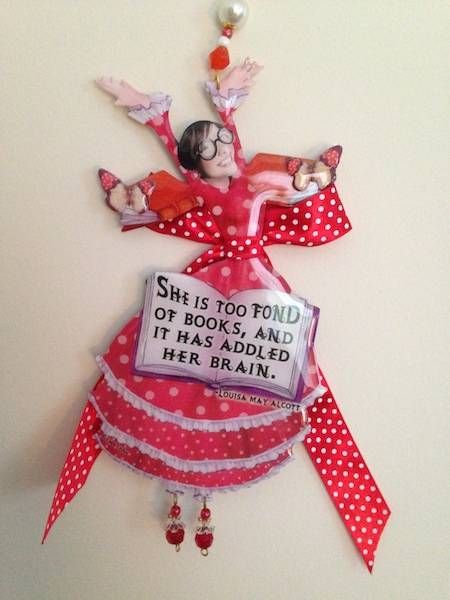 Spigana: "My all-time favorite bookish thing (apart from actual books, of course) are my book earrings, handmade by my friend as a gift for me on Christmas. I tend to wear them most of the time and despite the heavy look they are actually not that heavy and are really comfortable to wear. I must confess- I`m absolutely in love with them.
Oh, and the coolest part? One can actually open them and write something inside, as my friends sometimes take liberty to do."
Ellina: "One of my good friends (Paul Kelley ©) made these for me and they are my favorite thing on the bookshelf (not counting the books). They're two of my favorite authors, Bukowski and Vonnegut."
Andrew S.: "My collection of Dickens novels kept in place by an architecturally accurate reproduction of, Charles Dickens residence, 48 Doughty Street. Dickens lived at 48 when he published Pickwick Papers, Oliver Twist and Nicholas Nickleby."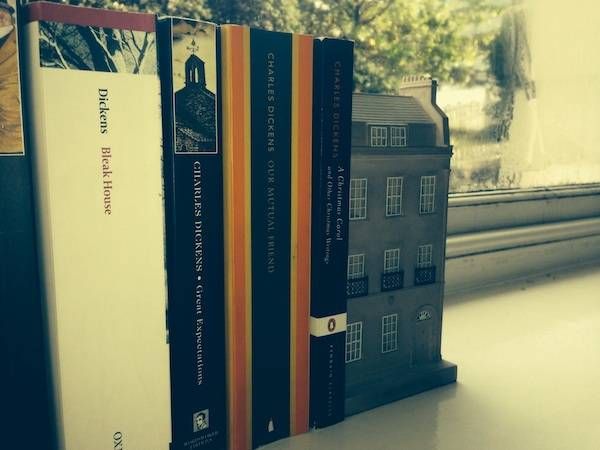 Karine D.: "A book sculpture I made for one of my favorite novels: Wuthering Heights by Emilie Brontë.
Everything is made by hand (about 100 hours) and i have used the pages of the book ! I used flickering orange LED for the fireplace in the kitchen and warm light LEDs for the ground floor and first floor of the house. I only work on second hand books that i find in boot sales because it's such a shame to see books full of dust and abandoned for few cents ! I never transform first edition of course! My goal is to give a second life to old books and to show what beautiful or interesting can be the story!"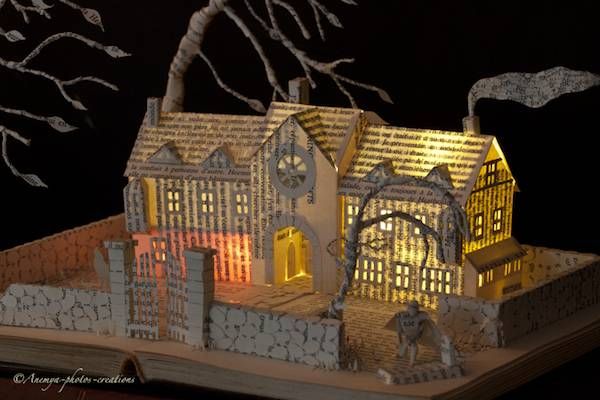 Devon S.: "Handmade pottery plaque by Mountaine Meadows Pottery"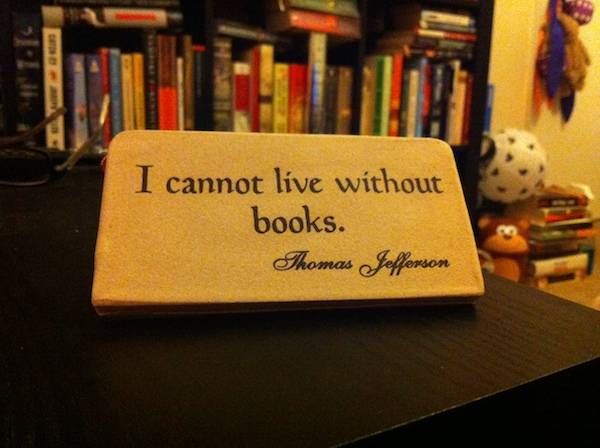 Mary F.: "Upon finding there to a terrible lack of Richard II inspired dorm decor, I took matters into my own hands and made this poster using cardboard, a calligraphy set, lots of ink, and an alarming amount of procrastination.
It is an original design using the text from Shakespeare's play."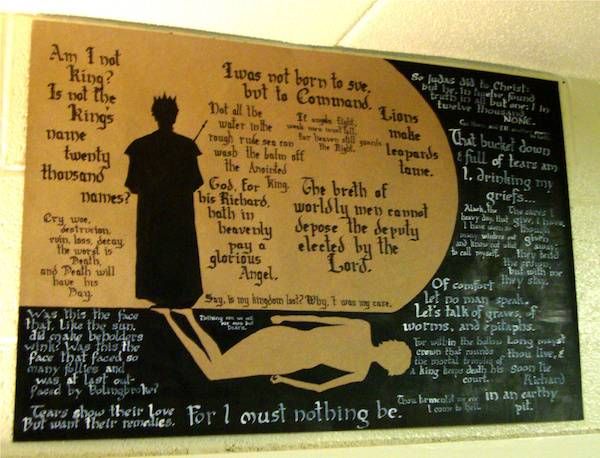 Ellen R.: "My vanity tag."
Which is your favorite? Give us a shout in the comments, and don't forget to check out the Quarterly subscription box. If you trust our book recommendations and dig the Book Fetish feature, you're gonna love the Quarterly.
_________________________
Sign up for our newsletter to have the best of Book Riot delivered straight to your inbox every two weeks. No spam. We promise.
To keep up with Book Riot on a daily basis, follow us on Twitter, like us on Facebook, , and subscribe to the Book Riot podcast in iTunes or via RSS. So much bookish goodness–all day, every day.