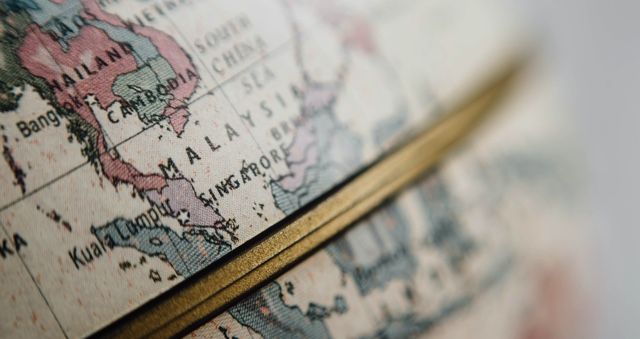 In Translation
20 Must-Read Short Story Collections by Women in Translation
This content contains affiliate links. When you buy through these links, we may earn an affiliate commission.
While looking back at my reading over the last few years, I noticed that many of my favorite books have been short story collections by women in translation. This came as a surprise to me initially—I hadn't realized I had even read that many short story collections—but once I began to look these books over again I was struck anew by their brilliance. And so I sought out others to round out a list from around the world that will hopefully bring as much joy to you as the reading and compiling did for me. Because boy was compiling this list of 20 must-read short story collections by women in translation a pleasure! I dipped in and out of these stories with utter amazement, finding something for every mood, whim, and desire.
Do you want to laugh? Maybe pick up An Elderly Lady Is Up to No Good or The First Prehistoric Serial Killer. Is it October and you want to be utterly terrified and not sleep for days? There are so many options, from Revenge to Flowers of Mold to The Houseguest. Do you want to read a story so achingly perfect that you'll never try to write again? Well, there are more than a few stories like that in these collections, but I would start by flipping to almost any story in The Woman Who Borrowed Memories. The list could go on. I wish you many hours of happy reading!
20 Must-Read Short Story Collections by Women in Translation
The Houseguest by Amparo Dávila, translated by Audrey Harris and Matthew Gleeson
The horrors of The Houseguest are rarely described on the page. They lurk in the margins. They haunt the shadows. And it's this thrilling psychological tension that leaves you gasping for air after each story of desire, paranoia, and isolation. Carmen Maria Machado writes that "Each of these stories is equal parts Hitchcock film and razor blade: austere, immaculately crafted, profoundly unsettling, and capable of cutting you. Amparo Dávila is Kafka by way of Ogawa, Aira by way of Carrington, Cortazár by way of Somers, and I'm so grateful she's in translation." And do you really need more than that?
In this beautiful debut collection, Sudanese author, journalist, and activist Rania Mamoun crafts a complex and moving portrait of contemporary Sudan. It's a uniquely urban collection as Mamoun reflects on the isolation that can come with urban life, but she also depicts powerful stories of human connection and love. You'll feel these stories deeply in Elizabeth Jaquette's thoughtful translation.
I love this short story collection and don't think it gets nearly the attention it deserves! It is one of the funniest books, especially if you like dark humor. Very odd things happen in Teresa Solana's stories. Statues decompose and stink out galleries. Two old grandmothers are vengeful killers. The first prehistoric serial killer is afoot, but so is the first detective. The collection also includes an interesting and fun web of stories that explore the darker side of Barcelona. Clever and effortlessly funny, this collection is a gem.
Samanta Schweblin, author of the literary sensation Fever Dream, returns with her first short story collection translated into English. Like Fever Dream, I was struck by the elusive, almost unsatisfactory nature of the stories. Some are strikingly short. Others are carefully crafted to confound. All leave you wanting more and thinking about them long after. Strange and fantastic, dark and disturbing, the stories in Mouthful of Birds are sure to please fans of Schweblin's uniquely unsettling style.
If you've ever read Tove Jansson's classic The Summer Book, a novel that "distills the essence of the summer—its sunlight and storms—into twenty-two crystalline vignettes," then you won't be surprised that Jansson's short stories are also exquisite. Dealing with many of the same themes as her longer works, her stories touch on art, nature, isolation and so much more—the various stages between sunlight and storm, the spectrum of shades between light and dark. In her introduction, Lauren Groff writes, "We read Tove Jansson to remember that to be human is dangerous, but also breathtaking, beautiful."
This fascinating collection from one of Russia's most important contemporary writers transcends ordinary realities into dazzling other worlds of folklore and fantasy, "rendered with the emotional insight of Chekhov, the surreal satire of Gogol, and a unique blend of humor and poetry all her own." Rich and clever, these stories explore politics, identity, love, and loss in Tolstaya's masterful voice. After finishing it, I rushed out to get her collection of essays Pushkin's Children: Writings on Russia and Russians, translated by Jamey Gambrell.
The Complete Stories by Clarice Lispector, translated by Katrina Dodson
Gathered from the nine collections published during her lifetime, The Complete Stories captures Clarice Lispector in all of her "darkness and dazzle." The stories, written during her adolescence all the way up until her death, are inventive and haunting, often about women at various stages of their lives. Some are more traditional than the novels she's come to be known for, but as a whole the collection is a great way to "get" (or grasp at, at least) a sense of Lispector and her prose. You can dip in and out of these stories—86 in the hardcover and 89 in the paperback with three newly discovered stories—but I would recommend picking them up early in your reading of Lispector. Find your way into the other works of Clarice Lispector with this reading pathways post.
Author, journalist, and women's rights campaigner Nayrouz Qarmout draws from her own experiences growing up in a Syrian refugee camp as well as her current life in Gaza in this collection of stories that looks at what it means to be a woman in Palestine today. Qarmout thoughtfully weaves together stories of conflict and strife with tales of ordinary life, resulting in a deep and moving collection.
I loved this collection of quirky and wonderful stories. Winner of the Akutagawa Prize and the Kenzaburo Oe Prize, Motoya is a magician—she takes mundane, daily life and just twists it into these amazingly strange and fantastic tales. In these stories, a newlywed notices that her husband's features are sneakily sliding around his face to match hers, umbrellas are more than they seem, women are challenging their boyfriends to duels, and you might want to reconsider dating the girl next door. I'd recommend this collection to fans of Hiromi Kawakami.
I Am the Brother of XX by Fleur Jaeggy, translated by Gini Alhadeff
Once you've read one book by Fleur Jaeggy—an undeniable master of the short form—you won't want to read much else until you've finished all of her work. In these stories, which are so emblematic of her short, piercing style, Jaeggy writes of madness, obsession, and violence and "contrives to somehow stealthily possess your mind" with her "champagne gothic worlds [that are] seething with quiet violence." Her prose has been compared to shards of glass and cut gems and while I won't add to the descriptions, I will warn you now—you won't come away from these stories unscathed.
An Elderly Lady Is Up to No Good is dark, funny, and oh so satisfying. Maud is an 88-year-old Swede who has no scruples about solving life's problems with some lowkey murder. I enjoyed this story collection and have since picked up Helene Tursten's mystery novels, including the Inspector Irene Huss series and the first installment in her brand new series featuring Detective Inspector Embla Nyström, Hunting Game. An Elderly Lady is also just such a great package—the title is fun and clever, the needlepoint cover is hilarious, and the small trim size finishes it off perfectly.
I was blown away by this collection of dark, macabre short stories set in contemporary Argentina. They are stories of ghosts, disappearances, violence, inequality, and more, and I promise that you will be haunted by them. My favorites were stories of obsession like "The Dirty Kid" in which a young professional woman discovers that a local child has been killed and mutilated, and "The Neighbor's Courtyard," a story of an ex–social worker who believes her neighbor has a child chained up in the backyard. The collection is reminiscent of Shirley Jackson and I would recommend it to anyone who enjoyed Her Body and Other Parties: Stories by Carmen Maria Machado.
"If you're looking for a book that will make you gasp out loud, you've found it." So says Kirkus Reviews and dozens of other publications and reviewers who can't stop talking about Flowers of Mold, myself included. Unnerving, haunting, captivating, these ten stories follow ordinary characters going about their lives—they have a nightmare, lend their neighbor a spatula, or find out their landlord wants to sell their building. But something disturbing lies just below the surface. One small crack and everything's unleashed. "The latest in the trend of brilliant female Korean authors to appear in English, Ha cuts like a surgeon, and even the most mundane objects become menacing and unfamiliar under her scalpel."
For the first time, all of surrealist artist and writer Leonora Carrington's short stories have been collected in one definitive volume, many of which are translated from French and Spanish. The result is a fiercely intelligent and fantastical collection. The stories themselves are pure flights of imagination, ranging from biting satire to the macabre, and even some outrageously comedic tales. A strange and surreal treat!
Arid Dreams: Stories By Duanwad Pimwana, translated by Mui Poopoksakul
Duanwad Pimwana, an important literary figure in contemporary Thai literature, hit the U.S. literary scene by storm last April with two new books, both translated by Mui Poopoksakul. Bright, published by Two Lines Press, was the first-ever novel by a Thai woman to appear in translation. And Pimwana made her short story English debut with Arid Dreams, published by Feminist Press. In Arid Dreams, Pimwana turns her keen eye and sharp wit on modern Thailand, as she explores issues of class and gender in insightful and subtly subversive stories.
I'm in awe of Yoko Ogawa—she's published more than 20 works of fiction and nonfiction and has won every major Japanese literary award. Her range is incredible, from books like this dark collection to her touching novel The Housekeeper and the Professor and her latest The Memory Police, her take on an Orwellian novel of state surveillance. Revenge is an intricately interwoven collection of stories about grief, death, and yes, revenge, where each story stands alone but also connects in surprising ways to its fellows. This layered effect coupled with the subtle calm of Ogawa's prose makes the disturbing elements of these stories feel even more chilling.
Forgotten Journey by Silvina Ocampo, translated by Suzanne Jill Levine and Katie Lateef-Jan
"Silvina Ocampo is one of our best writers. Her stories have no equal in our literature," wrote Jorge Luis Borges. Now for the first time in English translation, readers can delight in all of the strange brilliance that is Silvina Ocampo's first collection of stories, Forgotten Journey. Published alongside her novella The Promise, this collection is primarily concerned with the lives of young women and girls. Often menacing and strange, each story has a thrill to it, a dark joy that keeps you fixed to the collection. In her foreword, Carmen Boullosa writes of the often cited comparison between Ocampo and Julio Cortázar but argues instead that, "While in his fabulous stories Cortázar discovered the unreal in everyday life, Silvina enters real, detailed, intimate spaces, which she observes with an eye that is intimate, real and detailed, and yet an eye from another world."
Kenzaburo Oe calls Taeko Kono "the most carnally direct and the most lucidly intelligent woman writing in Japan" and it's hard to disagree after reading the unsettling and striking stories in Toddler Hunting. Pleasure and pain mix in the lives of the women of Taeko Kono's stories, as scenes of sadomasochism and obsession veil her sharp attacks at the ideals of motherhood and femininity.
Love in a Fallen City by Eileen Chang, translated by Karen S. Kingsbury
Eileen Chang is one of the great writers of twentieth century China, and her first collection in English, Love in a Fallen City, introduced many readers to her incredible short stories. In this collection, written when Chang was still in her 20s, the stories swirl around themes of love, loss, and family, combining "an unsettled, probing, utterly contemporary sensibility, keenly alert to sexual politics and psychological ambiguity, with an intense lyricism that echoes the classics of Chinese literature."
A Nail, A Rose by Madeleine Bourdouxhe, translated by Faith Evans
Neglected for decades, interest in Belgian author Madeleine Bourdouxhe's work has seen a resurgence and I'm so thrilled to have been introduced to her work through this collection. Praised by Simone de Beauvoir in The Second Sex and close friends with Russian revolutionary writer Victor Serge, Bourdouxhe was a fascinating feminist writer. Like her critically acclaimed novels Marie and La Femme de Giles, her short stories tell the inner lives of ordinary, primarily working class, women in elegant and vivid prose. And I so appreciated the wealth of detail in translator Faith Evans's introduction.
---
For more great reads by women in translation, check out this list of 50 Must-Read Books by Women in Translation.