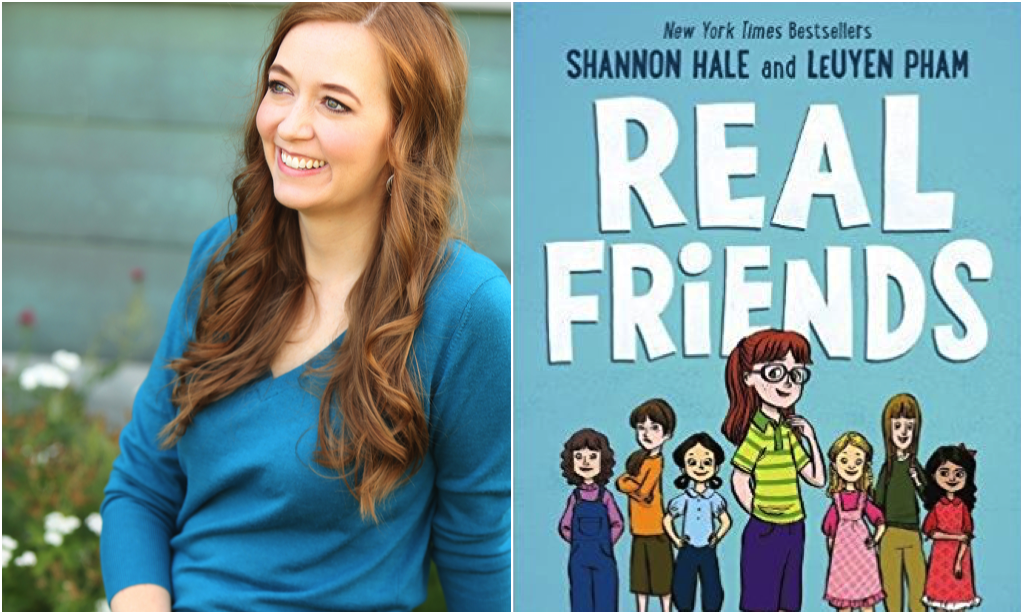 Comics Newsletter
Shannon Hale Talks About Her Graphic Memoir REAL FRIENDS (and Squirrel Girl!)
This content contains affiliate links. When you buy through these links, we may earn an affiliate commission.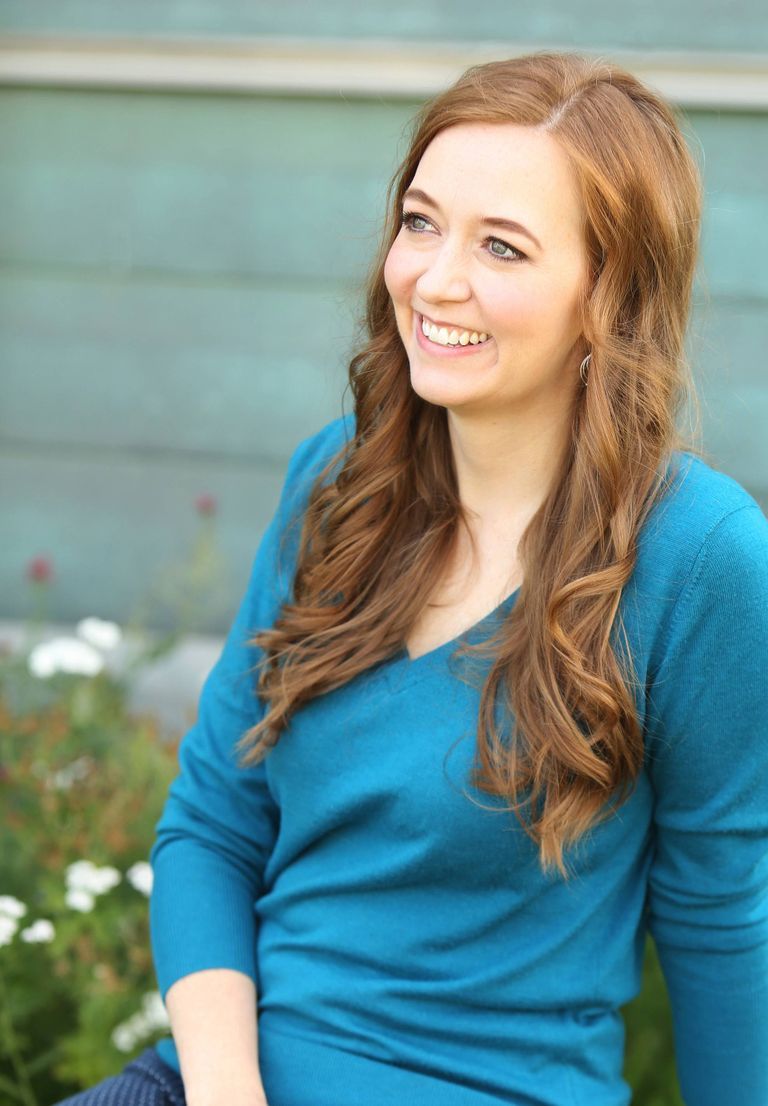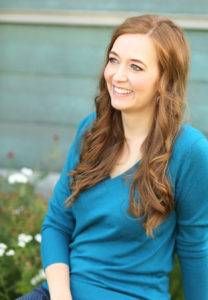 When I was offered the chance to chat with author Shannon Hale about her newest book, I (literally) jumped at the chance. I'm a huge Princess Academy and Squirrel Girl fan, but the new book, Real Friends is a little different from what I've read before from her. I called her up one afternoon (for me; it was morning for her) to ask about the new book.
As a graphic memoir, Real Friends seems to be a departure from what you usually write. Can you tell me a little bit about how this book came to be?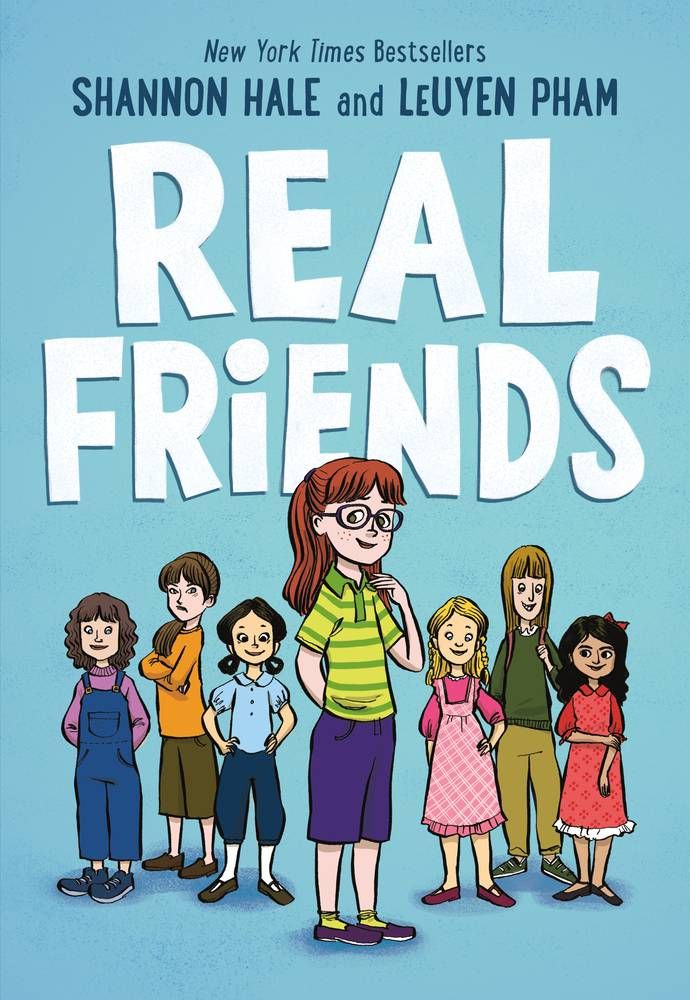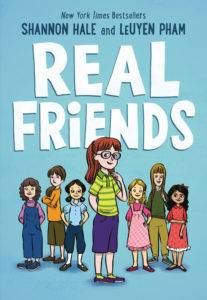 I have a daughter who would not be a reader if not for graphic novels. Graphic novels are a really important format for so many readers. There are things that happened in my elementary school years that I would retell to people and I thought maybe I'd use it as fodder for a book, fictionalize it. Seeing how much graphic novels meant to my daughter, I thought it would be the right format.
It was scary to write me as the main character, but I felt that it gave it more power to be able to tell kids this really happened to me and if you're having a hard time right now, I know how that feels, and I got through it.
I noticed there are parts where we start to see symptoms of Obsessive-Compulsive Disorder manifest. Can you talk a little bit about that? (I did not tell her that I suffer from mild Obsessive-Compulsive Personality Disorder, which is similar but different, so was very happy to see OCD honestly represented in the book.)
I didn't realize until I was older that some of my struggles had to do with OCD. I don't think there were the same resources back then. OCD and anxiety are manifest in many of my family members. It's highly treatable in kids and I hope that one thing people get out of the book is: if they are struggling with these disorders, they can find resources to help. It's so much easier to treat kids before we're old and we're set in our ways.
I set out to just tell a true story. If I tell as true a story as I can, then readers will get what they need out of it. I included anxiety and OCD, so if readers are experiencing the same thing, they can start dealing with their anxiety and OCD.
Do any of the people in the book, besides your family, recognize themselves in the story?
I changed all the names. I'm not in touch with any of the friends that I had back then so I don't know if they would recognize themselves or not. Would it be very clear to them or would their memory be so different from mine that it wouldn't cross their mind?
My goal, as with any memoir, was not to bog down in historical detail, but to be as true as possible to how these experiences felt to me.
Based on the dedication, it seems as though you and your illustrator (LeUyen Pham) are friends. How did the partnership for this book come to be?
LeUyen illustrates The Princess in Black series that my husband and I write. I've known her just through the book world for a decade. When I originally wrote the script, I sent it to her, to ask for her feedback as an illustrator – that I was giving enough information on each panel. She kindly read it and said, "I'd love to throw my hat in the ring for that" and I was amazed because I know how busy she is and how much work it is, but I was also thrilled.
We're the same age and grew up in the same era. It felt like she crawled into my brain and illustrated the scenes from memory. I had purposely not given much detail, but in the end, it looks exactly as I remember it. It was really magical.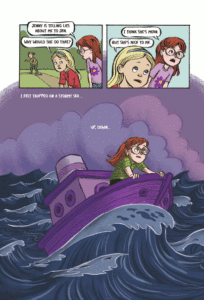 Yeah, I love the panel where Shannon is in a boat on a rocky sea.
That is great one. LeUyen is very talented.
Do you have more books like this in the pipeline?
I've published about 25 books now and almost all of them, I think of them as a single book. I generally don't sketch out books thinking of them as a series. LeUyen and I loved working together so we both talked about how we would like to do something like this again, but have no plans.
In that case, what's next for you?
Next, I'm working on the sequel to the Squirrel Girl novel (The Unbeatable Squirrel Girl: Squirrel Meets World) I wrote with my husband.
Oh, yes. Is there anything you can tell us about that?
I have such a weakness for text message conversations between her and the other superheroes. So there's plenty of that. We had lots of fun with that. [Due to a scene from the first book,] Squirrel Girl has numbers of all The Avengers, so she's texting The Avengers for advice and that punctuates everything. We enjoyed that in the first book so we've been doing that even more in the new book.
Squirrel Girl is such a delightful character to write. She's so fearless and optimistic and silly but so powerful that it's a great combination.
I'd like to thank Shannon for taking the time to chat with me about Real Friends and the next Squirrel Girl novel!