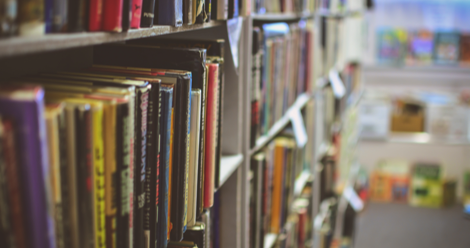 Lists
10 September New Releases To Put On Hold at the Library Right Now
This content contains affiliate links. When you buy through these links, we may earn an affiliate commission.
Wishlist upcoming releases you're dying to read. Get exclusive podcasts and newsletters. Enter to win swag. Do it all when you join Insiders. Subscribe to Book Riot Insiders!

---
Happy crazy-hot summer, readers! I don't know how you can beat the heat, but I do know how you can beat the waiting lists at the library: I have ten September new releases that are already garnering a lot of interest. Beat the rush and put them on reserve now! Getting the jump on these titles will pay off when September rolls around.
Solnit, author of Men Explain Things to Me, turns her attention to the violence in America in this powerful new collection of essays. She turns the spotlight on the daily casualties in this country and the epidemic of gun violence, and offers insight into how people can change their despair over the state of the nation into hope.
The Proposal by Jasmine Guillory (September 4)
Guillory's first book, The Wedding Date, has been a big hit, drawing more readers to the romance genre with its funny, smart storyline. And this one looks equally charming! It's about a public marriage proposal at a baseball game. Nik has no problem saying no to the proposal, but she ends up disappointing a whole stadium of people. Luckily, a handsome stranger is there to whisk her away before the crowd in the stadium gets ugly…
The true story of a group of chefs fed hundreds of thousands of people in Puerto Rico in the wake of Hurricane Maria. Chef José Andrés spent his days there with other cooks helping create meals that would feed many people at a time. This is his inside take on the crisis. With a forward from Lin Manuel-Miranda and his father, Luis A. Miranda, Jr. (Note: This is one of the last books being published by Anthony Bourdain's imprint.)
The little-told real life crime story that influenced Nabokov's famous novel: the 1948 kidnapping of eleven-year-old Sally Horner. Using the facts of the case combined with history and investigative reporting, Weinman has written the first full account of the kidnapping, including uncovering Nabokov's own efforts to hide the fact that he knew of the crime.
Sea Prayer by Khaled Hosseini (September 18)
The author of The Kite Runner and And the Mountains Echoed has written a powerful response to the refugee crisis. A short, illustrated book that is meant for all ages, it is about a father composing a letter to his sleeping son as they prepare for a dangerous trip to escape the violence of their homeland, Syria.
Edugyan's second novel, Half-Blood Blues, was a masterpiece that won awards but didn't get the love it deserved in the States. Hopefully her new novel, about an eleven-year-old field slave on a Barbados sugar plantation and his journey to freedom, will bring her genius to a larger audience. Because she is amazing!
Historian Lepore, author of The Secret History of Wonder Woman and Book of Ages, has written an ambitious one-volume American history book. Based on extensive research, Lepore dissects America's history and over five centuries of events, and discusses whether the nation has delivered and upheld political equality, natural rights, and the sovereignty of the people, or "these truths," as Jefferson called them.
A new book from the author of the All Souls trilogy, set in the same world! This time, it's the story of vampire geneticist Matthew de Clermont and his sire, Marcus. Spanning from the American Revolution to contemporary London, this is sure to capture new fans alongside the release of the television adaptation of A Discovery of Witches.
Smarsh discusses the politics and systems in place in America that make it hard for poor and working class families to get ahead, no matter how hard they work. She combines her insight with the stories of her struggling family history and her poor childhood in Kansas. Perfect for readers of Evicted and Nickel and Dimed.
Transcription by Kate Atkinson (September 25)
A new Kate Atkinson novel is a reason to celebrate! This one is about a young woman who is recruited by MI5 and given the task of spying on British Fascist sympathizers. When WWII ends, so does her job, but the past catches up with her at her new job ten years later, and she realizes she was never truly out of danger. IT'S SO GOOD.
Looking for previously recommended releases? Check out 10 August New Releases To Put On Hold at the Library Right Now and 10 July New Releases To Put On Hold at the Library Right Now.