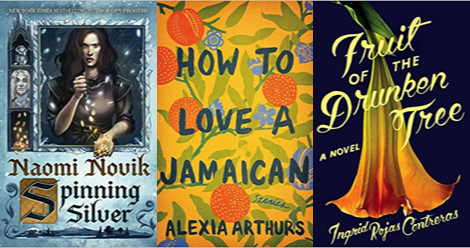 Libraries
10 July New Releases To Put On Hold at the Library Right Now
This content contains affiliate links. When you buy through these links, we may earn an affiliate commission.
Wishlist upcoming releases you're dying to read. Get exclusive podcasts and newsletters. Enter to win swag. Do it all when you join Insiders. Subscribe to Book Riot Insiders!

---
So imagine it's summer. (We're almost there!) You don't want to spend your time inside trying trying to choose what to read. Or waiting three months for the perfect beach read because there are a zillion people ahead of you on the wait list. Well, I've got the cure for the common hold! Skip those long wait lists and get right to reading in the nice weather by putting these ten big July books on reserve now. So you can grab 'em and go when they're available! (As always, you can find me raving about a bunch more on social media. Only picking ten books is HARD.)
Despite the similar covers, this is not an Uprooted sequel. DO NOT DESPAIR. Instead, it's a highly inventive and fun interpretation of the classic fairytale Rumpelstiltskin. (You know, the one where the lady tries to weasel out of her end of the bargain by guessing the temperamental little man's name?) In this one, the scary creatures in the woods hear that the moneylender's daughter, Miryam, can turn silver into gold. (Actually she's just good at her job, but scary creatures don't care about that.) Told from several perspectives, Novik weaves a remarkable tale of family, honor, and bravery. (July 10)
Set in future NYC, this is a family drama wrapped up in sci-fi ribbons. Lea Kirino lives in a future where everyone has the potential to live forever and death is illegal, but when she runs into her estranged father on the sidewalk and becomes drawn into the Suicide Club, she learns just how precarious and implausible forever can be. This is a refreshingly original debut. And that cover! (July 10)
From the author of The Final Girls comes a new thriller about the truth behind a tragedy at a summer camp. Emma doesn't know what happened to the other campers she bunked with fifteen years ago, but she quickly begins to discover the disturbing clues and secrets the camp holds when she returns as an instructor. But can she uncover what happened that summer before the truth kills her? (July 10)
A new Anne Tyler novel is a thing I live for. I find reading her to be like being enveloped in a warm, fuzzy blanket. Her writing is so lovely and calming. This new novel is about a older woman, who has lived a relatively safe and uneventful life, who makes an impulsive decision to fly across the country, based on an unexpected phone call from a stranger. (July 10)
A powerful discussion about identity politics in an increasingly progressive and diverse society. Journalist Roychoudhuri talks about racism, history, how the direction of America has been dictated by privileged males for centuries, the possibilities for new voices to step up and lead, and how she became an activist. (July 10)
I adore Megan Abbott and devoured this new one in one sitting! It's about two high school friends, a horrible secret, and a newly formed rivalry a decade later. Kit thought she had put the truth about Diane behind her, but when Diane turns out to be Kit's competition for a new position at the lab years later, all Kit's hidden feelings about their past are about to boil over. (July 17)
A modern retelling of the literary classic Beowulf, set is suburbia. Willa leads a privileged life in a gated community with her husband and her son, Dylan. Dana is a war veteran living in a cave outside town with her son, Gren. When Gren escapes his home and runs off with Dylan, the women living in two very different worlds meet. This is wildly inventive! (July 17)
The hot short story collection of July! Featuring vibrant, poignant stories about Jamaican immigrants and their families back home, full of love, identity, resentment, and ghosts. This debut has already had its praises sung by Zadie Smith, Kaitlyn Greenidge, Carmen Maria Machado, Naomi Jackson and more! (July 24)
An incendiary (sorry not sorry) novel about a Korean American college student named Phoebe who is drawn into a religious extremist cult that may have ties to her family. After bombings rip through several buildings in the town, she disappears, and her friend, Will, obsessively searches for her and for the answers. Can the young woman he knows really be responsible for such violence? (July 31)
Inspired by the author's own experiences, this is the story of seven-year-old Chula, who lives a carefree life with her sister in a gated community in Bogotá. But when a young woman from the guerilla-occupied section of the city is hired as her family's live-in maid, Chula begins to learn about privilege and the encroaching violence, crime, and conflict that is taking place beyond the walls. (July 31)
Looking for previously recommended releases? Check out 10 June New Releases To Put On Hold at the Library Right Now and 10 May New Releases To Put On Hold at the Library Right Now.