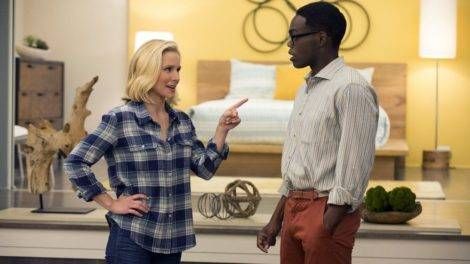 Pop Culture
Romance Novels for the Inhabitants of The Good Place
This content contains affiliate links. When you buy through these links, we may earn an affiliate commission.
This is a guest post from Lacey deShazo. Lacey lives and teaches in Birmingham, Alabama. She spends most of her time hanging out with her husband and son, watching her five favorite television shows on rotation, and baking. While she's currently (perpetually?) working on her novel, she'd rather be reading than almost anything else. Watch her tweet @ljdeshazo.
---
If you haven't watched The Good Place starring Kristen Bell and Ted Danson, you should know you're missing out. Without spoiling anything, the show centers around the afterlife. The titular Good Place is the only shot Michael—a spirit-world architect played by Danson—has at creating the perfect afterlife space. With the help of his Siri-like personal assistant, Janet, he fills his neighborhood with frozen yogurt and hilarious inhabitants, but viewers mainly follow Eleanor, Chidi, Tahani, and Jason, four people who've just recently arrived there.
Though we often think of the afterlife as a place where we'll have no more earthly worries, The Good Place features characters who are still very human. They fall in love, get jealous of one another, cheer on their favorite football teams ("The Jaguars are very good!"), and (in Eleanor's case) eat a lot of shrimp. It follows, then, that they'd want a little entertainment to pass eternity. That's why I've assigned each character a romance novel. Let's face it: even those who've shaken off their mortal coil need a little escapism.

Michael
Michael's main objective during the second season of the show is to try to understand humanity, so what better than a romance novel to further his study of the human race? Michael should read Hate to Want You by Alisha Rai. Featuring warring families, star-crossed lovers, and generations of misunderstandings and mistakes, this book is sure to teach Michael about the ways of us earth-dwellers.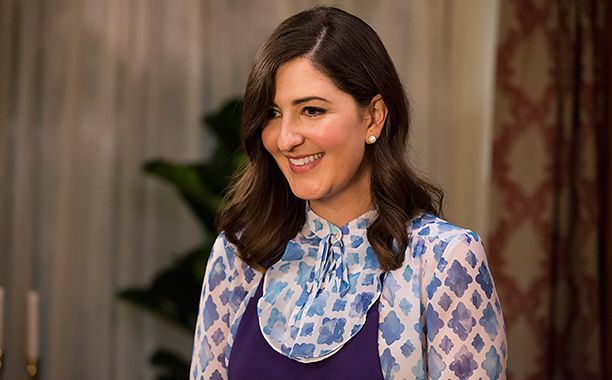 Janet
Janet may live in a boundless void and be the human embodiment of an intelligent program, but she still has the capacity for romantic love (as we find out in season 1). Therefore, she should read Artificial by Jadah McCoy. This love story between an android who, like Janet, struggles with unprecedented human emotions and a woman he must protect would help Janet understand her own evolution.
Eleanor
The old Eleanor was all about hedonism, but in the Good Place, she sheds her harsh veneer and begins to live a more vulnerable, moralistic existence. She also has to deal with her attraction to someone she would have never fallen for on earth. This is why Falling for Trouble by Sarah Title would be the perfect read for her. Eleanor would identify with Joanna Green, the protagonist of the novel whose rock-and-roll lifestyle takes a hit when she has to move back to her hometown after a particularly bad on-stage meltdown. Joanna's attraction to Liam, the attractive librarian, parallels Eleanor's plight as well.
Chidi
A lifelong student of ethics, Chidi probably never read anything just for fun. However, the afterlife would be the perfect place to stop weighing the pros and cons of every decision and just enjoy himself. Helen Hoang's The Kiss Quotient would be the perfect read for an academic like Chidi. The story centers on Stella Lane, a mathematician who doesn't understand the appeal of kissing. In true academic fashion, she decides to hire a professional—escort Michael Phan—to help her practice. Chidi could use a little practice in this area too, and Hoang's sweet debut would be sure to help him.
Tahani
Everyone's favorite name-dropper is perfectly content in the Good Place, as long as she's in the running for "Best Person." When things start falling apart for her, however, she tends to relive her earthly trauma of being bested by her sister. Maybe this is why she seems so embarrassed to be falling for the ordinary, not-so-rich men around her in the afterlife. Tessa Dare's Beauty and the Blacksmith would help Tahani, who supposedly "smells like sunshine and apples," embrace her attraction to men she would have previously deemed below her station.
Jason
Honestly, I'm not sure Jason can read. The Good Place's lovable doof is great at looking at pictures, though, and has a huge heart. Since we often find Jason getting himself into trouble due to his all-consuming relationships, I'd recommend Fresh Romance, an anthology of comic romances sure to appeal to any and every romantic situation in which Jason finds himself.