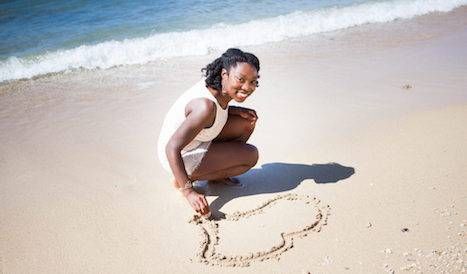 Lists
7 Authors to Follow on Goodreads for Diverse Romance Recs
This content contains affiliate links. When you buy through these links, we may earn an affiliate commission.
I am always on the lookout for new romance recs, and one of the best ways I've found to get them is to go straight to the source and read what my favorite romance authors are reading. My go-to social media for book recommendations is Goodreads, and, happily for me, there are some fantastic romance authors who spend a fair bit of time reviewing books there. If you're looking for new authors to follow on Goodreads, look no further.
These authors read widely and diversely. Their book recommendations are loaded with stories staring people of color, trans and nonbinary characters, and queer folks. You'll get great recs for fluff, romantic space opera, detective stories, wildly escapist historicals, steamy contemporaries, and so much more. And they don't just read romance, either.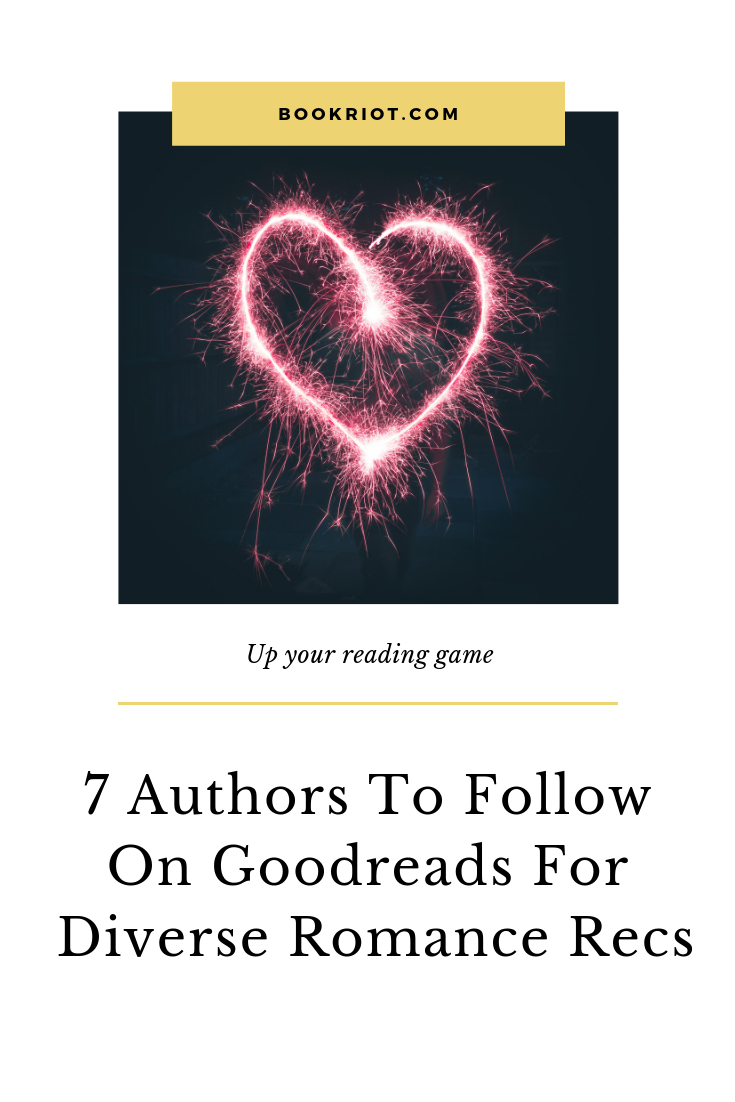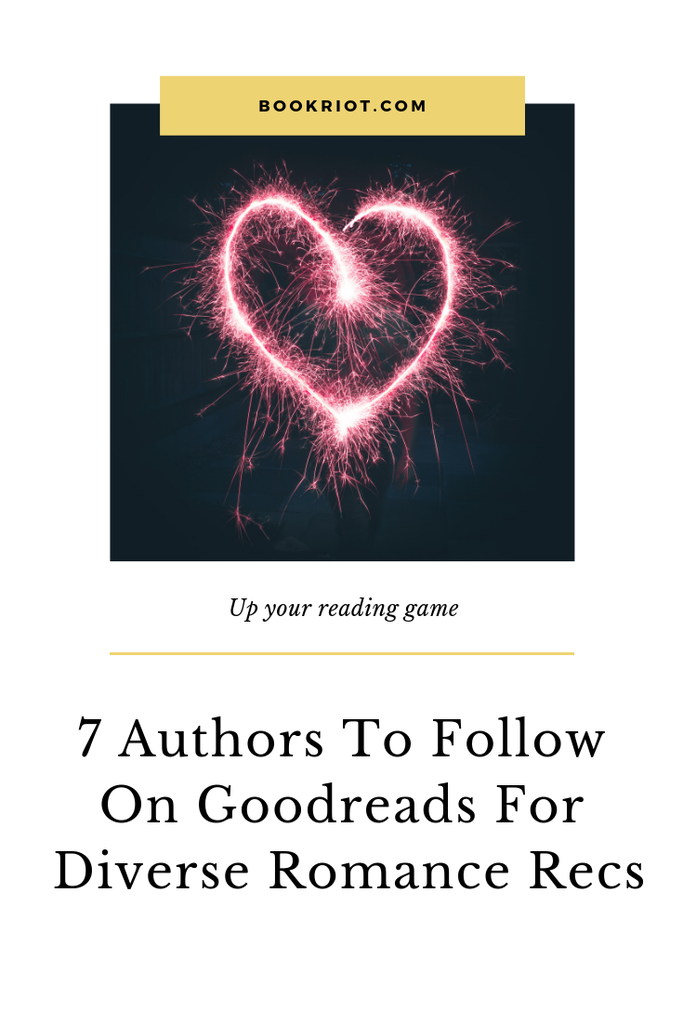 I've kept this list to authors who are somewhat active on Goodreads, though some are more active than others. Some leave reviews of every book they read, and others are more likely to just give star ratings. Regardless, I've gotten some truly wonderful recs from these authors, and whenever they rave about a book, I take note.
Ready for your TBR to explode? Here are seven authors to follow on Goodreads that are sure to bring loads of joy to your romance (and general) reading life.
Best known for her the steampunk world of her paranormal Parasol Protectorate series, Gail Carriger also writes some straight-up romance (including the very steamy San Andreas Shifters series as G.L. Carriger). While she doesn't always leave reviews of books she reads, she's consistently active on Goodreads. You'll find all sorts of romance from historical to contemporary, some YA gems, science fiction, fantasy, and loads more on her shelves. Her reviews are friendly and warm and often make me smile, even when the book doesn't sound like it's quite up my alley.
K.J. Charles writes delightful queer historical romances, and she's also one of the most active authors I follow on Goodreads. Her reviews pop up almost daily in my feed. She reads lots of romance, both queer and non-queer, as well as all sorts of wacky books I doubt I would have heard of otherwise. If you're looking for queer space opera, not-your-typical detective stories, feminist historical mysteries, or creepy thrillers with romantic elements, look no further than K.J. Charles's many Goodreads shelves.
In the world of m/m historical romance, Charles has got a fairly wide readership and a mouthpiece, and she uses it on Goodreads to celebrate the work of under-appreciated writers. She reviews lots of self-published and debut novels, often written by folks from marginalized communities and #ownvoices authors.
She doesn't shy away from the pitfalls and biases of the publishing industry, and is quick to point out the systemic racism and sexism in publishing as it pertains to how books are perceived and reviewed. If a book she loves didn't get a solid copy edit, or isn't as structurally tight as it could be, she doesn't write the author off as "not good enough." In her reviews, she treats books as part of an imperfect world, and she's not afraid to note weaknesses while still singing a book's praises. As someone who reads a lot of queer romance that doesn't get nearly as much attention as I think it deserves, I find this incredibly refreshing.
Her reviews are honest and thoughtful, and often make me laugh out loud or nod in agreement. And how can you not love someone who's got a "hippos-goddammit" Goodreads shelf?
Robin Covington writes steamy contemporary romance full of complex characters and often featuring action-packed side plots. On Goodreads, she tends to review books in waves, and though she doesn't often leave written reviews, she usually rates books four or five stars, so if she's rating it, you know she loved it. She mostly rates contemporary romance, but within that broad category, her tastes are delightfully eclectic—scrolling through her shelves, you'll find just about every kind of pairing and every kind of trope.
Nicole Field "writes across the spectrum of sexuality and gender identity" (from her Goodreads profile). She's also a power-reviewer on Goodreads, where you can find her thoughts on all sorts of romance novels, as well as lots of YA, fantasy, and general fiction. Her reviews are thoughtful and detailed and strike that perfect balance between her own thoughts and enough objective info for you to make your own decisions about whether or not to pick up a book.
Talia Hibbert is my kind of romance author: "She writes sexy, diverse romance because she believes that people of marginalized identities need honest and positive representation" (from her Goodreads profile). Her Goodreads reviews also reflect that belief. She reads a wide array of diverse romance, and though she doesn't always leave written reviews, when she does, they are often clearly excited lists of all the things she loved about the book, sometimes featuring CAPS, and they literally make me run to the nearest book-selling website because her enthusiasm is infectious.
Rebekah Weatherspoon writes contemporary romance of all stripes, but whatever the trope or genre, her books are almost always both funny and hot. If you like your reviews short and sweet, you should definitely be following Rebekah Weatherspoon. She's quite active, and reviews mostly romance across a wide range of genre, from historical to contemporary. Some examples of her reviewing style: "Sexy, cute fun!" and "This book good." She tells it like it is. She does leave longer reviews sometimes, but I appreciate her no-nonsense sincerity.
Xan West is "an autistic queer fat Jewish genderqueer writer and community activist with multiple disabilities who spends a lot of time on Twitter" (from their Goodreads profile). In addition to writing queer kink erotica, they review tons of books on Goodreads, mostly romance. I especially appreciate their reviews for the care they pay to trans and genderqueer representation, and for how thoughtful they are about content and trigger warnings. The best thing about their presence on Goodreads, though, is their shelves—if you're looking for queer romance recs, their shelves are a treasure trove of gems. I've found so many fantastic books thanks to the specificity with which they organize their books in the public sphere. A tiny sampling of some of these super useful and creative shelves: Chanukah-romance, snowed-in, m-f-with-queer-char, and food-themed-romance.
Know of any other great authors to follow on Goodreads? Drop 'em in the comments—there's no such thing as too many book recommendations!