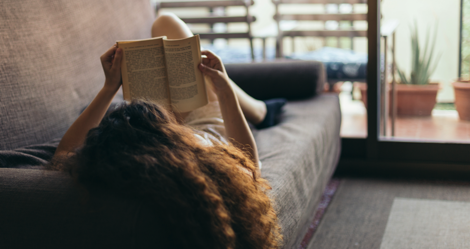 Lists
Riot Roundup: The Best Books We Read in March 2018
This content contains affiliate links. When you buy through these links, we may earn an affiliate commission.
We asked our contributors to share the best book they read last month. We've got fiction, nonfiction, YA, and much, much more—there are book recommendations for everyone here! Some are old, some are new, and some aren't even out yet. Enjoy and tell us about the highlight of your reading month in the comments.
Anger is a Gift
by Mark Oshiro (Tor Teen, May 2018)
I've been a fan of Mark Oshiro's writing for years—starting with his chapter-by-chapter reactions to reading Harry Potter for the first time!—so it's not surprising that I would love his first novel. Still, this blew me away. It's brilliant and absolutely gutting. I will say up front that this is a book about police brutality (and murder), so do be prepared for that going in. It is horrific, especially when my instinct was to try to distance myself by saying "that could never happen" and then constantly reminding myself "it has happened, it does happen, it is happening." Moss watches his underfunded school become militarized, and he and his friends gather together to fight against a system that seems inescapable. It was a fresh breath of air to read about a cast of mostly people of color, most of whom are queer (including trans, nonbinary, lesbian, gay, bisexual, and asexual characters). Considering how often queer people end up with largely queer friend groups, it's amazing how uncommon that still is. This is a story that balances a large cast of characters as well as dealing with racism, sexism, cissexism, anxiety, and PTSD/trauma. This is the diverse, gay dystopian story we always wanted—except the dystopia is present day and already happening. I can't recommend this highly enough.
—Danika Ellis
This was such a weirdly wonderful book. Elena Mendoza has never led a normal life—unlikely when you were born of a virgin birth—but when her crush is shot right in front of her at the Starbucks she works for and she realizes she has the power to heal, things get even weirder. Especially when it becomes obvious that everytime she heals someone, other people are "raptured" up into the sky, never to be seen again. It's up to Elena to decide whether she's doing the right thing or just dooming a bunch of people to an unknown fate. Not an easy decision for a teenager to make—especially when the fate of the world may be at stake. I really loved the stark normalcy of the highschool setting against the strange miracles. I also loved that, in a lot of ways, the magical elements, though a driving force of the story, were still second to the character's personal journeys. And the ultimate message that we have to come together to save ourselves felt important and timely. There really is no better way to describe this book than weird and wonderful. It's bizarre—but in the best way.
—Rachel Brittain
Leigh's mother died by suicide, and in the wake, Leigh believes her mother has become a bird. Grief leads Leigh to begin a search through the history of her family, the secrets that kept her apart from her maternal grandparents, and what it means to rebuild a life after a devastating loss. There is not a single thing in this book I did not love. The lush writing. The use of color. The exploration of family secrets and stories. Of culture. Or belief. But the thing that hit hardest was the way depression is rendered. This is a book about grief in the wake of suicide that comes from a depressive episode (or series of them, in this instance). There is no "reason" here. There's no boogeyman moment, wherein we get the why of suicide. Rather, we're forced, like Leigh is, to wrestle with the lack of answers. We're forced to understand not everything makes sense. That magical thinking is both a good thing—when it can help you work through grief, when it can help you find the things you're looking for, the dreams you want to achieve—and a bad thing—when you believe what it is your brain tells you about your worth and value. Readers who love Laura Ruby's Bone Gap or anything by Nova Ren Suma will eat this up.
—Kelly Jensen
Autumn, Shay, and Logan knew that music tied them together. They couldn't have predicted how grief would do the same. In Ashley Woodfolk's debut novel, grief and loss are part of a kaleidoscope that colours these three teens' lives, and while the lens through which they see the world is never the same, another turn gives them each a chance to find beauty in what's still there. Reading The Beauty That Remains was heartbreaking yes, but it was also hopeful and honest. Woodfolk's prose is clear-cut and it hums with unspoken emotions, but it never shuts the reader out of those emotions. It's hard to read this book without thinking of the ways grief has intersected within your own life, but Woodfolk shows us how to honour that pain and live with it as fully as we can.
—Angel Cruz
Oh, my heart. This is one of those books that reminded me why I love reading. Aciman's rich prose drips with passion and place and philosophy. His writing transported me into Elio's surroundings and headspace. I never expected to connect with this book so deeply, but when I finished it, I immediately wanted to start again.
—Emily Polson
I read a single paragraph from this lyrical memoir and it was instant: I was deeply, madly in love. If this is what writing can be, I thought to myself, what in hell have I even been reading (or writing, for that matter) all my life? Each small chapter is a piece of prose poetry that delves into the author's troubled childhood and its repercussions on the rest of her life. It is raw and open in a way that I rarely see: about substance abuse, about sexuality, about loss, about all of the ugliest parts of life. I can't believe it took me seven years to make my way to this one.
—Steph Auteri
Like all good nonfiction, the subtitle of this one kind of says it all: "a true story of power, obsession, and the world's most coveted fish." This book is an exploration of the Asian arowana, aka "dragon fish," a coveted black-market pet in the United States that is all the rage in the ornamental aquarium market. The book is about our exploitation of nature, the complications of endangered species, the strange world of fish hobbyists, and so many more things. There are heists, frauds, smuggling, kidnapping and even murder, all connected to this rare, expensive, and kind of ugly fish. It was a fascinating, funny read.
—Kim Ukura
I read this historical zombie fantasy from Justina Ireland in one sitting, and I'm thoroughly obsessed with it now. It's exciting, thought-provoking, suspenseful, and an immediate favorite. Not even twenty years after the Civil War came to an abrupt halt because dead soldiers rose on the field and started eating people, slavery's technically over but black children are forced to train to fight zombies (aka shamblers) so white people don't have to. Jane, insightful, impulsive and really good at killing shamblers, is one of them, and alongside white-passing classmate Katherine, she's drawn into a plot in which shamblers are the least of their problems. Spoiler: the racism is a big problem, but this book gave me a lot of joy.
—Chelsea Hensley
Educated
by Tara Westover (Random House)
HOLY WORDS-I-CAN'T-SAY-HERE. This was fantastic. In this compelling and at times disturbing memoir, Tara Westover recounts the unique and tumultuous conditions of her childhood. The daughter of survivalist parents in rural Idaho, Tara scrapped metal in her father's junkyard or helped her self-taught herbalist/midwife mother make tinctures and salves when she should have been in school. Neither she nor her siblings were allowed to go to school, nor could they seek medical care, because this was the way, according to her father, that God wanted it. In an act of courageous rebellion and against all likelihood, she decided to pursue a college education. She was seventeen the first time she set foot in a classroom and yet somehow managed to earn not only an undergraduate degree from BYU but a friggin' PhD from Cambridge. The journey there was rife with frustration and fear; you will find yourself taking deep breaths to process the abuse, the crazed conspiracy theories, the willful denial, and the deepest of deep-rooted misogyny. All of this wrapped in beautiful, heartbreaking language made for a book I had to fight to put down.
—Vanessa Diaz
Want a funny, lighthearted college tale? This is it. Want a serious, smart novel that will get you in the feels? This is also that novel! I loved this book, about a college freshman named Penny who strikes up a friendship with Sam, her roommate's young uncle. Theirs is a special friendship—it's conducted entirely by text message. Penny and Sam quickly learn that they are able to say things about their lives they would never feel comfortable discussing IRL. Soon the two are text BFFs, working out their problems by phone as their lives become more complicated. But how long can their friendship last, when there's so much more to life than texting? The characters and situations in this book are so realistic, I didn't want it to end. (SEQUEL, PLEASE.) This is perfect for fans of John Green, Rainbow Rowell, and anyone who loves to read.
—Liberty Hardy
Stephanie lost her brother to a heroin overdose the day before her birthday. He was a writer for Parks and Recreation. They were best friends. This book is her story of the year after her brother's death and the thirty years of life before. Everything is Horrible and Wonderful is a lot like Joan Didion's The Year of Magical Thinking, but even more heartbreaking. Marriage is one thing, but siblings are another. Wittels Wachs says over and over again that a sibling is a big part of your identity—they're the context for your history, because they're at your side from day one. When you lose them, you lose a part of yourself. She writes a lot directly to Harris, about how much she misses him and how much she hates him. She is honest. She is real. Grief is ugly. I will never have the right words for this book. It hurt my heart and made me laugh and then made me cry again. It's beautifully written and devastating. Note: I work for the publisher and I would love this book dearly even if I didn't.
—Ashley Holstrom
Fever Dream
by Samanta Schweblin, translated by Megan McDowell
I have been using The Morning News's yearly Tournament of Books to feed my TBR for years now, but this year's winner is a book that really blew me away. In the story, which is told in a hospital bed conversation between a dying woman and a young boy (who may or may not be real), a mother is trying to recount the moment when her daughter became exposed to a mysterious danger and whether or not she should have been able to stop it. The book finds a way to be both languid and completely terrifying, atmospheric and urgent, all at the same time. In some ways, this isn't so much a book but a delightful infection of your brain, which will be turning it over and over well after finishing the last page.
—Corin Balkovek
Technically this novel is about Ada, who spends her childhood in Nigeria and her adulthood in the United States. But it's really Ada's body that is the setting. Our narrators are legion, they are gods and spirits who have been bound to Ada's body, who jockey for control with Ada herself. Emezi is reinterpreting the Igbo belief in the ogbanje trickster spirit, making the ogbanje a study in how the self fragments as a protective and destructive measure against trauma. The beings who live inside Ada create a turbulent existence for her, but they also open her up and take care of her. This is an original and visionary novel, with sly, seductive prose and big themes. I fell under its spell, and I know it's one of the books of 2018 that I will still be talking about at the end of the year.
—Jessica Woodbury
If not for basic needs like sleep and going to work, I wouldn't have put this thrilling novel down until I was finished; finishing didn't take very long, though. This mysterious kidnapping/reappearance tale is disturbing from every angle but also hopeful and gripping. It's told from several points of view, so just when I thought I knew what was happening, I realized I didn't, but then I did, but then, well, you get it. It's still haunting me.
—Christina M. Rau
Holy cats, this book. It made an appearance on the best-seller list and was picked by Emma Watson for her book group, and deservedly so. It's a powerful memoir about Mailhot's experiences growing up on the Seabird Island Indian Reservation, trying to make sense of her difficult childhood and early adult years. She writes about her fascinating and complicated mother, her abusive father, her struggles with mental illness, her attempts to gain an education, and so much more. It's gorgeously-written, haunting, moving, and just genius.
—Rebecca Hussey
I know Anwen from social media, where she posted a viral story about her cat Clod, RIP. Following her led me to her book, a novella about Medusa. I love the pain and pathos layered into each word, and how she remakes the myth into a sympathetic image. The gods are not wise or kind, and ultimately we come to see that people with power will hurt others, despite their pretty words.
—Priya Sridhar
Sensationalistic title aside, this is a must-read book packed full of information to help anyone eat better and healthier. Gregor first covers the top fifteen causes of death in America (discluding things that can't be medically prevented, like accidents) and how scientific research shows diet affects these diseases, both positively and negatively. In part two, he looks at the foods everyone should eat daily and the best ways, nutritionally speaking, to prepare them. This book is footnoted out the wazoo and Gregor clearly knows of what he speaks. I think that's why it scared me way more than other material I've encountered on the pitfalls of the standard American diet. Whether you're vegan, vegetarian, an omnivore, or whatever, How Not to Die will empower you to take control of your own health and make smarter dietary decisions. You are what you eat so eat well!
—Tasha Brandstatter
This is my first Alexander Chee book, and I am 100% Team Chee now. So here's the thing: Alexander Chee is the kind of writer who can clamp his jaws down on your jugular and just end you. But he's also the kind of writer, thank goodness, who can bite the scruff of your neck and carry you around like a kitten. Reading his essays is living in that balance. Covering everything from work to writing to AIDS activism to the 2016 election, this collection of essays is both brutal and gentle and I'm still thinking about it almost daily. (Is this all a weird way of saying I want Alexander Chee to bite my bookish neck? Yeah. Probably.) #teamchee
—Dana Staves
This book is one of THE big novels of spring 2018 in the UK, and I'm here to say it's thoroughly deserving of the hype. The book chronicles 48 hours on a London council estate ("housing project") from the perspective of five of its residents and makes moving poetry out of the gritty ugliness of life. It's beautiful, moving, and important.
—Claire Handscombe
I'm not a huge biography/autobiography reader; not because I'm not interested but because, again, the former academic in me tends to surface with any non-fiction and I get so caught up in "studying" that I forget to enjoy the experience of absorbing. As I've decided to do piece about women in the Rock and Roll Hall of Fame, however…Simone is a fascinating woman who led a fascinating, if sometimes difficult, life and to put all that she achieved in the context of the battles she fought to do it is inspirational.
—S.W. Sondheimer
Robert has been on a roll lately, finishing up her O'Malley series and writing for Harlequin's new Dare imprint. However, there was no 2018 book of hers that I was more excited for than The Last King. This book did not disappoint! This first-in-a-series, enemies-to-lovers romance introduces us to the King family, Texas oil tycoons who have wealth, power, and a whole host of enemies. When the King family torch is passed to Beckett after the death of his father, he needs deal with the company's main competitor (lead by his evil Aunt) and figure out how to keep his previous one-night stand in his life. Since the one-night stand, Samara, works for his Aunt, things are just a tiny bit…complicated. Clear your calendar because once you start The Last King, you won't want to put it down.
—Erin McCoy
If you enjoy reading books that rip you to shreds, give you enough hope to build you back up, and then completely destroy you again, this is the book for you. I've been meaning to read it for a while but was honestly a little intimidated by its length (720 pages!), but had to read it after I saw Antoni on the new Queer Eye for the Straight Guy reboot wear two shirts referencing it. This was a very tough read. I cried. A lot. On the bus, at the gym, on a plane—a flight attendant even gave me a free drink because I looked so distraught. But it's worth it. It follows Jude, who grew up under horrifying circumstances and is doing his best to accept love from the people around him when he's struggling to love himself. The book taught me so much about how happiness and sadness, love and loneliness, trust and fear, all coexist and affect our lives.
—Susie Dumond
Bring the wine and the kleenex for this book. You'll fall in love with Iris and August as their connection and chemistry leaps off the page. You'll smile, cry, and probably close the book a few times because you'll wonder how much more your heart can take. Kennedy Ryan's Long Shot tells a beautiful and gut wrenching tale of resilience, hope, and love. It unflinchingly tells a story of domestic abuse and the heroine's journey to reclaiming her life. It's a love story, yes, but it's also a story of survival.
—Natalya Muncuff
Fairy tales and classics from children's literature made both creepy and funny. In my favorite story of the collection, Ortberg retells The Velveteen Rabbit—one of my favorites from childhood—in such a horrific way that I'll never look at the story the same way. I also loved the feminist retellings of "The Little Mermaid" and "The Six Swans," and the gender-bending version of "Cinderella." All of the stories are wonderful and playful. I plan to reread them, except for The Wind in the Willows retelling. Ortberg portrays passive aggressive friendships so well that I was incredibly uncomfortable while reading it and don't want to relive that experience. But I mean that in the best of ways!
—Margaret Kingsbury
Editor's note: Ortberg has recently announced a transition to Daniel, but as the book is published under Mallory and that's how you'll find it out in the world, we've kept that name here.
"La Vie en Rose" is Edith Piaf's most famous song, but her life, for the most part, was anything but rosy. In this biography, Burke attempts to piece together Piaf's tumultuous life from her early days where she was raised in a brothel and sang sentimental songs on the Paris streets to her later years and her battles with addiction. I was most amazed to learn about her roles in hiding Jews and rescuing French prisoners of war during World War II. After reading this book, I plan on reading another biography, written by her "evil spirit," possibly half-sister, and life-long friend, Simone Berteaut entitled Piaf.
—Katherine Willoughby
This debut from Ezell was the most pleasant surprise for me. It's framed as the story of a southern California town that gets hit with a massive fire and the fallout in the life of our protagonist, Audrey. But this little gem has so much more important stuff packed in. It's a study in guilt, grief, loss, toxic relationships…The story went in a completely different direction than I was expecting. I loved it.
—Kate Krug
I do love a multi-generational family saga, and I especially love one that shows me a piece of history that's new to me. Pachinko follows a Korean woman named Sunja who marries a Christian pastor and moves to Japan where she and her family face persecution for being both Christian and Korean. The story begins near the start of the 20th century and ends in the 1980s, so it emcompasses a lot of history, and Min Jin Lee weaves events like World War II and the AIDs crisis seamlessly into the story, touching on events that affect Sunja's family, so that it never feels like a history lessons while also being illuminating about people and places I knew little about.
—Teresa Preston
The Poet X
by Elizabeth Acevedo
A gorgeous, powerful, fierce, and tender gem of a novel. This short novel-in-verse concerns Xiomara Batista, a Dominican American teenager living with her twin brother, dad, and very religious mother in Harlem. It's a coming-of-age story, and there are many themes explored—family dynamics, faith, the experience of being first generation, first love, friendship. The secondary characters are all wonderful and their relationships with Xiomara are complicated and real. But what makes this book so, so great is that, always, it's about Xiomara herself, and her words, and how powerful her words make her. She is the center of her own story, and it is her journey that matters most—what she wants, what she needs, what delights her, what makes her angry, what (and who) matter to her. It's a book that centers and celebrates black girlhood. Xiomara's poems rip and sing off the page. I can't recommend the audio enough; I was spellbound.
—Laura Sackton
Right before being released from prison, Nate is marked by the Aryan Brotherhood to be killed. The problem is it's not just him they're taking out, it's going to be his entire family. To keep his daughter Polly safe, he picks her up and they go on the run, even though Polly really doesn't know her father and isn't sure she should be with him. At 11 she's smart, precocious, feels different from other kids, and carries a teddy which she uses as an outlet to process her thoughts and feelings. There's a quote along the lines of "She had a teddy bear in her arms and murder in her eyes," which pretty much sums up my love for this girl. If you're looking for an intense read with a character you'll fiercely love, which you will not be able to put down, read immediately!
—Jamie Canaves
This lush novel about a celebrity—she's had seven husbands, but only one true love of her life—built on itself until by the end, it had me in tears. Reading a Hollywood novel that is inclusive and discusses the ways that celebrity warps us, and the ways that old Hollywood especially made people need to hide their LGBTQ identities, is wonderful. It is so incredible to read a story like this about a bisexual woman. This story examines the different kinds of love, and the different ways we love and put the people we care about first.
—Leah Rachel von Essen
It's so rare to read books about (and by) Bengalis that it feels like a gift when there's finally a new one. And this book is certainly a gift. Not just because the main character, and the story, is steeped in Bengali culture and folklore, but because it's a thrilling, exciting, and modern stories that reimagines many of the fantastical tales and monsters from the Bengals. The protagonist, Kiranmala, is a twelve year old, kick ass character, who still has a lot to learn as she battles Rakkosh and Kokkosh. Plus, it's a genuinely laugh out loud kind of book!
—Adiba Jaigirdar
I know I'm late to the party here. This book has been sitting on my shelf for ages, and I knew I had to get to it before the film adaptation Love, Simon came out. I loved Albertalli's second novel, The Upside of Unrequited, and I knew I was going to love this one too, but I wasn't prepared for how much. This book came at a time when I was in search of a good comfort read, and Simon provided. Simon is a sweet love story about a teenaged boy who is wrestling with coming out of the closet, and he finds a friend online who is also struggling with the same issues of being a closeted teen. As a devoted watcher of Catfish: The TV Show, I got sucked into the drama of figuring out who this mystery Internet boy was. Beyond the fast-moving plot, the characters were nuanced, and I cared about every last one of them. I finished this book in a day.
—Emily Martin
I listened to the audiobook of this one, and it was a fantastic experience. Reminiscent of teen slasher films like I Know What You Did Last Summer and Scream, Perkins's first horror novel was not super scary, but it was really fun. I especially loved the eerie way the killer messed with his victims beforehand. This was a really satisfying listen, and I'm in the mood for other books like it! (Throw some recs my way in the comments!)
—Lacey deShazo
I started reading this book while I was making dinner and I kept reading it until I was finished, sometime around midnight, bleary-eyed and delighted. It's sexy, it's funny, it stars a couple I was really rooting for, and it has a great meet-cute.
—Annika Barranti Klein