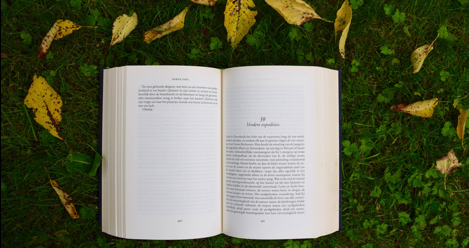 Lists
Riot Round Up: Best Books We Read in May
This content contains affiliate links. When you buy through these links, we may earn an affiliate commission.
Every month, we ask Riot contributors to share their favorite reads from the last 30 days. These picks are old and new and yet-to-be-released, and span all genres, so there's something for everyone! Take a look:
The Book of Joan
by Lidia Yuknavitch
Yuknavitch's novel is an ultra-feminist, gender-bending acid trip. Her Joan is the hero of our speculative future. This book falls under the category of Dystopian fiction, but I'm not so sure. It was written before our current president was elected, and its antagonist is a psychotic celebrity named Jean de Man. Sound eerily familiar? If The Handmaid's Tale is an enraged scream, The Book of Joan is a tortured howl. The crimes against women in this imagined future are horrifying beyond belief. Admittedly, I was a little triggered by its content, but I was living for the horror, Sci-Fi, and feminist hybrid. This is Joan (of arc) like you've never seen her before. She defies gender. She defies the limits of time and space. She is a mothereffing sorceress.
–Jan Rosenberg
The Book of Mormon Girl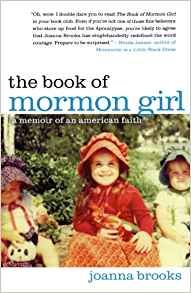 : A Memoir of an American Faith by Joanna Brooks
I've read numerous narratives written by women who fled Mormonism after years of spiritual abuse, but Brooks followed a different path, refusing to give up her heritage even while she insisted on defying the church politically, emotionally, and sexually. Her warts-and-all recollections of the human side of growing up among devout Mormons present a sympathetic picture, showcasing the best elements of belonging to a tight-knit community, along with the fear of reprisals for transgression and the pain of alienation. With the threat of excommunication hanging always over her head, Brooks embraces feminist thought, works to promote marriage equality, and seeks evidence to contradict the racist and sexist assumptions of her religion; she strives to teach her children the beautiful values of their pioneer ancestors while protecting them from the oppressive ideals that cast their shadows over her own life.
–Monica Friedman
Embrace on Brooklyn Bridge by Ezzedine Choukri Fishere, trans. John Peate
This novel was shortlisted for the International Prize for Arabic Fiction way back in 2012, and now it's finally out in a sharp, (darkly) funny translation from John Peate. A novel told in eight stories as people head to a birthday party of a girl who won't be there, hosted by a man most of them don't like (and for good reason), it's a story of the missed connections, failed relationships, and dropped calls of Arabs in America. It also has the first 9/11-sympathizer character that I really believe.
–Marcia Lynx Qualey
Evicted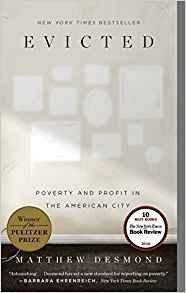 : Poverty and Profit in the American City by Matthew Desmond
This book won the Pulitzer, and the National Book Critics Circle Award, and I can absolutely see why. Author Matthew Desmond spent months living in a trailer park and then an inner-city rooming house in Milwaukee, getting to know the renters and their landlords and observing firsthand what the housing crisis looks like. By telling these stories, he shows how hard it is for the poor to find and keep decent, affordable housing. This book frequently infuriated me, but it also raised in me a strong sense of compassion for people who are struggling and a desire to look for opportunities to help and advocate for fairer housing policies. It's an important book.
-Teresa Preston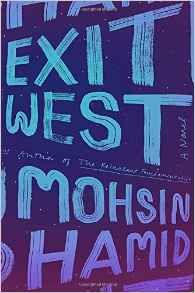 Exit West by Mohsin Hamid
Wow. This is such an amazing book, and despite it being set in a near future, it's completely current. In fall-into-prose, Hamid tells a love story between two refugees, where doors offer escape from their war-torn country. I love how so many authors are using fabulism in their novels recently, and Hamid's fabulistic doors offer a unique look into the sudden-ness of being forced to leave home. Exit West is such a bittersweet, human story. I recommend reading it in 1-2 sittings; it's so easy to become swept up in the prose. Despite the war, loss, and grief the characters experience, it's still a hopeful read. It makes me think that maybe the world can be a better place; that we can learn to all be human together. I anticipate giving this to many friends this year. Go read it!
— Margaret Kingsbury
The Fifth Season by N.K. Jemisin
I know I'm a little late with this one, but holy crap this was an incredible book. It is definitely my favorite Jemisin so far. I have a list in my head of the people dead or alive that I would like to have at my dream dinner party (other guests include Octavia Butler and Samuel Delany) and N.K. Jemisin is for sure on the list now. The Fifth Season is an incredibly unique, inventive fantasy with a cast of complex, fascinating characters (human and sort-of-human). Also, surprise! Significant characters include a trans woman and a bisexual man. People of color are also front and center. I cannot WAIT to read the next book.
–Casey Stepaniuk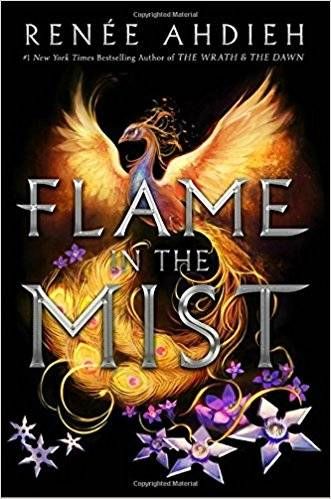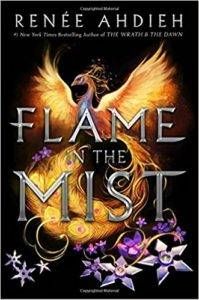 Flame in the Mist by Renee Ahdieh
I've been on a solid run of fantastic books so it was really hard to choose only one this month. I was hooked by the excellent formula of: girl disguised as a boy + magic + feudal Japan + complicated family dynamics. But then there's the execution, which is just excellent. I was entirely entranced. I listened to the audiobook, which is narrated by Nancy Wu, who voiced the Eon audiobooks, and I really enjoy her narration. (audiobook ARC courtesy of Penguin Random House)
-Sarah Nicolas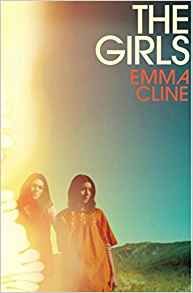 The Girls by Emma Cline
You might justifiably be tired of all the Girl-titled recent pop culture ("Girlboss" is a painful neologism), but The Girls is brilliant and arresting. It describes, in ferocious emotional detail, what makes a Charles Manson-like cult appealing to disaffected girls. It's narrated by a teenager discovering that all her life she's been sold a false bill of goods when it comes to her own value. For instance, she realizes, "All that time I had spent readying myself, the articles that taught me life was really just a waiting room until someone noticed you—the boys had spent that time becoming themselves." The irony, of course, is that the form of rebellion she seeks out is equally male-dominated—violently so. Here's another quote from the book that may resonate with any woman who's wondered why she feels uncomfortable when a male acquaintance warns her so vehemently to be cautious around other men: "when men warn you to be careful, often they are warning you of the dark movie playing across their own brains."
— Christine Ro
Girl Out of Water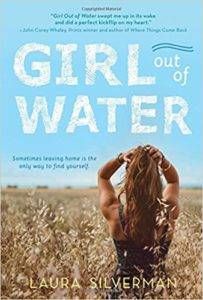 by Laura Silverman
Anise is a surfing-obsessed California girl, forced to leave her home by the beach for a summer taking care of her little cousins in the middle of the country. Her transformation as a character and the relationships she makes, breaks, and mends are fascinating to watch unfold in this YA novel. With vivid setting descriptions, a complicated family backstory, and a very swoon-worthy black boy love interest, I completely fell for Anise and her story while reading Laura Silverman's debut. Promotional materials recommend this book to fans of Jenny Han and Sarah Dessen, and I certainly agree!
–Alison Doherty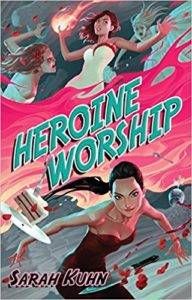 Heroine Worship by Sarah Kuhn
Heroine Worship isn't an easy book to write about, because it means so much for an audience that doesn't see itself much in literature: young Asian women who might be looking for representation but so rarely get it in mainstream books. In Heroine Complex, she introduces best friends Evie Tanaka and Aveda Jupiter, living millennial lives in San Francisco while fighting off demons trying to take over their city. In Heroine Worship, we return to Evie and Aveda's life through the eyes of Annie Chang, Aveda's real identity, but Kuhn doesn't rehash old tricks. Annie is selfish, and overly dramatic, and more than most people can handle, and she is so very very relatable. In Annie, Sarah Kuhn writes a reminder to women like us who feel too much, who do too much, who want so much, and who have no idea how to manage all of those things at once. She is richly drawn and explored, and given agency to be all that she is, even if some of it isn't pleasant to look at. It's a perspective we don't get to see very often from Asian women, and Sarah Kuhn's work grapples with it alongside us, comforting even as it pushes past our expectations.
–Angel Cruz
The Hike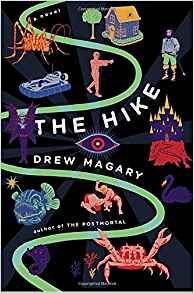 by Drew Magary
Ben is a middle class businessman on his way to a meeting in rural Pennsylvania when he decides to take a hike in the woods behind his hotel. To say that this will become the weirdest, most frightening hike of Ben's existence is a gross understatement. Along the way, Ben encounters murderous half human/half Doberman creatures, a six-foot-tall cricket, a sarcastic foul-mouthed crab, a 30-foot giantess who makes humans fight for sport, smoke creatures, a Spanish conquistador, and flesh zombies in the darkest Alice-in-Wonderland-esque epic odyssey ever written. I don't usually gravitate towards weird fiction, but I was completely speechless by the time I finished. I can't adequately describe this book except to say it's weird and wonderful and horrifying and emotional and absolutely bonkers, and I'm still recovering from the reading hangover.
–Katie McLain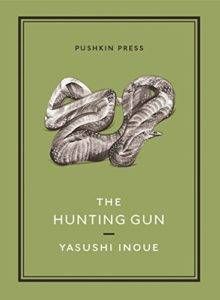 The Hunting Gun by Yasushi Inoue, translated by Michael Emmerich
This short, Japanese novella is the story of an affair told through three letters penned by the three women involved – the mistress, her daughter and the betrayed wife. Inoue uses an interesting (if artificial feeling) framing device. He opens the book in the first person, explaining how a poem he composed about a solitary hunter, once glimpsed on a path leading into the woods, came to be published in a friend's hunting magazine. After its publication he is sent the three letters, collected here, by a man claiming to be the hunter who isnpired the poem. Yet, despite how the story is framed, at its heart it is about the complicated relationships of the three women to each other. The intimate revelations from each make surprisingly satisfying (and quick) reading.
–Tara Cheesman
I Am Not Your Perfect Mexican Daughter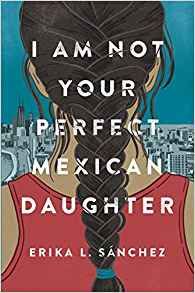 by Erika L. Sanchez (Knopf, October)
When Olga is hit and killed by a semi, Julia mourns the loss of not just her sister, but what it might mean for what her life will look like down the road. Olga was quiet, stayed at home, and played the role of "good Mexican daughter." Julia wants out — she wants more to her life than her Chicago neighborhood or living at home forever like her sister did. She's a poet and an art lover and wants to make a life out of writing.
Through the process of learning to live without Olga, Julia slowly begins to better understand why her parents, both immigrants, are the way that they are. More, Julia begins to unravel the deep secrets that her sister kept. And it's during a trip to Mexico to visit family that Julia begins to learn how much her parents sacrificed for her and Olga, as well as how much she has to step up and take control of her own life and future. That it's OKAY for her not to be someone she isn't.
This well-drawn debut YA novel from Sanchez should delight readers who loved Gabi, A Girl in Pieces. Also, a moment to drool over that cover!
— Kelly Jensen
Imagine Wanting Only This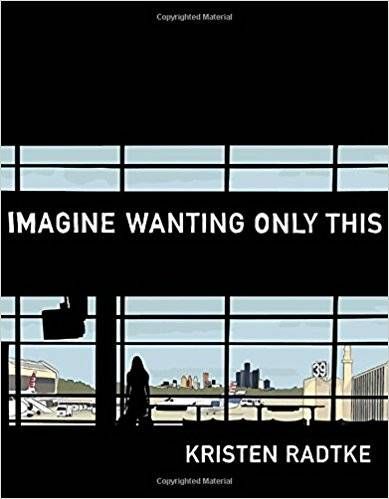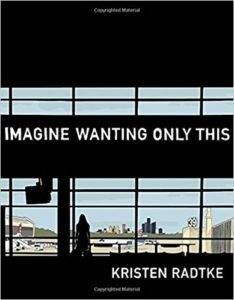 by Kristen Radtke (Pantheon Books)
A gorgeous graphic memoir about life, loss, architecture, ruins, history, and humans. When her uncle dies, Kristen Radtke sees a deserted city and becomes obsessed. She journeys across the globe looking for places that people came, saw, conquered, and left behind. Life is impermanent. Our footprints are only around for a little while. Imagine Wanting Only This is the tale of those places.
— Ashley Holstrom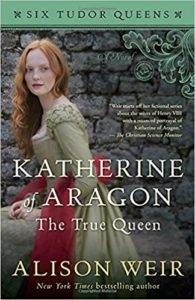 Katherine of Aragon by Alison Weir
TUDOR ENGLAND, who doesn't love it. Alison Weir is embarking on an ambitious project here, to write detailed novels about each of Henry VIII's storied wives (how she's going to do super-boring Jane Seymour, I do not know). I've had a special place in my heart for Katherine of Aragon since The Tudors, and Katherine of Aragon goes it from her excellent point of view. It could be easy to make her seem overly pious and kind of lame, but this is the daughter of ISABELLA OF CASTILE, and she is damn fascinating. Henry and Katherine were married by far the longest out of any of his wives, and this book gives you a blow by blow of their marriage without sinking into tedium. And Anne Boleyn is now out! Get it. Read it. Love it. If you like historical fiction. If not, then maybe do not do that.
— Alice Burton
The Light We Lost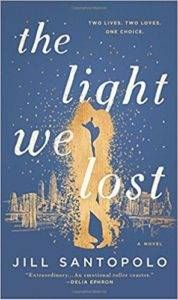 by Jill Santopolo
As soon as I saw this book mentioned on Stylist.co.uk and compared to One Day, I leapt onto Netgalley to beg for an advance copy, which the good people at Penguin Random House granted me immediately. I knew I'd love it, and I was right: it's a novel that explores that age-old dilemma of steady, comfortable, dependable, good-enough love, versus the explosive, amazing, once-in-a-lifetime love that breaks your heart.
— Claire Handscombe
The Lost Book of the Grail
by Charlie Lovett
If you love books about books, you HAVE to read this novel. Arthur Prescott is a bibliophile and luddite who should rightfully be teaching at Oxford. Instead, he's at a small uni in Barchester, England, carrying out research in his beloved Barchester Cathedral Library. His monk-like existence is turned topsy turvy when an Instagramming American named Bethany Davis shows up to digitize the library's medieval manuscripts. There is sooo much to love about this book. The Cathedral Library, for example, reminded me of the Bolton Library in Cashel, Ireland, my favoritest library ever; and as a former academic, I found the portrait Lovett painted of university life to be spot-on and hilarious. All the scenes relating to the "Media Center" were particularly brilliant. I even enjoyed the things that usually annoy me: the slow beginning would normally be a deal breaker, but it served to contrast the pace of Arthur's life before and after the arrival of Bethany. This book is pure fun, but also smart, with awesome characters and a perfectly paced literary mystery. It's basically everything I could ever want in a novel.
— Tasha Brandstatter
Material Girl, Mystical World: The Now Age Guide to a High-Vibe Life
by Ruby Warrington (Harper Elixir)
I normally wouldn't pick up a book like this – but something about the confluence of fashion and dharma and tarot and daily life captured my attention. It's peppered with hashtags and fun anecdotes, while managing to be spiritual without being flaky. It's a bit irreverent, which perhaps is its key to success. It's definitely a book I'll be returning to more than once. And can we just talk about the bright pink cover? Love.
— Jaime Herndon
Matylda, Bright and Tender
by Holly M. McGhee
This is a beautiful middle grade story about best friends, Sussy and Guy, fourth graders who do everything together. They end getting a spotted lizard, name her Matylda, and make up a warrior origin story for her. Shortly after, an accident changes their lives, and Sussy decides she must love Matylda so deeply and care for her so perfectly in order to hold onto Guy and his memory. This story was so incredibly touching and beautiful, and Sussy's journey through her grief moved at just the right pace. Side note: I cried through most of this book.
— Karina Glaser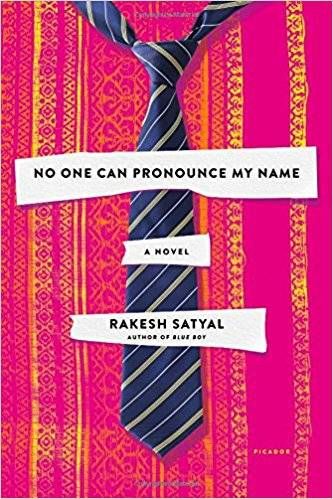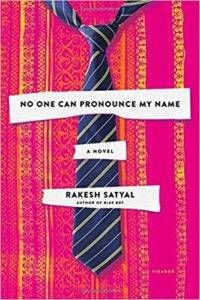 No One Can Pronounce My Name by Rakesh Satyal Books about immigrant communities can be so dour and serious, and it's not that nothing sad or hard happens in this book. But I would dare to use the word "jaunty" to describe it (there is even a roadtrip with a very unlikely band of misfit types). I mostly loved how gentle and compassionate it was towards its characters, how wise and kind a reading experience it was. If it were a tv show it would be a binge-able one-hour dramedy with wickedly smart writing where you and your friends all love and hate the same characters.
–Jessica Woodbury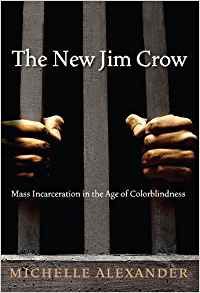 The New Jim Crow: Mass Incarceration in the Age of Colorblindness by Michelle Alexander
This book changed the way I see the prison industrial complex by drawing links between public policy, primarily the "War on Drugs," the egregiously high rates of incarceration and the ongoing struggle for racial equality in the US. While this is not a light book by any means–in discussing the history of race and class struggles in America, how could it be?–reading it helped me understand how and why inequality continues to be an issue in modern society, even though and perhaps sometimes because of many institutions' will to be "colorblind."
– Rebecca Renner
The New Odyssey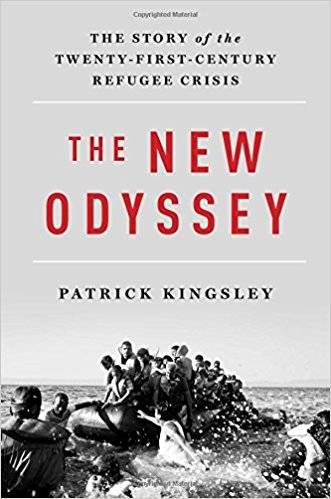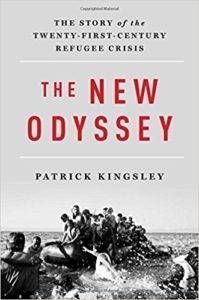 by Patrick Kingsley
In The New Odyssey, the Guardian's first migration correspondent offers a panoramic view of the European refugee crisis. In the course of researching this book he traveled to seventeen countries and spoke with refugees, smugglers, coast guard officials, and ordinary citizens providing aid to migrants in need. Instead of focusing on Syrian refugees alone, Kingsley also looks at the vast numbers of refugees coming from countries like Afghanistan, Eritrea, and Somalia. Thought-provoking and moving in equal measure, this is the first book I would recommend to someone who wants to learn more about the refugee crisis.
— Kate Scott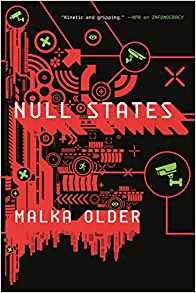 Null States by Malka Older (Tor.com, September 19)
You can breathe that sigh of relief you've been holding: this follow-up to Infomocracy is just as delightful and interesting as the original. Indeed, Null States retains the charms of its predecessor (a fascinating concept, a thrilling pace, a richly imagined political fantasy, etc.) without being just a dull extension of it. So we get to see what microdemocracy looks like in new places (e.g., a just-barely-post-dictator Darfur) and under new threats (e.g., wars with holdout nation-states or the threatened withdrawal of a major world government). And Older has gotten even better at balancing the specificities of particular people and places with the big-picture political science that shapes the books. Basically, if you loved Infomocracy, get ready to love Null States. And if you haven't yet gotten around to Infomocracy, do yourself a favor and get on it before September.
-Derek Attig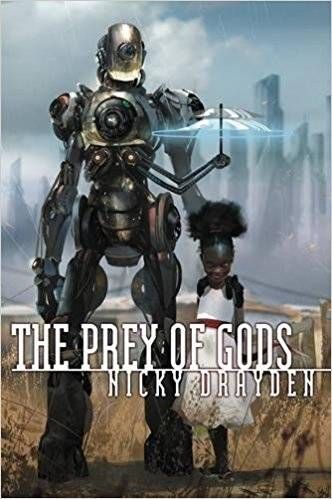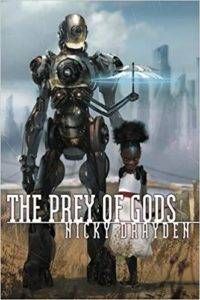 The Prey of Gods by Nicky Drayden (Harper Voyager, June 13)
In future South Africa, there's a demigoddess. Not a powerful demigoddess, but a washed-up demigoddess: Sydney has lost all her magic and now works in a salon doing nails, but she has a plan to regain her original status: kill lots of people for their blood. (That always works for me.) Hoping to keep Sydney from achieving her goal is a pop diva, a queer teen with powers, a politician, and a young Zulu girl who has also recently discovered she has a little magic in her. Now add robots, genetic engineering, hallucinogens, and the weirdest interspecies coupling since Roger and Jessica Rabbit, and you've got yourself a fantastic tale! This book is so much fun and full of so much weirdness, it makes me cackle with joy.
– Liberty Hardy
Radiate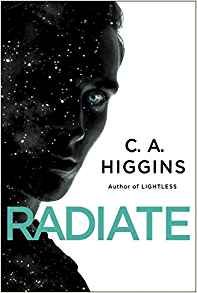 by C. A. Higgins
I've been with C. A. Higgins for a while. Since her very first book, in fact. This is her third, the last in a trilogy, and it ends in both an incredibly satisfying way, and, as the best books do (as far as I'm concerned) it leaves me wanting more. Radiate picks up where the last book left off, returning us into the middle of the political and dramatic conflict of our own universe but far in the future, where we've colonized all the planets in the solar system and many of its moons. We learn what happens to the sentient ship flying through space and to the single human who remains on board. We learn what happens to Ivan and Mattie, reunited at last and fighting to save the woman they have both loved in very different ways. We learn what has happened to the rebellion against the system. And, on top of all that, we learn about a whole bunch of moments in the past that we've been wondering about during books one and two. And all this in a volume less than 350 pages long. Higgins is a masterful writer.
— Ilana Masad
A Rising Man (Sam Wyndham #1) by Abir Mukherjee
I love a great mystery. Add great characters that I want to read a whole series of and a setting as important as the main character and I'm in love. Set in 1919 British ruled Calcutta A Rising Man introduces us to Sam Wyndham, a former Scotland Yard detective, who is tasked with solving the murder of a British official. He's a bit out of his depth considering he's in a new place, his opium addiction has traveled with him, and he does not understand the many rules/laws against Indians. Enter terrorist suspects, brothels, opium dens, a crush, and an interesting look at early 1900s Calcutta and this had all the ingredients for a super satisfying detective novel. If you're a fan of mysteries you don't want to miss this one!
–Jamie Canaves
A Study in Charlotte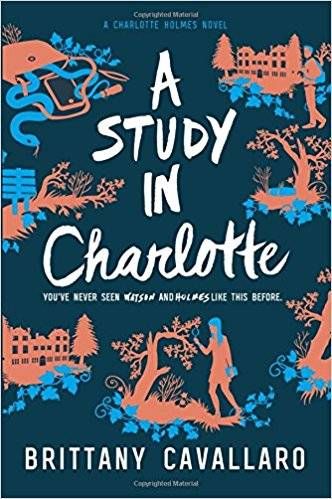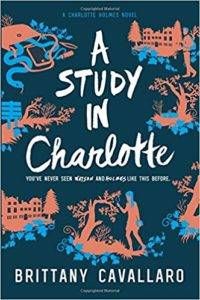 by Brittany Cavallaro
I listened to this on audio after a good friend said she needed me to jump into this series so she could rant with me about the feels, and oh my gosh, I'm so glad I did. I especially like that the Holmes character, Charlotte, is a teenage girl in this rendition. A great, plot driven novel with a touch of romance was exactly what I was looking for to kick off my summer, and this book delivered.
-Amanda Kay Oaks
Trust Me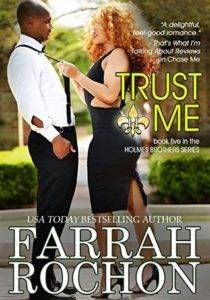 by Farrah Rochon
If you'd told me a month ago that I'd have any interest in reading a novel right now that included political corruption as a major theme, I would have – to put it mildly – disagreed with you. And yet, I was hooked by Farrah Rochon's New Orleans political-scene romance Trust Me, within the first few pages. More accurately, I was hooked by Mackenna Arnold, the city council member heroine of her story, and how relatable she was. Mack both loves her job and is frustrated by it. She's fighting battles on multiple fronts despite knowing she's not going to win them all. She's the kind of character I want to sit and drink scotch with at happy hour. Trust Me is a great romance, but it also made me wish Mack was real and could run for something other than fictional mayor of New Orleans. I may not have any higher or more unusual praise for a fictional character right now than wishing real political office upon her.
– Trisha Brown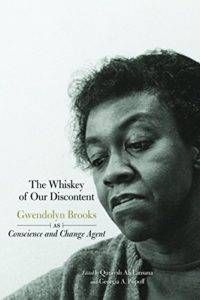 The Whiskey of Our Discontent: Gwendolyn Brooks as Conscience and Change Agent edited by Quraysh Ali Lansana and Georgia A. Popoff (June 6, Haymarket Books)
June 7, 2017 marks the official centennial of the birth of Gwendolyn Brooks. This collection of critical and creative essays examines Brooks's profound influence over the past hundred years, and considers her legacy not only as a poet, but also as one of our most important and enduring American educators and activists. Her writing about race, gender, and social inequality is integral to the American literary canon. Furthermore, these essays highlight Brooks's selflessness as a tireless mentor and literary citizen. Each essay is loaded with gorgeous writing, and together they demonstrate that Gwendolyn Brooks will always be remembered for so much more than poems found in anthologies.
-Aram Mrjoian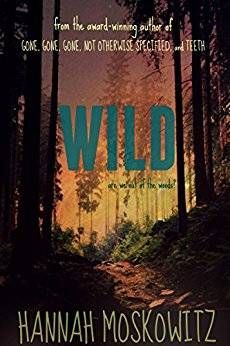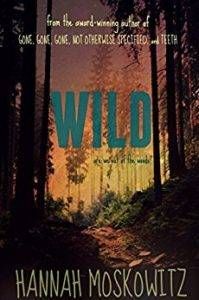 Wild by Hannah Moskowitz
Wild follows Zach, a Filipino-American runner whose mother suffers from Alzheimer's. When he discovers that his girlfriend Jordan – who he met on the internet – is Deaf, Zach is exposed to a different world. Both Zach and Jordan have to deal with what being in a Deaf/hearing relationship might mean for them. Wild manages to be a lighthearted romance, which is both funny and clever. It heavily features sign language, which is not something you often find in books – or elsewhere – and was pretty refreshing to read.
— Adiba Jaigirdar
Wishbones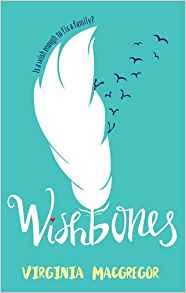 by Virginia MacGregor (HQ, May 23rd 2017)
This story reminded me why I love to read YA. Foronce we have a protagonist that doesn't make questionable decisions, who has good intentions that actually lead to positive outcomes.
– Priya Sridhar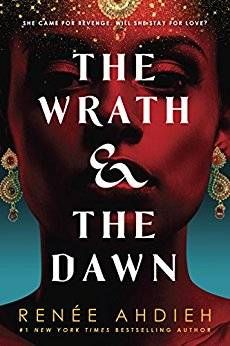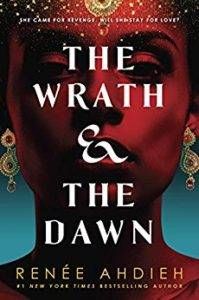 The Wrath & the Dawn by Renee Ahdieh
Lately I've really been into reading retellings of fairytales and folktales. I wasn't familiar with the story of Arabian Nights, so I went into this pretty blind, but I was hooked immediately. The writing is beautiful. The characters are diverse. The world that Ahdieh builds is detailed and well-developed. The love story melted my heart. And even though I have a To-Read pile that's easily 2-feet high, I just had to run out to Barnes and Noble the next day to get the sequel.
— Kate Krug