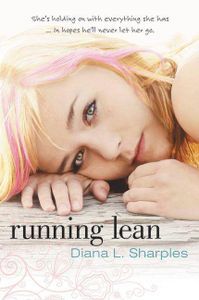 This installment of the Riot Recommendation is sponsored by Running Lean by Diana L. Sharples.
A debut YA coming of age story with issues of love, loss, self-esteem and trust explored in a realistic and engaging way.
Diana Sharples' first young adult novel, Running Lean, tackles serious issues, including living with grief and the destructive realities of a serious eating disorder. Told through alternating perspectives, readers are given a window into the minds of two teens as they struggle with their genuine affection for one another and the complexities of life. As Calvin's sorrow over his soldier brother's death increases, he finds himself turning to his girlfriend, Stacy, for support. But she is dealing with issues of her own, the largest being the false belief Calvin will stop loving her unless she stays incredibly thin. Solving their problems could destroy their relationship, but the alternative could be much more costly.
_________________________
We often talk about fiction as a window into other lives, but just as often, it's a mirror that enables us to see ourselves in new ways. Though it is not real, fiction can help us make sense of the very real issues in our lives. For teens (and teen characters), that often means exploring love, romance, and relationships. So today we want to know: what are the best books about teen romances that deal with real-life issues?