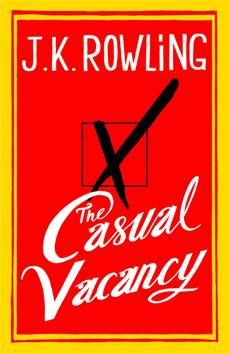 Fiction
Review GPA: THE CASUAL VACANCY by J.K. Rowling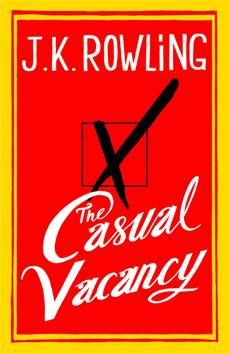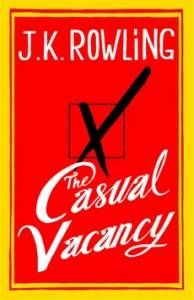 Publication Date: September 27, 2012
Genre: Literary Fiction
Publisher: Little, Brown Book Group
Publisher's Synopsis: When Barry Fairbrother dies in his early forties, the town of Pagford is left in shock. Pagford is, seemingly, an English idyll, with a cobbled market square and an ancient abbey, but what lies behind the pretty façade is a town at war.
Rich at war with poor, teenagers at war with their parents, wives at war with their husbands, teachers at war with their pupils…Pagford is not what it first seems. And the empty seat left by Barry on the parish council soon becomes the catalyst for the biggest war the town has yet seen. Who will triumph in an election fraught with passion, duplicity and unexpected revelations? A big novel about a small town, The Casual Vacancy is J.K. Rowling's first novel for adults. It is the work of a storyteller like no other.
From Publishers Weekly:
Gold Star: Rowling is relentlessly competent: all these people and their hatreds and hopes are established and mixed together. Secrets are revealed, relationships twist and break, and the book rolls toward its awful, logical climax with aplomb.
Demerit: Minus the magic, though, good and evil are depressingly human, and while the characters are all well drawn and believable, they aren't much fun.
Grade: B-
_________________________
Michiko Kakutani for The New York Times
Gold Star: None
Demerit: The whole review, really, but here's a gem- Unfortunately, the real-life world she has limned in these pages is so willfully banal, so depressingly clichéd that "The Casual Vacancy" is not only disappointing — it's dull.
Grade: F
_________________________
Allison Pearson for The Telegraph
Gold Star: Rowling really knows what she is about here.
Demerit: The book is at its weakest when it is most angrily political, satirising what JK's friend, Gordon Brown, calls "bigots". And the novel pretty much explodes towards the end, losing shape in its fury at the dirty, unfair England that we Muggles have made for ourselves.
Grade: B-
_________________________
Theo Tait for The Guardian
Gold Star: The Casual Vacancy has all the satisfactions and frustrations of this kind of [provincial English] novel. It immerses the reader in a richly peopled, densely imagined world…The Casual Vacancy is no masterpiece, but it's not bad at all: intelligent, workmanlike, and often funny. I could imagine it doing well without any association to the Rowling brand, perhaps creeping into the Richard and Judy Book Club, or being made into a three-part TV serial.
Demerit: The book seems doomed to be known as Mugglemarch… the novel is very much the prisoner of its conventions.
Grade: C+
_________________________
Lev Grossman for Time
Gold Star: It's a big, ambitious, brilliant, profane, funny, deeply upsetting and magnificently eloquent novel of contemporary England, rich with literary intelligence and entirely bereft of bullshit, and if it weren't for Rowling's stringent security measures it would or at least should have contended for the Booker Prize.
Demerit: None
Grade: A
_________________________
Review GPA: C (2.4)