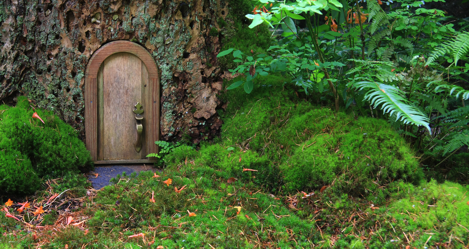 Sponsored by The Little Red Wolf, written and illustrated by Amélie Fléchais.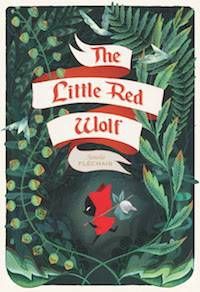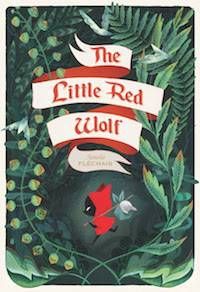 Once upon a time, in the middle of a mysterious forest stood a strange tree house, the home of a little wolf known to all as Little Red Wolf…
Lose yourself in in the dark forests of Amélie Fléchais' spectacular artwork. A young wolf, on a journey to bring his grandmother a rabbit, is charmed by the nice little girl who offers to help him…but nice is not the same as good.
A new face to this haunting fairy tale—for children and adults alike.
IN STORES NOW!
---
Send your imagination far, far back in humankind's history, and you'll find someone enjoying a folk or fairy tale. For centuries, these stories have warned us not to stray from the path, to avoid strangers and cryptic intentions, to hold fast to our humanity and empathy…or else.
Here are a few remixed fairy tales from exceptional storytellers who offer fresh takes on old favorites:
The Bloody Chamber and Other Stories by Angela Carter
Angela Carter is certainly a masterful storyteller, and this collection of fairy tale retellings remains a favorite among many readers. From the haunting and disturbing titular tale through nine more short stories, including "Puss-in-Boots," "The Snow Child," and "The Tiger's Bride," Carter invites us to visit the sometimes gruesome and shadowy corners of fairy tale. And one of my favorite (super-weird) movies, The Company of Wolves, was based on one of these stories.
The Bear and the Nightingale by Katherine Arden
This is a more recent retelling. Inspired by the Russian folktale "Vasilisa the Beautiful," The Bear and the Nightingale is about—you guessed it—a girl named Vasilisa. Reading this YA novel, you might notice some familiar fairy tale themes: the villainous stepmother, the beautiful daughter, the dangers of the forest. But Vasilisa isn't a warbling princess; she's a headstrong, independent young woman. She also sees what others can and will not. Fans of Naomi Novik's Uprooted should check this one out.
Boy, Snow, Bird by Helen Oyeyemi
Helen Oyeyemi's talent is boundless. Her fiction deftly straddles fantasy and reality. The magical realism and the "Snow White" allusions are subtle, but they're there. Boy Novak wipes her treacherous past on the welcome mat of a quaint Massachusetts town. She's starting over in a new place with a new life that introduces her to a carpenter and his perfect daughter, Snow. But things begin to fall apart when Boy gives birth to Bird. And, of course, there's the mirror. Like all of Oyeyemi's novels, this one will haunt you.
Six-Gun Snow White by Catherynne M. Valente
Valente's version of "Snow White" is fast-paced, gun-slinging, and imaginative. You get all the fascinations of the Wild West: the convicts, the bounty hunters, the faithful horses, and, best of all, a heroine with a wild streak and a fierce will. Having endured a life in hiding and the evil machinations of her stepmother, the daughter of Gun That Sings won't go down without a fight.
Ash by Malinda Lo
Since we're on a roll with the evil stepmother theme, let's talk about "Cinderella." In Lo's YA novel, Ash, our heroine's father dies, leaving her fate in the hands of a cruel stepmother. But just as we have fairy tales to comfort and transport us, so does Ash. Though she keeps the memory of her mother alive in the fairy stories of her childhood, Ash's desires shift when she meets the King's Huntress. But fairy tales can't always be trusted to see us through and an encounter with a dark fairy signals that Ash's struggles are only just beginning.
The Djinn in the Nightingale's Eye by A.S. Byatt
This short story collection begins with four familiar fairy tales that feature tailors who save the day, castles, princesses, and dragons that creep up on quiet villages ("Dragon's Breath" was my favorite story in this collection). But the final and longest story takes place in the modern world where a scholar of storytelling, a middle-aged woman recently separated from her cheating husband, discovers magic on the streets of Istanbul. At a strange corner of a bazaar, she finds a dusty old bottle that speaks to her…Can you guess where this is going?
The Wrath and the Dawn by Renee Adieh
And if you're looking for more in the realm of Scheherazade, pick up Adieh's YA romance about brave heroine Shahrzad who volunteers to become the bride of a monstrous boy-king. When her best friend falls victim to the young Caliph of Khorasan, Shahrzad sees no other option but to end his reign using her intelligence and knack for storytelling. Every night, desperate to survive and to mete out vengeance, she hypnotizes Khalid with her stories. But in spending time with him, she begins to discover a different side of the Caliph—one that contradicts everything she's come to believe about him.
If you're looking for even more retellings, check out this list of 100 must-reads.
Save