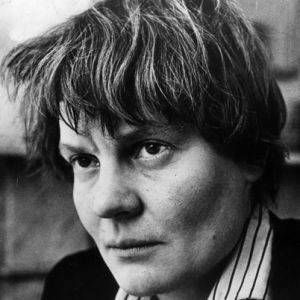 This content contains affiliate links. When you buy through these links, we may earn an affiliate commission.
Go into any used bookstore in the U.S., and odds are you can find a dozen coffee-stained copies of Iris Murdoch's work. Over her literary career she wrote several books on philosophy, giving her more than two dozen novels an interestingly lighthearted academic quality. Her works of fiction tackle complicated sexual relationships, dense philosophical concepts, and surreal moments of personal contemplation, yet the language itself is witty, free of overbearing philosophical jargon, and unrestrained. Of course, Murdoch's works still have a remarkable complexity when dissected, but as a reader there's a satisfaction in reading her novels whether you choose to dig deeper or not.
Considering how much work Murdoch produced over her 40 years as a novelist, there's not really a perfect route for tackling her work. However, research has suggested that Murdoch's last novel, Jackson's Dilemma (1995), differs from her other works due to the onset of Alzheimer's disease, which contributed to her passing four years later.
Below are my book recommendations as an introduction to Murdoch's work. Anyone interested in this author should begin with her first novel, Under the Net, and if you're interested in my thoughts on this book, the attached essay explains (in a somewhat rambling, pedantic manner) my thoughts on how her debut approaches the subject of nominalism.
Murdoch's inaugural work is a whimsical and quixotic tale of Jake Donaghue, a book translator who has also published one work of fiction. His profession is of utmost performance and comes into play throughout the novel as he comically searches for truth on a personal, professional, and spiritual level. Bits of philosophical brilliance emanate throughout the story, but Murdoch's tone suggests brash indifference, which is apt considering the subject matter. Put more bluntly, she makes a lot of subtle quips about the inaccuracy of language while writing as if she doesn't give a fuck. This makes both the author and her characters more likeable, and fills the book with a refreshing and jovial air of tomfoolery. If you need more convincing, consider that in 1998 Under the Net was included on Modern Library's list of 100 best English-language novels of the 20th century.
If you like Under the Net, odds are you'll enjoy A Severed Head. Murdoch wrote several novels in between, but this is considered one of her less dense works of fiction. Candidly, it's also one of her racier works, with a focus on the themes of infidelity and incest. Published as Britain's sexual revolution came to full force, Murdoch develops a adulterous love hexagon that is as humorous as it is bizarre. The characters, specifically the protagonist Martin Lynch-Gibbon, will make you burst out in laughter despite the fact that their decisions are infuriating and absurd. All in all, A Severed Head is a surreal, amorous, psychological journey that reexamined marriage and sexual relationships at a time when the subject was yet to be en vogue, and the result is delightfully weird.
I've yet to read this book. I considered recommending The Sacred and Profane Love Machine, because I've actually read parts of it and it has an awesome title, but The Sea, The Sea has a bit more street cred. Not only did this novel win the Booker Prize in 1978, but also researchers from the University College London found that of her work The Sea, The Sea had the most unusual vocabulary. This is Murdoch's 19th work of fiction and it's a bit longer than the other two novels mentioned here. The title comes from a poem by famous French writer Paul Valery. The subject matter, like much of Murdoch's other work, tackles a peculiar romantic relationship and issues of egotism. It's been on my TBR for some time and I'm hoping to tackle it soon.
My buddy Donnie introduced me to Murdoch when I was a junior in college, and I've been enjoying her books ever since. These recommendations showcase some of Murdoch's more approachable works, but you certainly could tackle her bibliography anyway you so choose. Happy reading!
____________________
Like chattin' up other readers and keeping track of your books on Goodreads? So do we! Come give us a follow.